Bavik Brewery Flanders, Belgium - Wittekerke
ABV:

5.00%

Serving Temperature:

38-45° F
From a rich history as Flemish farmers to their current standing as world class brewers, the De Brabandere family proudly maintains their venerated reputation. We now invite you to taste one of their most popular creations: Wittekerke, an authentic Belgian Wit (or white) beer. A true Wit beer must be made of at least 25 % wheat malt in combination with barley malt. Belgian Wit beers are naturally cloudy since the yeast is not filtered out after primary fermentation, making them what is commonly referred to as a living beer (meaning that live yeast are left in the beer, and continue fermenting the beverage after bottling which is also known as secondary fermentation or bottle conditioning). Wittekerke is a fictitious name for a typical Flemish town, as hundreds of villages in Flanders have a name ending in Kerke (church) or Kapelle (chapel). The Bavik Brewery has long brewed its own authentic Wit beer under the Bavik Wit label, but the brewery chose to change the name in cooperation with the producers of a Belgian television sitcom called Wittekerke, which airs twice a week in prime-time on Belgian TV (the actors even drink Wittekerke during the show!) Through this marketing campaign, it is now the best selling Wit beer in Belgium and has been voted the best Belgian Wit beer several years running by Belgian beer connoisseurs. Expect a brilliant white, creamy head with a slightly floral, citrus (mainly lemony) aroma with notes of coriander, clove and Belgian yeast. Malts are not dominant in the mix of flavors, which closely mirror the aroma. Note the hoppy, dry, lingering aftertaste with its hints of herbal tartness. Wittekerke, like all Wit beers, is an excellent thirst quencher any time of day and is quite tasty with spicy deli sandwiches, white fish, scallops, a fresh salad or even omelets. Wittekerke should always be served cold, but in taking your time to enjoy it, you will find more flowery, perfumy flavors as it warms.
In August 1894, Flemish farmer Adolphe De Brabandere requested authorization to build a brewery in a small village in the south of Western Flanders Bavikhove. Perhaps it was the family's reputation (early documents about the family De Brabandere, dated 1280, show that they were important farmers in South Flanders, which is now part of France) that the town council granted him permission. Like most farmers of his day, Adolphe knew how to brew beer, and did so at his farmhouse, using his brew for the family's consumption. Four generations later, the Bavik Brewery is today as it was then: a family business. Despite the many corporate buy-outs of numerous Belgian breweries some as old as 500 years old the Bavik Brewery is determined to retain their independence. In so doing, they effectively guarantee the quality, character and regional specificity of their various beers. But in their 110 year history, they have not only had to face the prospect of corporate acquisition; the brewerys saga has been fraught with both tumult and good fortune alike. The first principal brewer was Adolphes son, Joseph De Brabandere. In 1894 the number of smaller breweries in Belgium was already in decline as a result of the hugely popular Pilsner style of beer. This brew, a light colored, bottom-fermented lager, quickly superseded in popularity the local ales (a.k.a. top-fermented beers). The hard working laborers in the many factories of the region liked this new beer for many reasons one of them being cost; it was a very affordable beer. Financial appeal, coupled with the novelty of a new beer style, and the newly industrialized process of producing cheap glasses were all major factors in the success of the Pilsner beer style. For the first time, the average beer drinker could actually see the color of what he was drinking through a glass, rather than having it obscured by a pewter or wooden drinking vessel. A true entrepreneur and wise businessman, Joseph De Brabandere capitalized on this new trend in beer drinking and became the most important Pilsner brewer in his region. Along with the brewerys Pilsner, a classic dark ale was also developed, and with these two favorite styles, the Bavik Brewery was exceptionally popular. The family business enjoyed its successful standing in the region until 1914, when the German army invaded the region and confiscated the brewery, forcing its closure during World War I. Incredibly, after the turmoil and devastation of the war, Joseph was able to restart the brewery, and benefited from the rebuilding effort of all the cities and villages in the region, many of which had been completely destroyed. Unfortunately, in 1929 Joseph died at the relatively young age of 54. His wife Gabrielle Vandeghinste, a brewers daughter, assumed management of the brewery until 1950. Under her intendance, the brewery was considerably expanded, and enjoyed yet another period of prosperity. However, with the outbreak of the Second World War, the brewerys fate was again threatened. Miraculously, Vandeghinste was able to convince the Germans to keep the brewery open during World War IIperhaps the German army also enjoyed the brewerys nectars and saw a valid purpose in keeping it operational as a brewery rather than converting it into a part of the war machine. Eventually, the brewery passed to Joseph and Gabrielle's children, who developed the brewery further through modernization and market expansion. In 1972 all shares of the brewery were held by Albert De Brabandere, son of Joseph and Gabrielle, and father of the current owner and manager Ignace De Brabandere. Today the Bavik Brewery is the largest brewery of West Flanders, brewing over 80,000 barrels of beer per year. It is only within the last 10 years that the brewery began exporting their fine ales and lagers, mainly to France and the Netherlands. Only since 2000 has their beer been available in the states, making it a quite sought after collection of beverages. For more information about the Bavik Brewery, check out their web site at http://www.bavik.be.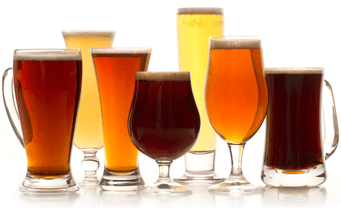 Unmatched Variety by style, brewery & country
Choose from Five different Beer Clubs offering unmatched variety by brewery,
country of origin, and beer style to suit your specific tastes.
DISCOVER OUR FIVE CLUBS