Big City Brewing Company - Lion Heart Stout
ABV:

7.60%

Serving Temperature:

50-58° F

Suggested Glassware:

Snifter or Tulip Glass
The lion roaring on the label is one indication that this beer packs a wallop, as is this beer's motto: "Taste the pride, feel the strength." This king of the jungle from Kingston, Jamaica presents a unique experience to the stout fan. Unlike the dryness inherent in most classic or Irish stouts, this Caribbean version is what's known as a foreign or tropical stout. These stouts are characterized by a sweeter malt backbone, often with less roastiness, and some dark rum notes. Note the big, sweet, malty nose with its subdued roasted character. This authentic Jamaican-style offering actually presents some very distinct vinous notes that set it apart from others in this style. Look for the similarities to a full-bodied red wine (it's uncanny once this beer warms a bit). Finishes sweet, chocolaty and velvety smooth with a touch of rum in the back. Because of its sweetness and heritage, this beer goes very well with barbequed sweet & spicy foods, including ribs, jerk chicken or pork. Or try it with Mexican Molé or alongside some dark chocolate.
Most of us are familiar with "the Beer of Jamaica" known as Red Stripe. This champagne-like brew is actually quite refreshing, and for an adjunct lager, it's quite distinctive (by adjunct lager, we mean that the beer, similar to the major lagers in the U.S., is made not only using malted barley as a sugar source for yeast to feed upon during fermentation, but also with cheaper fermentables like corn and/or rice). The flavor profile is something you'd expect would serve well as a Caribbean refresher. But interestingly, many island nations, including those in the Caribbean, have a high incidence of stouts in their range of available beers. Now if you consider the warm—no, make that hot—tropical climate of Jamaica, you might start to wonder why the heck someone would want to reach for a thick, hearty stout to quench their thirst. How can that possibly be refreshing? Well, turns out the maltier, sweeter element found in these tropical stouts makes them more quenching than their dry stout counterparts from Europe and the U.S.. And as you will soon notice, if you haven't already, the Lion Heart Stout we're featuring has a sizeable 7.6% ABV. How is that refreshing? Well, perhaps it's not the best beverage to grab when trying to re-hydrate after a hot day's work under the sun, but stronger brews are not uncommon in this part of the world, where many islanders have traditionally been rum-drinkers. Perhaps no where else is the myth that "darker means stronger" less myth and more fact than in the Caribbean. It certainly holds true at The Big City Brewing Company in Kingston, Jamaica. We admire they're founding principle: to produce a beer that consists only of local produce. In 1994 they set out with this goal in mind, and by 1999 they graduated to the 'big "city" leagues' by purchasing their full-scale brewery and equipment. Using state of the art hardware from Germany, Italy and the USA, along with a dedicated staff, they now have three successful, authentically Jamaican brands available. While historically, foreign breweries have had a presence on the island for over 100 years, The Big City Brewing Company currently stands proud as the only brewery in Jamaica owned and operated by Jamaicans. Now dat's sum-tin ta be a roarin' about! For more information about the brewery, visit their website at www.bigcitybrewing.com.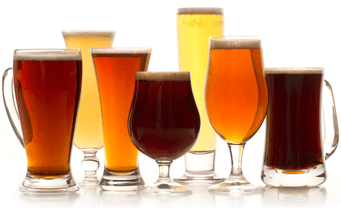 Unmatched Variety by style, brewery & country
Choose from Five different Beer Clubs offering unmatched variety by brewery,
country of origin, and beer style to suit your specific tastes.
DISCOVER OUR FIVE CLUBS