Blind Man Ales - Blind Man India Brown Ale
ABV:

5.5%

Int'l Bittering Units (IBUs):

65

Serving Temperature:

40-45° F
Blind Man is one of those beers, as its name would imply, that doesn't neatly fit into a defined beer style category. A hybrid born of a Brown Ale-India Pale Ale marriage, this truly unique beer is brewed with a combination of Two Row Pale, Munich, Caramel malts and roasted barley. Look for a sweet malty nose packed with hop aroma derived from a combination of no less than 6 hop varieties including: Chinook, Cascade, Mt. Hood, Liberty, Tettnanger, and Columbus. We found the flavor of this dark brown beauty to be full, rich and satisfying. Note a definite bitter hop character in the body and finish. Overall, a damn tasty tribute to American creativity!
Owner Bob Tibbs founded Blind Man Ales in Athens, Georgia, in 1995 when he introduced his flagship beer which you will have the opportunity to sample this month. Since then, he has added a number of delicious beers to his line of ales, including a righteously hoppy American Pale Ale and the well-famed Espresso Stout.

And don't be alarmed by what you find at the bottom of the bottle of your Blind Man Ale. As all of the brewery's products are unfiltered and naturally carbonated, you'll find a layer of yeast sediment in the bottom of each bottle. Some beer drinkers prefer to decant the ales before drinking; other drinkers may enjoy swirling the yeast, as is done with some wheat beers. You may also notice subtle variations in each bottle's carbonation level which is a good thang as these beers are naturally carbonated! In the production of most commercial beers, the yeast and proteins are filtered out following the secondary fermentation, and the beer is force-carbonated in bright tanks. This commercial method of carbonation increases a beer's clarity and assures consistency, but it also removes a great deal of its flavor and character.
Beer and Bean Soup

1 lb dried navy beans
½ cup diced bacon
½ cup diced smoked ham
½ cup diced leeks
1 cup diced onions
1 cup diced carrots
1 cup diced celery
2 qt water
1 bay leaf
1 tsp thyme
1 tbsp minced fresh garlic
1 tbsp salt
1 tbsp black pepper
1 14-oz (398 mL) can tomatoes,hand-crushed
12 oz brown ale
2 tbsp sugar

Soak the beans overnight in enough water to cover. In a large pot, sauté the bacon and ham over medium heat until the fat is rendered from the bacon (do not cook the bacon to crispness). Reduce heat to low and add the vegetables, cooking them until almost tender. Add the water, bay leaf, thyme, garlic, salt and pepper, and bring to a boil. Add the drained beans. Cover the pot and simmer the soup until the beans are tender. Expect this to take 1-2 hours. When the beans begin to break apart, add the tomatoes, beer and sugar and simmer for a further 15 minutes. Be careful not to boil the soup at this point. Discard bay leaf. Adjust seasonings to taste and serve. Makes (8) 1 Cup servings.

Source: A Taste for Beer, Stephen Beaumont; Story Publishing, 1995.
365 BEER TIME STORIES - Pat Murphy worked a the local brewery. One day while stirring a vat of beer he lost his balance and fell in. Pat's wife was called to the brewery and given the awful news of his drowning. After regaining her composure, she commented that his death was probably merciful and quick. The foreman shook his head, saying: "I don't know about that Mrs. Murphy. He got out twice to go to the bathroom." Ba Da Bum!

CELEBRATOR BEER NEWS - New York Giants Manager John J. McGraw guided his baseball team to two consecutive World Series victories over the Yankees in 1921 and 1922. At one point, McGraw told his ballplayers that it was a sign of good luck if they could spot a beer wagon before going to the game. McGraw then hired a driver to haul a wagon outside the ballpark when he knew his players would be arriving for an important game in the World Series. His team won. McGraw then hired the driver for the rest of the series and the Giants won very game. Known as "Little Napoleon", McGraw managed the Giants to ten major league pennant victories from 1904-1924. And the post game celebrations were always damn good!

YANKEE BREW NEWS - The greatest collection of different British beer labels is 27,845. Keith Osborne is the proud collector and his oldest label is from D.B. Walker & Co., Warrington. The beer label was printed around 1846. Ya figure he soaked all 27 thousand bottles in the same sink?!

THE REAL BEER PAGE - In her former role as wife of Canada's ambassador to the U.S,, Sondra Gotlieb often related tales of woe about being a Canadian in Washington. She said Americans know Canada for its three M's- Mounties, mountains and Molson's. And their zany senses of humor, eh?

BEER: THE MAGAZINE - The Norwegian captain of a Dutch whaler that capsized as it was trying to pull aboard a giant whale went down with his ship while holding a beer in his hands, survivors reported. The 42-member crew of the 543 ton factory ship Tonna, landed at Funchal, Madeira, after being picked up by a Greek freighter when the whaler floundered about 220 miles off the Portuguese coast. The crew said the last thing they saw before the ship went down was Captain Vesprhein, 52, clinging to his bridge with a beer to his lips. They implored him to abandon ship but he refused. Good story. Stupid man.

365 BEER TIME STORIES - Little Simon Barwell, of Carlton, England, planted a sunflower but it just wouldn't grow no matter how much he watered it. The youngster then poured some of his father's home-brewed beer on the plant out of sheer desperation. The plant grew to a height of more than 12 feet. They promptly cut the sucker down, crammed it into a juicer, drank the bugger and received no buzz whatsoever.
Dear Murl,

I used to collect beer cans in the 70's and have 600 or so cans in my mother's attic and it got me wondering how that compares with the biggest collection. Also, do you happen to know how much beer cans are going for these days? Think I might get a month's rent out of this thing?

Tom Schnitzel

Bobcaygeon, Canada

Yo Thomas!

You too! I thought I was the only dweeb with cans collecting dust in my mother's attic! I'm quite convinced that any male teenaged person with a pulse in the 70's rooted around vacant lots, dumpsters and flea markets thinking he was putting together a collection that would fund his college tuition. Problem with that is that the cans that you and I have in our collection were also collected by all those other pre-pubescent weenies and therefore none of them are worth much more than the chuckle I still get when I gander at the rotund lass in the skimpy bathing suit on my Old Frothenslosh cans. To answer your question, the most renowned collection of tin and aluminum belongs to William B Christiensen in Madison, N.J. who has over 75,000 different cans representing 125 countries, colonies and territories. His ma must have a big muther of an attic. The most valued can wasn't my Iron City Pittsburgh Steelers Championship Superbowl commemorative can, but rather a Rosalie Pilsner can sold for $6,000 in April, 1981. Might have actually covered the cost of my textbooks at college. Hope you're enlightened Tommy Boy.

Woof!

Murl.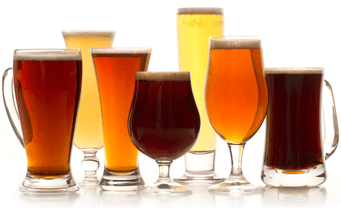 Unmatched Variety by style, brewery & country
Choose from Five different Beer Clubs offering unmatched variety by brewery,
country of origin, and beer style to suit your specific tastes.
DISCOVER OUR FIVE CLUBS