Brasserie des Géants - Goliath
ABV:

9.00%

Serving Temperature:

48-55° F

Suggested Glassware:

Snifter or Goblet
Interestingly, this Brobdingnagian brew had fairly modest beginnings. Originally, Gouyasse, as this beer was first known in Belgium, was brewed at a respectable 6% ABV. However, the US distributors felt that a 6% beer carrying the name Goliath was a bit oxymoronic, especially with the surge of big-bodied, bold-flavored beer that have made waves in the states since the late 90s. So they suggested that Pierre come up with a stronger, more intimidating beer better suited to carry the name of the mythical giant. The result was the beer you now have before you, and it's become quite a hit for the brewery since its reformulation. They still make the original Gouyasse, but "Goliath Tripel", as it's known in Belgium, has become their biggest local seller. Made without the addition of sugar, this is the only Tripel in Belgium that is made using only malt as a sugar source for our yeasty friends. This means the beer will start out a bit sweeter when young, but over time in the bottle, the flavors become more dry and the hops counter-balance the sweetness more firmly. We've been told that 6-months in the bottle appears to be where this beer really shines, but of course, this is one of those beers that is good for at least four years of laying down. We encourage you to set aside a bottle or two and check in on this sleeping giant about once a year. Look for notes of honey on the nose, with apple, vanilla, pear, oranges and pepper also appearing. Expect some zesty hops which contribute notes of wild flowers (akin to lavender), that characteristic Belgian yeastiness, and a subtle tartness. The flavor contains much of the above notes, but with a slight spice and peppery quality. Adding the yeast during the pour lends a mango-like character to this brew. Expect a fairly dry finish (considering the original sweetness), with orange peel and Saaz hop bitterness rounding out peppery hop notes. A big beer befitting of the name it carries. Pair with a sharp blue like Colston Basset or Roaring 40s Blue (both of which we feature in our Gourmet Cheese of the month club--see below for more details).
Yes, this is a beer club, so it won't be a shocker that the Wallonian region of Belgium, wherefrom our featured international brewery hails, is known for its beer. No doubt, the entire country is renowned for its amazing malty libations. But what you might not know is that the area of Ath is home to more than our featured brewery... This is the land of the Giants! In fact, Ath is known for its annual Parade of Giants in which Goliath, locally known as "Gouyasse", leads brass bands and fellow colossal-sized kinsmen through the streets, towering above carnival floats and groups of more ordinary-sized citizens in customary costumes. This tradition dates back to the Middle Ages and has been repeated here ever since. Hence the name chosen for the brewery that was started here in 2000: Brasserie des Géants (a.k.a. the Giants' Brewery). Not only do they produce colossal beers that live up to the brewery's name, their digs are rather sizeable as well. Incorporated into the remarkably well-preserved remains of the thirteenth century Castle d'Irchonwelz, the site is an amalgamation of quaint charm and indomitable fortitude. And, as they're quick to point out on brewery tours (yes, they are open for tours--get there if you can), their entry gate is hung high enough to permit the occasional giants who may wish to stop in for a quick pint--well, make that a keg--of beer. The brewery was founded, built, and is run by a young couple, Pierre Delcoigne and Vinciane Wergifosse. Pierre, a graduate of the famed Brewing Engineering program of the Louvain School of Brewing, has been brewing strong for years now. In 1997, he and Vinciane acquired the Castle d'Irchonwelz in order to develop their ambitions of creating the Giants' Brewery. After two full years of construction and set up, the brewery opened. Their first brew, known as "Gouyasse" (Goliath in the local dialect), went on sale in August 2000 (perfect timing, as the annual festival of Giants is held during the fourth weekend of August). Their brewing equipment is comprised of old world items, such as their cast iron 1930s boiling vessel and 1890s mash tun, as well as state of the art components like their double skinned, temperature regulated, cylindro-conical stainless steel fermenters. The result is a careful blending of old-world tradition and modern day brewing science that yield truly sublime beers, fit for giant thirsts--and Giants--alike. For more information about the brewery, check out their web site: http://www.brasseriedesgeants.com.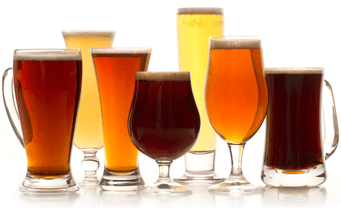 Unmatched Variety by style, brewery & country
Choose from Five different Beer Clubs offering unmatched variety by brewery,
country of origin, and beer style to suit your specific tastes.
DISCOVER OUR FIVE CLUBS