Brasserie des Géants - Noël des Géants
Serving Temperature:

50-60° F

Suggested Glassware:

Tulip, Oversized Wine Glass or Snifter
"I'm dreaming of a GIANT Christmas…" so goes that old classic Irving Berlin tune… or something like that. Downing a few firkins of this brew is how the giants of Irchonwelz celebrate the holiday, or at least, that's what the brewery tells us. The more 'urchon-statured' of us can get away with a few tulips full. This is a great holiday dinner beer, particularly with stuffing made with raisins, cranberry sauce, cloved and/or candied hams. Even the subtle, sweeter notes in turkey will do well with this brew. Expect a very complex nose giving off fruits (think cherry, strawberry & plum), toasted malts, caramel, raisins, chestnuts, dark chocolate, cinnamon and spices, among other things. As it warms, the profile will blossom—so let it get up there in temp, and enjoy the complexities. On the palate, many of the aromatic elements cited above come through, with a robust spiciness and firm bitterness. Finishes with a very protracted flavor arc—one to savor—featuring dryish, tea-leaf-like hops, dark chocolate, cinnamon and plum. Overall, a highly complex superbly balanced beer. Merry November!
The area of Ath, in Wallonia, is home to more than just great beer; this is the land of the Giants! Since the middle ages, Ath has been known for its annual Parade of Giants in which Goliath, locally known as "Gouyasse", leads brass bands and fellow colossal-sized kinsmen through the streets, towering above carnival floats and groups of more ordinary-sized citizens in customary costumes. No surprise then that the local brewery (in Irchonwelz) is named Brasserie des Géants (a.k.a. the Giants' Brewery). Not only do they craft big beers that live up to their name, their homestead is rather sizeable as well. Incorporated into the remarkably well-preserved remains of the thirteenth century Castle d'Irchonwelz, the site somehow manages to unite quaint charm and indomitable fortitude. And, as they're quick to point out on brewery tours (yes, they are open for tours—a must if you are ever in the area), their entry gate is hung high enough to permit the occasional giants who may wish to stop in for a quick pint—er, keg—of beer. Interestingly, there's sort of a paradox at play here. The name Irchonwelz comes from the word for hedgehog (urchon), a rather small creature, and the local inhabitants are affectionately referred to as "urchons". Perhaps to a hedgehog, any visitor could be considered a giant—could this be where the giants of local lore come from? No idea really, but it's sort of a fun notion to consider. If anyone has ever been there, or plans a trip, please ask this question and get back to us! OK, we've spun enough of our own mythology here. Back to the brewery… The brewery was founded in 2000 by a young couple of urchons, Pierre Delcoigne and Vinciane Wergifosse. The two built and run the place themselves. Pierre, a graduate of the famed Brewing Engineering program of the Louvain School of Brewing, has been brewing strong for years now. In 1997, he and Vinciane acquired the Castle d'Irchonwelz in order to develop their ambitions of creating the Giants' Brewery. After two full years of construction and set up, the brewery opened. Their first brew, known as "Gouyasse" (Goliath in the local dialect), went on sale in August 2000 (perfect timing, as the annual festival of Giants is held during the fourth weekend of August), and all their brews are fit for giant thirsts—and Giants—alike. For more information about the brewery, check out their web site: http://www.brasseriedesgeants.com.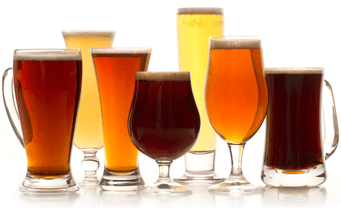 Unmatched Variety by style, brewery & country
Choose from Five different Beer Clubs offering unmatched variety by brewery,
country of origin, and beer style to suit your specific tastes.
DISCOVER OUR FIVE CLUBS