Brasserie des Géants - Saison Voisin
ABV:

5.00%

Serving Temperature:

40-45°F (or 70+°F if you want to go old-school farmhand style)

Suggested Glassware:

Tulip
Saison, as you may already know, is a style of beer developed by farmers in the Franco-Belgian countryside. Ultimately, the French versions evolved into their own style called Bière de Garde. Not to discredit the differences between these styles, but they are often considered similar due to their "farmhouse" character (literally, an almost hay-like and "horsey" aroma and flavor notes) and, hence, people are frequently confused as to the difference. Basically, Bière de Garde tends to be sweeter, more rounded in flavor, more heavily malt-focused, with the key distinction's being that it is less spicy than Saison, which tends to have a peppery, spicy character and relatively dry finish. Before modern refrigeration, Saison was brewed near the end of winter to be consumed during hard-labored Spring and Summer months. Such a beer had to be sturdy enough to last for months in warmer temperatures, but not too strong to be quenching and refreshing in the summer. Saison Voisin is a marvelous example of the style—we almost wish it were more widely available so more people could try it—but then again, membership in our club has its privileges. This beer would not have been available at all had the founders of the Giants' Brewery not purchased the recipes of the beers formerly brewed by the Voisin Brewery before going into business as their own brewery. The Voisin Brewery has roots as far back as 1877. The last owner was Léon Voisin, who took over the brewery in 1963 and ran it until its closure in 1989. Giants' Brewery actually brewed their Saison Voisin under the guidance of Léon Voisin—now that's a good neighbor for ya ("voisin" actually translates to "neighbor" in French—quelle coïncidence?) So, this beer has some history and plenty of tradition to it, and we're glad to know it didn't become another beer lost to time. Expect a peachy color and a white, sticky head and lace. On the nose, look for spice notes (think pepper, cinnamon, and an undercurrent of restrained clove), ample caramel, tropical fruits, wheat, suggestions of Bananas Foster, and a robust mustiness-meets-barn-like-hay-and-horse character. Upon tasting, expect a very dry, crisp feel to hit the palate, followed by a surge of sweeter maltiness, and flavors that mirror the nose with additional citrus tones and some lemony, earthy, noble hop qualities. Finishes just about bone dry and a touch spritzy, which accentuates the lingering spice impression (expect this to linger for a while). This dry, spicy finish helps the drinkability as it begs you to take another sip. We suggest pairing with an earthy Fontina or Camembert cheese (either will bring out a nutty character in the beer), Spicy Indian Samosas, or Larb (Laotian meat salad).
The area of Ath, in Wallonia, is home to more than just great beer; this is the land of the Giants! Since the middle ages, Ath has been known for its annual Parade of Giants in which Goliath, locally known as "Gouyasse," leads brass bands and fellow colossal-sized kinsmen through the streets, towering above carnival floats and groups of more ordinary-sized citizens in customary costumes. No surprise then that the local brewery (in Irchonwelz) is named Brasserie des Géants (a.k.a. the Giants' Brewery). Not only do they craft big beers that live up to their name, their homestead is rather sizable as well. Incorporated into the remarkably well-preserved remains of the thirteenth century Castle d'Irchonwelz, the site somehow manages to unite quaint charm and indomitable fortitude. And, as they're quick to point out on brewery tours (yes, they are open for tours—a must if you are ever in the area), their entry gate is hung high enough to permit the occasional giants who may wish to stop in for a quick pint—er, keg—of beer. Interestingly, there's sort of a paradox at play here. The name Irchonwelz comes from the word for hedgehog (urchon), a rather small creature, and the local inhabitants are affectionately referred to as "urchons." Perhaps to a hedgehog, any visitor could be considered a giant—could this be where the giants of local lore come from? No idea really, but it's sort of a fun notion to consider. If anyone has ever been there, or plans a trip, please ask this question and get back to us! OK, we've spun enough of our own mythology here; back to the brewery… Founded in 2000 by a couple of young urchons, Pierre Delcoigne and Vinciane Wergifosse, The Giants' Brewery was built and is run by the pair. Pierre, a graduate of the famed Brewing Engineering program of the Louvain School of Brewing, has been brewing strong for years now. In 1997, he and Vinciane acquired the Castle d'Irchonwelz in order to develop their ambitions of creating the Giants' Brewery. After two full years of construction and set up, the brewery opened. Their first brew, known as "Gouyasse" (Goliath in the local dialect), went on sale in August 2000 (perfect timing, as the annual festival of Giants is held during the fourth weekend of August), and all their brews are fit for giant thirsts—and Giants—alike. But don't let the name fool you; despite their Herculean title, these folks produce small batches of beer. Their brews are never short on flavor, and some could definitely be considered "big beers," but all are created in small batches and released in limited quantities. In fact, in the world of European brewing conglomerates, these folks are far more akin to David than Goliath. We wonder how they feel about the little man taking down a giant, given their appreciation of Giants and all… But we're sure they feel connected to both characters in that story—the little guy in the big world of brewing giants, and the colossus of brewing prowess. Like the brewery and these dichotomous elements, their beers have complexity that's worth mulling over—so no more digressions from us Lilliputians—get to it! For more information about the brewery, check out their web site: http://www.brasseriedesgeants.com.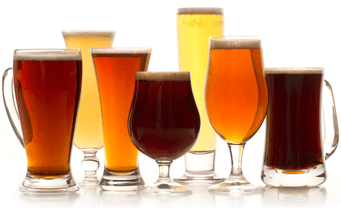 Unmatched Variety by style, brewery & country
Choose from Five different Beer Clubs offering unmatched variety by brewery,
country of origin, and beer style to suit your specific tastes.
DISCOVER OUR FIVE CLUBS