Brasserie Dieu Du Ciel! - Route des Épices
ABV:

5.00%

Serving Temperature:

45-55° F

Suggested Glassware:

Tulip (preferably with etched nucleation site)
The label art alludes to the name, which translates from French to "Spice Route." Like the search for the spice route, the label gives plenty to discover (a close look reveals that the beard and hair of the gentleman with sailing on his mind is composed of peppercorns). The beer is brewed using black and green peppercorns, and on the nose, you can't miss their influence. The bouquet is akin to a super-peppery, well-aged tequila (if you're not familiar with this, ask your local liquor retailer for a peppery Añejo or Reposado tequila (aged tequilas) , pour a bit into a snifter (at room temperature) swirl and sniff). Behind the peppercorn notes is a mild citrusy character with a caramel backbone, a touch of spruce and almonds, and some floral hop tones as well. Like the nose, the flavor profile's most prominent character is the peppercorns. You can expect to taste a light pepperiness right up front, but over the course of about 15-30 seconds, the spice of the pepper takes hold of the tongue and mouth and intensifies slightly as it evolves, leaving a tingling sensation. It takes a few more swigs before you can really hope to process the rest of the flavors—pepper, being such an unexpected character, rises to the forefront. Look for an emergence of peppery tequila-like notes amidst a subtle floral character, notes of coriander, subtle apricot tones and a woody, spruce-like component. Note a bold, lingering peppery spice character that fills the mouth and takes hold of the back of the throat. A mild hop bitterness works to balance the heat of the spice by introducing the contrasting bitterness. It's not easy to strike balance or create a palatable beverage with a hefty dose of peppercorns in the mix, but that's exactly what brewmaster Jean-François Gravel has managed with this offering. There are many spiced beers out there (chili beers come to mind) as well as beers made with robust smoky character (such as rauchbiers); Route des épices takes a similar route and is a bit like a chili beer in that the peppercorns contribute a lingering spicy profile. We really dig it because it serves as an example of the tremendous range of flavors available in the vast spectrum that is beer. Our panel members enjoyed the following pairings: well-seasoned steak, lemon-pepper chicken, Angus burger topped with pepper-bacon and fried onions.
The craft beer movement in the US has rippled throughout the world. One of the most exciting and emerging beer scenes is in Canada, and the seat of this appears to be in Québec. Some countries, notably those with firm traditions in brewing, have been resistant to or even dismissive of American "interpretations" and experimentation with classic styles, or the bombastic (some have said "irresponsible") amount of malts and hops used in the more extreme offerings in the American craft beer scene. But the Québecois have embraced this 'open-to-interpretation' approach to brewing, and a little brewpub called Dieu Du Ciel! (the exclamation mark is part of the name) in Montréal is a great example. The brewer who started the place began his career as a homebrewer, with no formal brewing training, but he has impeccable instincts. Those instincts have led to a recently opened production microbrewery based in St-Jérôme, Québec, and very recently, a second brewpub (attached to the new brewery). The name Dieu Du Ciel! is a common French expletive that translates roughly to "God in Heaven!" (which these days is roughly equivalent to "oh my God!") Brewmaster Jean-François Gravel came up with the name in 1993 to describe his homebrewed beers. As he says, he likes the humorous connotation of the name—there's a certain boldness in naming the brewery after an expletive that he got a kick out of—but he also felt that it "made [appropriate] reference to the Québecois culture, dominated for so long by the clergy, and the Belgian culture of fine brewing." In our assessment, this place is doing things just right. Not only is the beer world class and daring, the beer labels are interesting and attractive. The whole strategy here is to elevate beer and the crafting of beer to higher levels, highlighting the artistry and skill that goes into each one. Sure, you may say, if the beer tastes great, who cares about the packaging, but these folks are treating beer, from formulation to creation to distribution, with the respect it deserves. We loudly applaud them for it, and think that after checking out their distinctive beers featured below, you'll feel the same way. Enjoy! We strongly encourage a visit to the Québec beer scene—starting in Montréal at the Dieu De Ciel! brewpub. They even offer an apartment above the brewpub for visitors to rent. Since they opened their doors in August 1998, they've brewed a staggering assortment of 73+ beers! At any one time, you can expect 15 fresh beer taps with at least one cask offering. Check out their website for more information, and plan your visit (we are!) www.dieuduciel.com.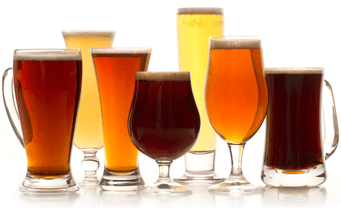 Unmatched Variety by style, brewery & country
Choose from Five different Beer Clubs offering unmatched variety by brewery,
country of origin, and beer style to suit your specific tastes.
DISCOVER OUR FIVE CLUBS