Brasserie Lefèbvre - Blanche De Bruxelles
ABV:

4.50%

Serving Temperature:

45-50° F

Suggested Glassware:

Clear Mug or Pint Glass
This beer was originally named "Manneken Pis"—so, it's not all that surprising that between the name (sound it out people) and the can't-miss image of a young boy relieving himself on the label—that this beer was banned from being imported into Ohio and Pennsylvania in the late 1990s. "Offensive and not in good taste" said Ohio. "Lewd" claimed Pennsylvania… Some time later, the name was changed to Blanche De Bruxelles, but the image remained… That was enough to lift the bans. Go figure… Liquor laws and the geniuses who "enforce" them (read: arbitrarily decide what's right and what's wrong). Perhaps if those "authorities" had taken the opportunity to learn about the history of the name and the depiction, there wouldn't have been a problem in the first place. The Manneken Pis is an early 17th century bronze statue and is considered Brussels' official mascot. The statue is sort of like Brussels' version of Paris' Eiffel Tower. The statue, which depicts a small boy urinating atop a fountain, is located near the famed Grand-Place in the center of historic Brussels, the capital of Belgium. The first mention of this statue dates back to 1377, but the current version is a copy; the original was kidnapped by French soldiers in 1747. As restitution, King Louis XV of France presented the statue with a gold-embroidered suit.

To properly serve this style of beer (wit bier), you should master the following pouring technique: pour 2/3 of the bottle into a pint clear mug or pint glass. Then, vigorously swirl the remaining 1/3 in the bottle in order to fully rouse the sediment—then give that a good hard pour into your glass. The result should be a properly cloudy pint with little to no sediment left behind in the bottle.

On the nose, expect prominent orange notes, and a very noticeable sour quality (from the unmalted wheat), a touch of cream, honey, unripe apricot, and the slightest hint of butterscotch. The flavor is a lot like the nose, but the sour character is more prominent. This sour quality is the hallmark of this style of beer, as it provides for thirst-quenching character. Look for notes of melon (honeydew), under-ripened apricots, and coriander, which contributes a subtle spiciness. Notice how the citrus qualities work very nicely against the crisp, sour qualities of the wheat. Finishes with a slight hint of blonde tobacco and a gentle dosing of hops. This is actually a great "breakfast beer" that will pair very well with freshly sliced peaches and cream, or a goat-cheese omelet. If you're looking for artisanal, boutique-style cheeses, pay us a visit at www.monthlyclubs.com, where you can learn more about our Gourmet Cheese of the Month Club. Members get three cheeses each month, with a detailed newsletter describing each style, the dairies that produced them and in-depth tasting and pairing notes.
A stone quarry town since the late 1800s, Quenast, Belgium has long been a town where great thirsts beg to be quenched. In 1876, local gamekeeper, farmer, innkeeper and brewer Jules Lefèbvre answered the call to bring his slaking slew of suds to the town. The Lefèbvre Brewery has been in near-constant operation since then, remaining a family-run craftsman business through six generations of Lefèbvre brewers. We say near-constant because in 1916, during World War I, the brewery was dismantled by order of the Germans, who commandeered its metals. But just after the war, in 1921, Jules's son Auguste set up shop in a new location, taking over a bankrupt brewery—and this is where the brewery remains to this day. Along with Auguste, the 3rd generation of Lefèbvre brewers, Gaston Lefèbvre, entered the scene and oversaw various modernization projects that would allow for better production quality and an increase in beer volume. Even though elements were 'modernized,' beer was still made in a coal-fired kettle that used ambient wind currents from the valley below the brewery to control the intensity of the flames (that fire-fed kettle is still in use to this day). Unfortunately, as World War II did for so many breweries throughout Europe, operations were again jeopardized. Thankfully, this time around, the brewery was not dismantled, but it was dealt a blow by being restricted to producing only a 0.8% alcohol beer until about 1945. Pierre Lefèbvre, 4th generation family brewer, took up the reigns from 1960 until 1975, when the torch was passed again to his son Philippe Lefèbvre. The 6th generation of Lefèbvre brewers, Paul Lefèbvre, joined the team in 2002. Today, under Paul's stewardship, this family brewing operation produces a wide range of different beers, from honey-laced lagers to Abbey Ales to various fruit beers (Kriek (cherry), Pèche (peach) and Framboise (raspberry)—and of course, the delightful Wit bier featured this month. While we find their beers to be quite refreshing, we believe that their traditional, family-run business model is equally so! For more information about the brewery check out their website at www.brasserielefebvre.be.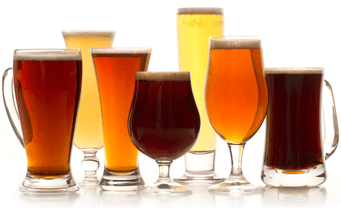 Unmatched Variety by style, brewery & country
Choose from Five different Beer Clubs offering unmatched variety by brewery,
country of origin, and beer style to suit your specific tastes.
DISCOVER OUR FIVE CLUBS