Brooklyn Brewery - Brooklyn Pilsner
ABV:

5.00%

Int'l Bittering Units (IBUs):

30

Serving Temperature:

40-45° F

Malts:

2-Row German Pilsner

Hops:

German Perle, Hallertau Mittelfruh, Czech Saaz
The infamous blackout of 2003 that struck much of the northeastern U.S., particularly New York City, played a part in an important part in the Brooklyn Brewery's decision to move toward alternative energy sources. That year, the company made a landmark environmental statement when it became the first commercial building in New York City to commit to using 100% wind-generated electricity. A high-tech move that contrasts their old-school, pre-prohibition style Brooklyn Pilsner. Unlike the mass-marketed so-called pilsners, Brooklyn Pilsner does not contain cheap fillers such as corn or rice—it's brewed in accordance with the German Purity Law known as the Reinheitsgebot, which declares that all beer be made with only 4 ingredients: water, barley, hops and yeast. Expect a fresh, floral nose on this beer with a solid malt backbone and easy-drinking, medium-bodied flavor. German Perle and Hallertau hops provide a crisp, clean bitterness in the finish. Quite nice with chicken, seafood, pizza, spicy foods and even salads, but big enough to stand up to steak as well.
Great food, local culture, fashion, Broadway, not to mention America's pastime—baseball—and yeah, tons of attitude. New York City has a lot to offer. But as far as top notch brew? Well, it hasn't exactly been known as a bastion of great beers until fairly recently, when the Brooklyn Brewery grew in size and popularity. True, Brooklyn was a great place for beer at one point—but from the mid-70s through the mid-90s, there weren't many outfits dedicated to brewing distinctive ales and lagers. Enter the Brooklyn Brewery, founded in 1987 upon the laurels of Brooklyn's past brewing glory. One hundred years ago, there were approximately 50 breweries operating in Brooklyn. A large component of the immigrant population was German, and we all know of the German zeal for great beer. Taverns were places of civic decision-making, serving as community centers of sorts, and brewers themselves were civic and social leaders. In fact, their monuments remain an impressive part of Brooklyn's Evergreen Cemetery. But sadly, this era would end in 1976 when the last of the Brooklyn-based brewing families, Schaefer and Liebman, closed down, succumbing to the competition imposed by the large Midwest breweries (you know who you are!). So then, whom do we have to thank for bringing the brew back to Brooklyn? In 1978, Associated Press correspondent Steve Hindy traveled to the Middle East for a six year assignment where he befriended a few diplomats who homebrewed in such countries as Saudi Arabia and Kuwait where Islamic law forbids the sale of alcoholic beverages. He picked up a few tricks of the homebrewing trade and upon his return to the states, where he settled in Brooklyn's Park Slope neighborhood, he continued to hone his craft. His downstairs neighbor Tom Potter, a former loan officer at Chemical Bank became very interested in Steve's brews and, while watching Mets ball games together, came to appreciate the beers in Steve's repertoire which were brewed in authentic, German, pre-prohibition style once found throughout Brooklyn. Tom became convinced that there was a market for this sort of beer and together with Steve they founded the Brooklyn Brewery in 1987. With the help of fourth-generation German-American brewmaster William M. Moeller, their first official beer was brewed: Brooklyn Lager. For the next nine years, their brews were contract brewed up in Utica, NY. In 1994 they hired highly respected New York brewmaster Garret Oliver to design their own Brooklyn plant and oversee production at the Utica facility. On a momentous day in 1996, mayor Rudy Giuliani cut the ribbon in Williamsburg, Brooklyn, and their new plant was opened. Since then, Oliver has created some of the most well-known, well respected brews to come out of the east coast. There's much more to be said of Tom's and Steve's success story (and requisite hardships encountered along the way)—all of which can be read about in their upcoming book BEER SCHOOL—Bottling Success at the Brooklyn Brewery, to be published by John Wiley & Sons in October 2005. It's a book we're definitely eager to pick up—after all, this is one of our favorite breweries! We hope you enjoy their two brews we've selected for you this month. For more information about the brewery and scheduled tours, call (718) 486-7422 or check out their web site at www.brooklynbrewery.com.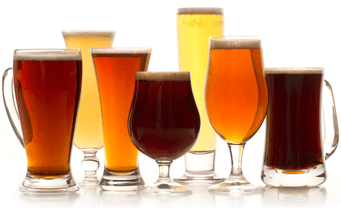 Unmatched Variety by style, brewery & country
Choose from Five different Beer Clubs offering unmatched variety by brewery,
country of origin, and beer style to suit your specific tastes.
DISCOVER OUR FIVE CLUBS