Brouwerij De Koninck - De Koninck Pale Ale
ABV:

5.20%

Serving Temperature:

45-50° F

Suggested Glassware:

Goblet or Pint Glass
This Belgian pale ale is medium-amber in color with a crème-brûlée toned head. You may notice a hefty amount of sediment in the bottom of the bottle before you pour it. While it's a matter of personal taste, our panel members felt that for this style of beer, it was preferable not to swirl the bottle to rouse the sediment; we left about ¼ inch of beer behind in the bottle to achieve this. But we encourage you to do a side-by-side taste test: one from a bottle with the sediment roused and poured into the glass, one from a bottle that didn't have the sediment disturbed, and see which you prefer. There are no firm rules on this—again, it's a matter of doing what works best for you, your palate, and your aesthetic inclinations. Upon sniffing, the instant impression is "Belgian yeast". That characteristically fruity, phenolic profile leaps out of the glass and screams "Belgian ale!" There are some minor floral, Noble hop aromas coming from the Saaz hops that are subdued by the sweet bready malts as well as a mild tart acidity. Look for notes of plum, red apples and black cherries. The Belgian yeastiness also emits a slightly spicy character, which couples with a gently spicy hop aroma in the background. The beer goes down with a multi-tiered flavor profile. First, sharp and bitter, then immediately soft and sweet, transitioning to fruity and floral and ending bready and rich. One really should allow a minimum of thirty seconds after taking the first sip to fully focus on the evolving flavor cascade before taking another sip. A re-sniff after sampling reveals notes of apple cider, a bit of which also comes through in the flavor profile. Along with apple comes notes of sweet green grapes and faint impressions of golden raisins. A somewhat powdery finish ensues, developing into flutters of floral tones and a gentle balancing Noble hop bitterness. One of the definitive examples of Belgian pale ale. This beer is deceptively complex. Go too quickly, and you risk speeding past its layered complexity. An impressive beer. Try pairing with whitefish and baked red-russet potatoes, heavy on the rosemary.
The history of the Brouwerij De Koninck began in 1827 when Joseph Henricus De Koninck bought 'De Plaisante Hof,' a coach house which stood on the boundary between Antwerp and Berchem, Belgium. On this site there stood a stone boundary post with a sculptured hand. This boundary post can still be seen today opposite the Brouwerij De Koninck (and on bottles & labels from the De Koninck Brewery).
Sadly, Joseph died very young. His widow, Elisabeth Cop, remarried in 1833. Her second husband was warehouse foreman Johannes Vervliet, who decided to convert the coach house into a brewery under the name "Brouwerij De Hand," after the sculpture on the border post. That hand has been immortalized since then as the brewery logo.
In 1845 Carolus De Koninck, the eldest son from Elisabeth's first marriage, took over the business. Around 1900 there were still about 25 working breweries in Antwerp. However, the popularity of bottom-fermented (mainly pilsner) beers, the stricter permit regulations, and two world wars were to have a devastating influence on the brewing industry.
In 1912 the "Brouwerij De Hand" was renamed the "Brasserie Charles De Koninck," run by Florent van Bauwel. After WWI he reopened the brewery with help from Joseph Van den Bogaert. The 2nd Joseph in the brewery leadership came from a well-known brewing family in Willebroek, Belgium, and as a graduate of the agriculture and brewing college in Leuven he had all the technical knowledge necessary for the new brewery. The partnership of Florent & Joseph launched spectacular growth of the business.
Modeste, the son of Joseph Van den Bogaert, joined the brewery in 1949 and would go on to lead the company for more than 50 years. Today the Brouwerij De Koninck is run by Modeste's two sons, Bernard and Dominique Van den Bogaert, as technical and commercial director, respectively. They guarantee the independent, family and artisanal character of the brewery (thanks, guys!).
For more information about the brewery, check out their website at www.dekoninck.be.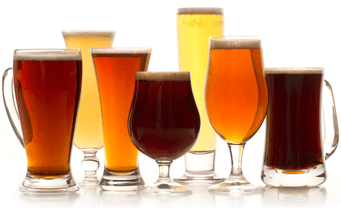 Unmatched Variety by style, brewery & country
Choose from Five different Beer Clubs offering unmatched variety by brewery,
country of origin, and beer style to suit your specific tastes.
DISCOVER OUR FIVE CLUBS