Brouwerij De Landtsheer - Malheur 10
ABV:

10.00%

Serving Temperature:

52-60° F

Suggested Glassware:

Tulip or Oversized Wine Glass
Many Belgian brewers have adopted attention-grabbing names for their beers, such as Delirium Tremens (a severe physical manifestation of alcohol withdrawal which can be fatal), "Duvel" (meaning Devil), and in that vein, Satan, Lucifer, etc… Malheur is another using this trend; the name translates roughly to "misfortune". We think you'll agree with us that the only misfortune here is that we didn't discover this beer sooner! Many of the beers in the Malheur line have numbers associated with their names, such as Malheur 4 (their original beer), Malheur 6, Malheur 8, Malheur 12 and our featured beer, Malheur 10. In the case of Malheurs 6 thru 12, the number corresponds to the alcohol by volume (in Malheur 4, the first of the line, the 4 came about with a certain mystique, as it doesn't refer to the ABV, nor the ABW (alcohol by weight). The brewery founder has stated, in what seems to be tongue-in-cheek fashion, that "one could drink four of them per hour" or "from four generations of brewers" or "perhaps it means that you can drink four without feeling drunk" or "I don't know—I just wanted a number as part of the design".

On the pour, go easy, and expect a massive, frothy, cappuccino-like head. The beer itself is a murky honey color, while the head gives off an orange glow. The bouquet on this beer is as good as it gets for the style (billed as a Strong Belgian Pale Ale, we find it sort of straddles the line between that style and a Trappist Tripel and a Pacific Northwest IPA). Complex and highly distinctive, expect a highly aromatic hoppiness, with notes of pine & spruce, rose petals, orange zest, kumquat (yes, we said kumquat) and peach. Sweet malty grains fill the background but are overshadowed by perfumy, floral & citrus notes. The flavor, by contrast, is rather tame, though moderately complex, with a surprising dryness given the high alcohol content. Look for notes of spicy pepperiness, various citrus notes (orange oils), rose hips, rounded out by a brut-like champagne character. Finishes firmly bitter with herbal/green hops as the absolutely lush, supersoft feel in the mouth slides away. This beer presents a spectacular balance of sweet, soft, bitter & strong, with a well-masked alcohol content. An extraordinary find, we're thrilled to bring it to you. It may be tough to find, but if you can, seek out a traditional Afghanistanian dish known as Norange Palaw, made with delicately seasoned lamb (or chicken) served under a mound of saffron rice, topped with almonds, pistachios, orange peel strips, Rosewater and cardamom—sinfully delicious.
Members may not be aware of the alarming rate of consolidation within the European beer industry. In the past year, we've lost such greats as the Ram Brewery in London (ending 400 years of brewing history at the site) and the Hoegaarden brewery in Belgium. Many other historic breweries have closed throughout Europe at an alarming pace over the past couple of decades due to corporate brewing conglomerates undergoing massive consolidation initiatives. So, all the more reason to seek out and appreciate the 100% family-owned breweries out there that remain independent in the face of this threat to craft brewing. A newfound favorite of ours is the Brouwerij De Landtsheer located in the heart of Flanders, in the verdant little town of Buggenhout (pronounced "Bee-gen-naat"). The brewery's founder, Emanuel "Manu" De Landtsheer, sought to restore his family's brewing practice which, with the exception of a brewing hiatus after WWII, has been a family tradition for five generations. Their brewing heritage traces back to the birth of Manu's grandfather's grandfather, Balthazar De Landtsheer in 1773. He founded a local pub-brewery known as "De Halve Maan" (The Half Moon). Today, from the roof of the current brewery founded by Manu, you can look across the fields and see the ruins of that old brewery. Manu's great-grandfather, Eduard moved the brewing operation to the current site, an existing brewery called 'T Mueleke which traces its roots back to the 1600s. Eduard named the place "De Zon" (The Sun), appropriate for a business held by a family of brewers—Eduard having taken over from his father, and his son Emmanuel (Manu's grandfather) carrying on the tradition. Emmanuel took things a step further by growing and malting his own barley! The brewery closed just before World War II, but the family remained in the brewing field as a contract bottler for the national brewer Lamot. That brewery was later acquired by the even larger brewer Jupiler, which then became part of Interbrew, and was ultimately closed after the consolidation. With the close of that brewery, De Zon was officially out of the brewing business. However, the family continued to work as wholesalers, and importers and distributors for Pilsner Urquell, and continued to grow hops until the 1970s. Throughout his youth, Manu's family talked of reopening their own brewery. When his father died in 1991, Manu decided it was time to honor his memory by restoring the family's brewing tradition. The current brewery, opened in 1997, occupies a building attached to their family home. You just can't get closer to home than that! If you'd like more information about Brouwerij De Landtsheer, check out their website (in French & Dutch only) www.malheur.be. If you're ever in Belgium, call ahead and schedule a visit (Monday thru Thursday, by appointment only)—it's a rare treat to be able to have a beer in (or next to) the home of a brewery founder!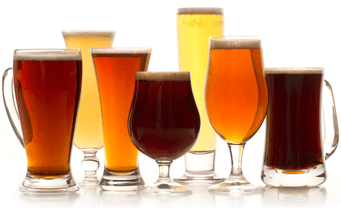 Unmatched Variety by style, brewery & country
Choose from Five different Beer Clubs offering unmatched variety by brewery,
country of origin, and beer style to suit your specific tastes.
DISCOVER OUR FIVE CLUBS