Brouwerij de Ranke - Guldenberg
ABV:

8.50%

Serving Temperature:

45-50° F
This outstanding beer is an example of the Belgian Strong Pale Ale style, though it doesn't really fit neatly into that category, and the label actually states that it's a Tripel. While it does possess that champagne-like quality that makes folks wonder if they haven't been slipped some sort of wine instead of a beer, there are some distinct differences in the flavor profile. Yeast obtained from the nearby Rodenbach brewery lends a distinctive character to the beers, imparting an earthier character similar to most lambics (Belgian fruit beers) instead of the banana like spicy esters more typical of triples and saisons. Another difference is de Ranke's heavy dosing of hops in their beers. You'll notice that this unfiltered beer pours a cloudy, beautiful, orange-gold in the glass and has a very sturdy, thick white head. The aroma smacks of honeyish malts and some tropical fruit tones as well as a lemony zest and ample hops. Expect sweet maltiness, lemony, apple and pear tart flavors that all find their way through the zesty Hallertau and Brewer's Gold hop finish. We found it to be extraordinarily easy to drink—so be careful—at 8.5% ABV, this is a powerful brew. Especially nice with Mediterranean cuisine or a fine, sharp blue or a pungent gorgonzola or even limburger. If you'd like to learn about fine gourmet cheeses first hand, consider picking up a membership to our Gourmet Cheese of the Month Club. Details may be found at www.monthlyclubs.com.
For our club members who were with us last month—welcome back to Belgium! We've said this before, but sometimes we think about starting a separate club that features only Belgian beers; the fact is, there are so many different styles from Belgium—and multiple stunning examples of each. We could keep a club going for years and never repeat a single beer in our would-be Belgian Beer Club… But, for now, we're going to throw in the most worthy and particularly interesting examples of Belgian brews as we find them. One such example comes to us from the Brouwerij (brewery) de Ranke out of West Flanders. We've selected a really solid example of a Belgian Strong Pale Ale, but the version from de Ranke is unlike any other example for a number of reasons. First off, the production quantity is so limited, you'd be hard pressed to find it elsewhere in the US. Secondly, it is more heavily hopped than most examples of the style—so it suits many of the craft microbrew fans in the US who have come to appreciate a healthier dose of our precious little friend the hop. Thirdly, this beer was only recently created, and yet it is sweeping through Belgium with massive popularity—impressing the least impressionable of beer-loving palates. We're talking about Guldenburg at present (and you can read more about it in the tasting notes section below), but we have a feeling we'll be featuring more de Ranke brews down the line. The De Ranke brewery was founded by two good friends, Nino Bacelle and Guido Devos. Their story is a classic in Belgium, where the very best craft brewing usually begins as a passionately pursued hobby, not an occupation (a similar tale is told again and again in the US as well). For Nino and Guido, brewing is literally a weekend obsession. For a few hours on Friday and Saturday each week, the historic turn-of-the-century Deca Brewery in West Flanders is turned over to the De Ranke brewers, who make small batches of what many consider the best specialty beers of Belgium. Their beers are robust and flavorful, and known for their atypical massive hoppiness, which comes from the best Hallertau and Brewer's Gold varieties. This brewery is too young and its production too small to get notice in any of the Belgian beer books yet, but De Ranke is earning themselves a fantastic reputation among connoisseurs in Belgium. American beer lovers may ridicule the idea that there is one "best beer" of Belgium, but Belgians themselves are given to such strongly-worded opinions—especially when it comes to De Ranke. And from a brewery only four years old! The Brouwerij de Ranke produces their fine ales on a part time basis and in such limited quantities that they have not yet gotten around to creating their own website. So, we have no web address for you to visit to get more info on them. Thankfully, their story of dedication and quality is told in each delicious bottle of their beers. Enjoy!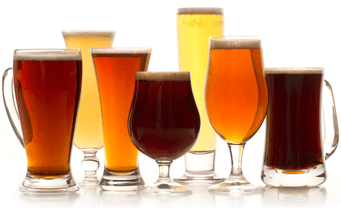 Unmatched Variety by style, brewery & country
Choose from Five different Beer Clubs offering unmatched variety by brewery,
country of origin, and beer style to suit your specific tastes.
DISCOVER OUR FIVE CLUBS