Brouwerij Palm - Steenbrugge Tripel
ABV:

8.7%

Serving Temperature:

45-50° F

Suggested Glassware:

Tulip, Snifter, Chalice
In medieval times, beers from different cities often had their own special, recognizable character, which in the case of beers from Bruges was derived from a distinctive herbal mixture that was bought from the local "gruuthuse." The use of these "gruut" or "gruit" herbal mixtures pre-dates the use of hops as a bittering agent in beer. While using hops as well, Steenbrugge's Tripel (much like last month's Fraoch Heather Ale from Scotland) employs a secret herbal concoction that adds an extra layer of complexity to this traditional Belgian abbey beer.

On the pour expect a deep golden color with the voluminous head we expect of traditional Belgian ales refermented in the bottle. A light haze is expected and is apparent, and the foam drops to a collar that persists, especially if using an etched, nucleated glass like a Duvel tulip. Look for sweet malty aromas with a touch of caramel and a hint of bread crust, overlaid with spicy, earthy yeast and European hops. Phenolic notes (herbal, somewhat clove-like and medicinal) are balanced by fruity esters that reminded us of apple and pear, and a perfumy, floral note. As you sip, expect a quintessential tripel that's bright and fruity on the palate with malt sweetness balanced by drying hop bitterness, floral, mildly earthy notes, clove-like phenols, and some citric notes similar to lemon zest. The alcohol is noticeable but not overbearing, adding to the dryness and spiciness, and helping to thin the body of this hefty brew. We love tripels for their incredible complexity and presence, qualities which make them a great match for pungent cheese, steak tartare or game such as quail or rabbit. Cheers!
While the Steenbrugge beers are now brewed by Brouwerij Palm, we decided to break out the history of Steenbrugge into its own discussion, as its rich and important story is worth a closer look. It all began in 1084 when Arnoldus (Arnold) of Tiegem founded an abbey in Oudenburg, in western Flanders. Eventually becoming bishop of Soissons, Arnoldus was later made a saint. During the middle ages, water was a rather impure substance and was just as likely to make you deathly ill as quench your thirst. Arnoldus, a brewer, gave his beer to those in need of healing, and he urged his followers to drink beer instead of water, no doubt saving many lives. Considered the patron saint of brewers, it's common to see images of St. Arnoldus hung up in Belgian breweries, keeping watch over the brewers and the beer.

The brewing of Arnoldus' beer continued after his death, with the tradition being passed on for generations. In 1875 the Abbey of Oudenburg transferred to the new St. Peter's Abbey in Steenbrugge (meaning "stone bridge"), south of Bruges, Belgium. World War II interrupted brewing operations, but by 1946 the monks obliged the thirsty locals and began brewing St. Arnoldus' beer once again at their abbey in Steenbrugge.

In the 1980s St. Peter's Abbey granted the right to brew the Steenbrugge beers to Brouwerij De Gouden Boom (The Golden Tree Brewery – named after a common symbol of the city of Bruges). An ancient brewery itself, in operation since at least 1455, De Gouden Boom came into the fold of Brouwerij Palm in 2001 when Palm invested in a majority interest in the company. In 2003, the prior of St. Peter's Abbey in Steenbrugge, which still controls the rights to its name and recipes, granted Brouwerij Palm the rights to brew the Steenbrugge abbey beers. Since 2004, the beers have been produced at Palm's brewery in Steenhuffel, and since then, thanks to their efforts and an export market in the U.S. and throughout Europe that has become increasingly fascinated with traditional Belgian ales, sales of Steenbrugge beers have grown robustly.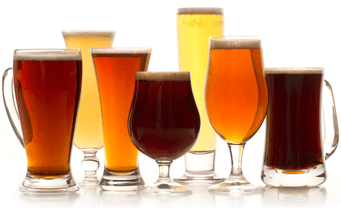 Unmatched Variety by style, brewery & country
Choose from Five different Beer Clubs offering unmatched variety by brewery,
country of origin, and beer style to suit your specific tastes.
DISCOVER OUR FIVE CLUBS