Brouwerij Rodenbach - Rodenbach Grand Cru
ABV:

6.0%

Serving Temperature:

45-55° F

Suggested Glassware:

Flute, Tulip, or Snifter
Note: For more info, watch the late Michael Jackson reviewing Rodenbach Grand Cru here: youtu.be/U8jfd_ic6yY.
Rodenbach Grand Cru is a blend of approximately 1/3 young beer and 2/3 beer which has undergone full maturation for 2 years in 150-year-old oak foeders, so be sure to use a glass with this beer and give it a while to warm up from fridge temp. For comparison, Rodenbach's standard red ale is 3/4 young beer and 1/4 aged, so Grand Cru is an even more complex beer, and a real treat for sour ale lovers.
On the pour, it presents an attractive reddish-brown hue capped by a fairly thick off-white head that drops to a persistent collar. Expect an exceptionally complex aroma profile with a distinct sour fruit quality. Look for notes of sour cherries, oak with a hint of vanilla, caramel and brown sugar, tart raspberries, strawberries and cranberries, and both a lactic and an acetic (vinegary) touch.
On the first sip the sourness can be bracing, but give it a few sips and your palate will adapt. We tend to like sour ales at considerably warmer temperatures than is often recommended, so let it evolve over time in your glass and see how you like it best. In the mouth, Rodenbach is supremely refined and smooth, bringing moderate sweetness with notes of cherry and passion fruit, some oaky woodiness, cellar-like mustiness, and earth. Hop bitterness is very mild, with the sweetness balanced instead by the beer's distinct acidic and sour wine-like quality. The sourness of Grand Cru is considerably higher than their standard offering, thanks to the much higher percentage of 2-year-aged beer in the blend. With such a strong acidity, Flemish Red Ales make excellent companions to food, especially meat dishes with complex sauces, and Camembert, Brie, and other earthy cheeses.
Yes, the beer is supposed to smell and taste like that. Read on…
Sour beers of all kinds have become extremely popular in the US craft beer industry over the last several years, and perhaps no brewery has inspired our adventurous domestic brewmasters more than Rodenbach, which the late beer critic Michael Jackson (the world's foremost authority on beer, and founder of our Rare Beer Club) called a "World Classic" and the "Burgundy of Belgium." Belgium has a long history of brewing both tart and downright sour beers using wild yeast and bacteria, but it was Rodenbach in the late 19th century that helped pioneer and define the specific style of beer we know as Flemish Red Ale (a.k.a. Flanders Red Ale), considered by many to be the most vinous, or wine-like, of all beer styles. Rodenbach's beers are world classics – absolute benchmarks for the style – and it's our pleasure to bring Rodenbach's special Grand Cru to you this month.
The brewery bears the name of the Rodenbach family, who not only contributed their unique beer to the world, but also helped contribute Belgium to the world, at least as an independent country. The brewery was founded in 1821 by Rodenbach brothers Pedro, Alexander, Ferdinand, and Constantijn. All four played critical roles in the Belgian Revolution of 1830, which led to the secession of Belgium from the United Kingdom of the Netherlands. In fact, when Leopold I greeted the crowd from the balcony of the House of the Nation after being crowned king, Alexander (who ran the brewery from 1821 to 1836, and happened to be blind), appeared at his side.
In 1878, Pedro's grandson Eugène became manager of the family brewery. From a brewing perspective, as opposed to a political one, Eugène is certainly the most influential Rodenbach in the family line. During his travels to southern England he was exposed to, and learned much about, the early porter beers popular in London at the time. In the 19th century, these early porters were typically aged for at least several months in giant barrels where they matured and acidified. Eugène took what he learned and applied it at home in Belgium, developing and refining the technique, and creating the style of Rodenbach beer we know today. Sadly, Eugène died in 1889 at the age of just 39.
Rodenbach's red ales undergo a primary and a secondary fermentation, with both yeast (including wild strains like brettanomyces) and lactobacillus bacteria, creating a beer with a distinctively acidic, sour quality. However, it's when the beers enter the maturation stage that the fun really begins. The beer is aged in huge oak barrels known as "foeders" in Flemish ("foudres" in French), some of which are as old as 150 years. During the maturation, the bacteria continue to work, imbuing the beer with fruity esters that even the most active yeast strains would be hard-pressed to match. Each foeder matures at its own pace and develops its own unique character, so there's no specific timetable for when maturation of any given foeder is complete. Instead, the brewmasters not only determine when the beer is ready, they must blend beer drawn from different foeders in different amounts to create the flavor you experience from the bottle. While remarkably consistent, slight variation in the character of Rodenbach's beers from one bottling to another is part of the charm of this truly hand-crafted style of beer – in some ways reminiscent of different vintages of wine.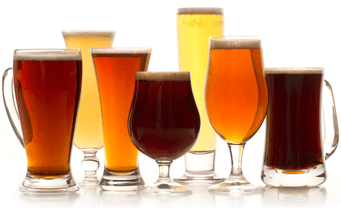 Unmatched Variety by style, brewery & country
Choose from Five different Beer Clubs offering unmatched variety by brewery,
country of origin, and beer style to suit your specific tastes.
DISCOVER OUR FIVE CLUBS