Browar Lomza - Lomza Mocne
ABV:

7.80%

Serving Temperature:

38-43° F

Suggested Glassware:

Pint Glass, Pokal or Mug (clear)
Mocne (pronounced roughly like "Muhhtz-neh") means "strong" in Polish. You won't find this word on the U.S. labels because of bizarre alcohol labeling laws in the States—you'll see "Pelne" on the label (meaning "full-light," a difficult-to-translate term that refers to a well-hopped pale lager, often regarded as the Polish approximation to Pilsner). The term "Malt Liquor" is often used to refer to beers over 6% ABV because alcohol labeling rules for beers really take things like macro-lagers as the gold standard for what "beer" is; and any "outliers" from that are given rather strange tags based, for the most part, on gross misunderstandings of beer styles and types. If you got this beer overseas, you'd see "Mocne" in place of "Malt Liquor" (these are NOT equivalent terms), but the Lomza folks did manage to "sneak" in the term "Mocne" on the beer cap of the U.S. bottles. Citrus notes, like overripened oranges and pears, dominate the nose, with honey also quite prominent, and hints of lemony, herbal hops. Mainly malt-centered in the bouquet. If you let it warm, it will get quite boozy on the nose. If malt liquor in the U.S. tasted like this, it might not have the poor reputation it currently suffers from. The alcohol is relatively well masked in the flavor, but does leave a mild heat after the swallow and provides some belly-warming. Look for notes of honey, candied orange peel, almond syrup, sweetbread, and a general, lingering sweetness, with the slightest note of white grapes in the back. The sweetness ultimately does subside, letting a lightly herbal hop bitterness peak through, though the hops really are quite restrained and this beer is more malt and sweet-centered than hoppy. Quite nice with orange chicken or spicy General Tso's chicken from your favorite Chinese takeout place.
Poland has been underestimated before. A country that fiercely repelled the Russians in 1920 and battled back from later being completely wiped off the global map in 1939. Poland's constitution of May 3, 1791, was the first such document adopted in Europe and was the second in the world after the United States. Poland is the birthplace of Copernicus, Chopin, and Marie Curie (she did discover Polonium, not to mention Radium). It was Polish mathematicians who cracked the Enigma code during the Second World War, and Poland was the first Central European country to overthrow their Communist government in 1989. It would be a mistake to underestimate the brewing heritage of this proud land and her people. Brewing history in Poland dates back 1,000 years, to the start of Polish statehood itself, and they've managed to hold on to some styles of beer that were elsewhere obliterated, like Baltic Porter. These days, Baltic Porters can be found well outside the realm of northern Europe—but that's in large part thanks to the few who kept the style alive, like Poland. Sadly, other styles have not managed to survive. Grodziskie beer, widely regarded as the only indigenous 'species' of beer born in Poland, sadly died when the last brewer to produce it shut their doors in the 1990s. Rumors abound that someone will reopen the brewery, however, so perhaps someday this unique smoked-wheat ale will return. Today Poland ranks 18th in the world for annual beer consumption at 69.1 liters per person (the USA is 13th at 81.6 liters per person, with Anheuser-Busch, or should we say InBEV (set to own A-B by the end of 2008) consuming 15% of the entire U.S. rice crop for brewing beer… what a waste of rice!) The Polish beer we've selected this month comes from a brewery in the northeast of Poland, in the town of Lomza (brewed by the aptly named Browar Lomza.) Since being founded in 1968 they've focused on supplying just the northeast corner of Poland with their beer, but they do offer some exportation to other countries as well—a fact which we're grateful for! If you'd like more information about Browar Lomza, check out their website at
http://www.browarlomza.pl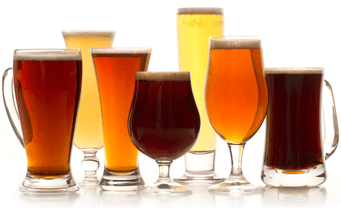 Unmatched Variety by style, brewery & country
Choose from Five different Beer Clubs offering unmatched variety by brewery,
country of origin, and beer style to suit your specific tastes.
DISCOVER OUR FIVE CLUBS