Browar Okocim - Okocim O.K. Beer
ABV:

5.6%

Bottle Size:

500-ml

Serving Temperature:

40-45° F

Suggested Glassware:

Pilsner Glass
Okocim O.K. Beer is more than just "O.K. Beer". It derives its quality from a recipe which incorporates the best of the indigenous Polish hop varieties, malted barley and pure spring water from the Tatra mountain range. The beer itself reflects the purity of these ingredients in its taste and is one of a handful of Polish brews that defined the "Polish Pils" style, which in turn separated Polish beers from the many other European brands. It is a light-to-medium-bodied beer with an inviting aroma of floral Polish hops leading to a hop aroma profile that is probably unlike anything you are used to unless you often partake of the Polish brews. Look for a balanced flavor of lightly sweet malts with a spicy hop bite and, as it warms, perhaps a slight increase in spiciness from both hops and a wisp of alcohol. This beer finishes with a superbly dry crispness that is stern and unique among many of the European lagers. For pairing options, we'd recommend traditional Polish cuisine, such as a plate full of hot potato and onion Pierogies, Barszcz (red beet soup) served with stuffed dumplings, or roasted carp. Na Zdrowie!
Poland has an enduring tradition of beverage brewing, going back just about as far as Polish history itself. Common citizens and noblemen alike have downed their share of local beers. Even Ippolito Aldobrandini, who later became Pope Clement VIII, was said to be a fan. As the story goes, while seriously ill, he made a desperate declaration that went something like "O, Santa Piva di Polonia!" The priests at his bedside mistakenly thought he had just referenced some obscure saint, but when they started praying to this strange Saint Piva of Poland, the future pope burst out laughing. The clergymen soon realized that he just wanted some of the amazing beer he had enjoyed while recently visiting Poland (Piwo means beer in Polish). And who could blame him?
Hops were brought to Poland from Bavaria in the 1200s, where they have since become quite prized for their unique aromatic qualities. Brewers here have made use of the natural resources of the Polish countryside for more than a millennium, and with that much experience under their belts, you can bet that they know a thing or two about making world class beers. The Malopolska province, located in southern Poland, borders the Ukraine to the east and Slovakia to the south. It is home to Poland's third largest city, Krakow—which escaped much of the tumult of World War II and retains its original charm and beauty. Visitors relish the opportunity to visit its many historical medieval towns and picturesque castles which dot the hillsides that lie at the foot of the Carpathian Mountains. To the east lies the portion of the country that is home to the world renown hop-growing regions of Pulawy and Lublin. These southern areas, and in fact, the entire southern half of Poland (south of Warsaw) are of particular importance to the country's brewing industry, with notable brewing areas in Wroclaw, Katowice, Krakow, Zywiec, and Okocim.
The district of Okocim (pronounced: Oh-KOTCH-eem) is in the town of Brzesko, to the east of Krakow, and is home to two of the region's very valuable architectural structures: the palace of baron Jan Goetz and the Okocim brewery which he founded in 1845, when this region was still a province in the Austrian Empire. A mere three years earlier, the first Pilsner was born in Pilsen, Bohemia (also an Austrian province at the time, in what is now the Czech Republic), and Okocim followed suit by creating their famous Okocim Pilsner. The brewery itself is well preserved, though recent additions have expanded it and seen the introduction of many modern pieces of equipment. There are at least three brewhouses, all still in use. The brewery still retains its original 1845 chimney, and as one of relatively few remaining "Austrian" breweries of this period, it represents a classic site in the modern history of beer-making. Today it is one of the biggest and best breweries in the country. The brewery currently produces a wide variety of different brews including: Okocim O.K. Beer, which is a great example of the "Polish-Pils" style of beer; Okocim Beer (yes, they do seem to gravitate toward the simpler names), which is an intensely hopped pilsner; Okocim Malt Liquor, not to be confused with the domestic malt liquors in the states, which is their strong (7.8% ABV) pale beer; Okocim Porter, a world-recognized classic in the Baltic Porter style; Okocim Palone, an intensely roasty dark beer; and Okocim Karmi, which is an unusual, dark, low-alcohol (0.5% ABV) beer often given to nursing mothers (in Poland) as an energy drink—it has an abundance of sweet malt flavors. It's an interesting assortment to select from, and we encourage you to try them all if you are ever in Poland.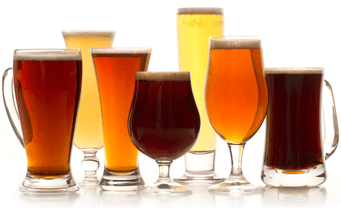 Unmatched Variety by style, brewery & country
Choose from Five different Beer Clubs offering unmatched variety by brewery,
country of origin, and beer style to suit your specific tastes.
DISCOVER OUR FIVE CLUBS