Buzzards Bay Brewing Company - Buzzards Bay Golden Ale
Buzzards Bay Golden Ale could be defined as a session beer, as many golden ales are. A session beer, for those unfamiliar with the term, refers to a beer that can be consumed in great quantity without having you feel like John Madden most likely does after consuming his 8 legged Turkey on Thanksgiving! Buzzard Bay's Golden Ale is, as one might expect, a pale golden color. Look for a mild Cascade hop nose, with underscores of pale malts. Immediately note a strong, citrus hop flavor with a slightly fading bitter hop finish. If you like hops, in a relatively mild beer, then this is your beer. Overall, a very enjoyable, drinkable and flavorful Golden Ale. Perfect with hamburgers, hot dogs, and anything else you can fit on your barbeque.
Buzzard Bay Flapjacks

We know what you thinking. No doubt wondering if beer is still the breakfast of champions. You may not see this recipe on the back of a box of Wheaties, but rest assured, it's a tasty way to put a new twist on a stack-o-pancakes. Besides, we're only talking about 2/3 cup a beer per 18 of these breakfast beauties! The addition of a wee bit of Buzzard Bay Golden Ale will add a mildly tangy flavor and give your cakes a light, fluffy texture.

1 ½ cup sifted flour
½ tsp. salt
½ tbsp. baking powder
½ tbsp. sugar
1 egg
2/3 cup Buzzard Bay Golden Ale
¾ cup milk
2 tbsp. melted butter

Measure dry ingredients into a large bowl. Add egg, beer, and milk. Beat with an electric mixer at medium speed until batter is light and frothy, batter will be the consistency of cream. Blend in butter. Cock pancakes on a hot griddle, lightly greased. Makes 18 regular pancakes, 6 manly-man cakes, or 1 really big bugger.

Source: Great Cooking with Beer, Jack Erickson, Red Brick Press, Reston, VA, 1989.


Hey Murl,

Have you ever heard of such a thing as a "Stone beer"? My buddie's a German and he tells me that there is such a thing and I'd like to try one. Do you know where I can get one? Is it made with real stones or what? Do they clean them first?

Frankie Livermoore

Portland, ME

Yo Livermoore!

If I had a 4 yr. old, I'd start by saying… "Yo Frank-Dawg… You ask more questions than my 4 year old! Whoa boy…slow down there. You forget your meds today, sport?" But since I don't have a 4 year old, never mind all that. You know, by contract, I only have to answer 2 of your questions and by law, I don't have to answer any of them, so take what you get and don't gimme no lip Frank-o! You got it?

To my knowledge, which is in general, quite extensive, only three breweries in the world brew a stone beer, or "steinbier," (stein is German for stone) with any regularity. Rauchenfels in Neustadt, Germany, and the two Boscos breweries, one in Germantown and other in Nashville.

There is not, nor has there ever been, one correct type of stone to use. Furthermore, there are no standard brewing methods as stones have been introduced at virtually all points in the brewing process. Some brewers have added them to the mash, others to the boil, and even some to the fermentation process. When the stones are added to the wort during the boil and then reintroduced to the beer during a secondary fermentation, the rich caramels that are produced on the surface of the stones while they are in the wort are then fermented away. The result is a softer, sweeter, caramel finish.

So it looks like you're off to Tennesse then! Shoot me a bottle when you get a chance. Sounds worthy of my bowl!

Woof!

Murl.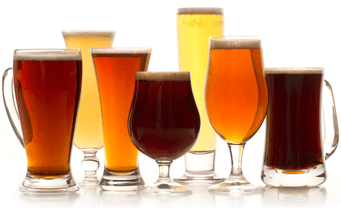 Unmatched Variety by style, brewery & country
Choose from Five different Beer Clubs offering unmatched variety by brewery,
country of origin, and beer style to suit your specific tastes.
DISCOVER OUR FIVE CLUBS