Casco Bay Brewing Company - Carrabassett Pale Ale
ABV:

5.2%

Int'l Bittering Units (IBUs):

25

Serving Temperature:

40-45° F
Carrabassett Pale Ale is a traditional American-Style Pale Ale. Full flavored, yet light-bodied and easy to drink. Brewed with five different types of malts and four types of hops, this pale ale is surprisingly smooth. It's slightly hazy in appearance and light amber in color. Look for a sweet pale malt aroma which is balanced nicely with a floral hoppiness. We found it to offer a perfect balance of flavor, beginning with a malty sweetness, moving quickly to a herbal, floral, citrus hop flavor, then finishing off with a light, drying bitterness. Sit back and enjoy this pale ale with your favorite cheese. Don't have any? Check out our Gourmet Cheese of the Month Club!
Casco Bay Ponderosa Ale & Egg Bread

As the holidays draw near, what better way to celebrate them than by enjoying great food and great beer, preferably at the same time! As most of you undoubtedly have pre-selected holiday meal main courses that rarely break genetic tradition, we opted to select a recipe this month that complements any homemade meal. This is a fantastic all-round bread, moist, finely textured, and replete with the essence of beer. The dough is easily formed into braids or dinner rolls.

7-8 cups bread flour
2 tablespoons dry yeast
1 cup warmed Carrabassett Pale Ale
1 cup warmed water
2 tablespoons sugar
1 cup dry powdered milk
¼ cup vegetable oil
3 large eggs, room temperature
1 tablespoon salt
1 egg white beaten with 1 tablespoon warmed honey

In a large bowl, mix 1 cup flour and dry yeast. Pour the warm beer and water over, and whisk thoroughly. Allow to rest in a warm, draft-free spot for 15-20 minutes. Whisk in sugar, powdered milk, oil, eggs, and salt. Stir in remaining flour one cup at a time, using your hands when dough becomes heavy and stop when it pulls easily away from the sides of the bowl. Knead vigorously, adding only enough flour to prevent dough from sticking to your hands or the bowl. When dough is smooth and elastic, coat the inside of a lg. bowl with 1 tbspn. vegetable oil. Press the ball of dough into the bowl and turn it over, coating the entire surface with oil. Cover and allow to rise in a warm spot until doubled and then punch down, divide in half, and allow to rest 5 min., covered.

To shape into loaves, coat an area of the counter with a few drops of oil. Pat dough into an 8 x 10-inch rectangle. Starting at the narrow end, roll firmly but gently into a cylinder. Do not stretch the dough. Pinch ends and turn them under toward the seam side. Forcefully slam the dough onto the counter, seam-side down, 2 or 3 times to seal and remove lg. air bubbles. Place loaves seam-side down in generously greased loaf pans. Cover and allow to rise until doubled. Gently and generously brush tops with glaze. Bake at 350 for 30-35 min. or until tops are golden and bottoms are browned.

Source: The Great American Beer Cookbook; Candy Schermerhorn; Brewers Publications, 1993.
Dear Murl,

Every time my owner cracks open a brew, my mouth starts to salivate. So to satisfy my slobbery condition, he indulges me by pouring some beer into his cupped palm for me to lap up. My question is this: Is beer OK for us canines?

"Kono" & Jim Harris

Denver, CO.

Dear Kono,

My gut reaction to your question is..."What are you kiddin' me bro? Does The Pope where a funny hat?! You bet it's OK for us!" But the legal suits we employ to sit around and tell us what we can't do have informed me that comments like that might be slightly negligible on my part, so I made a few prank calls to several of my favorite doggie docs. I got comments like, "I can't say that beer would be any better or any worse for dogs than it is for humans", "I would recommend alternative forms of stress relief such as feline chasing or rawhide chewies", and "Well, it is highly addictive and some canines have very delicate digestive systems."

Draw your own conclusions, Kono, but I'd prefer to think that an occasional brew (consumed in moderate quantities of course...especially for burrito dogs like Chihuahuas) would be acceptable for many dogs. I'm sure that there are a few pansies out there whose "delicate digestive systems" might induce adverse reactions generating business for their local carpet cleaning service, but this Big Dawg eats license plates for breakfast and needs a little Mocha Porter wash it down with! Your best bet would be to consult your personal physician cause he knows your insides a lot better than I do...unless you were in that out of control party in the dog park last weekend. Take Care, Kono.

Woof!

Murl.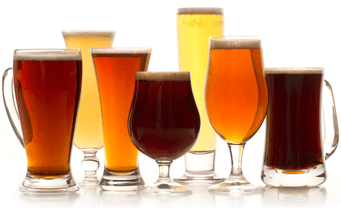 Unmatched Variety by style, brewery & country
Choose from Five different Beer Clubs offering unmatched variety by brewery,
country of origin, and beer style to suit your specific tastes.
DISCOVER OUR FIVE CLUBS