Cervejaria Sul Brasileira - XINGU Black Beer
ABV:

4.70%

Serving Temperature:

45-50° F

Suggested Glassware:

Pint Glass, Stein or Oversized Wine Glass
XINGU Black Beer is a dark lager brewed from barley, hops, water and yeast—nothing else—which you might find surprising considering the heavy notes of anise and treacle (which is like a heavy, almost medicinal molasses). Look for flourishes of black currants and vanilla beans. The opaque blackness is a result of using a variety of black-roast malts from South American-grown barley. Rated by the Beverage Tasting Institute as "Outstanding" with a tremendous 91 points. As they put it, "in two words: black silk." Good with Latin American dark meat dishes, as well as pumpernickel & pastrami sandwiches, served with a dill pickle. Also a surefire winner with a dark, leathery, chocolate-heavy maduro cigar. And we've got plenty of them. In fact, each month, we feature 5 premium cigars in our Cigar of the Month Club—which, like our Beer of the Month Clubs, runs cigars of various different styles and flavors. A beer in one hand and a fine stogie in the other—come on now, what could be better? Visit www.cigarmonthclub.com and get a subscription for yourself or a friend. You won't be disappointed.
Our second featured beer this month comes to us from Brazil. Microbrewed beer is probably not the first thing most people associate with this Portuguese-speaking land, but trust us: after you taste the famed XINGU Black Beer (pronounced SHIN-goo) you'll rethink Brazil's potential for high quality brewing. Actually, there's an emerging craft brew scene developing in South America, so we expect to see more and more fine brews from our southern neighbors—in fact, a few months back, we featured another South American brewery that was top notch indeed. XINGU Black Beer was conceived in 1986 when Amazon, Inc. was founded in Vermont by five women who sought to prevent the extinction of some of the world's rarest styles of beer. The company of Vermont beer-seekers hired beer anthropologist Alan Eames, widely regarded as "The Indiana Jones of Beer," to research and locate native prototypes of dark, rich beers from around the world. XINGU Black Beer as we know it was not released until February of 1988, but the earliest Western account of black beer brewed by the natives of the Amazon region dates to 1557. Many Amazon Indian tribes placed great spiritual significance on black beer as a beverage used in religious and social ceremonies. Thus, it was only natural that the search for authentic Brazilian black beer would begin in Brazil where Eames and his then-wife, Anne Latchis, president of Amazon, Inc., were aware of the history of famed black beers made by native female brewsters who fermented roots and grains and used herbs and bark as bittering agents. The name is derived from a tributary of the Amazon River which is home to the few surviving cultures and species of native Amazonian life threatened by dam sites, over-development and exploitation. It is also the name of the region that was the homeland of the Amazon women who first brewed the original native black beers. The distinct diamond-shaped XINGU Black Beer label was painted by artist Eric Green depicting a map of the XINGU River region, bordered by anacondas, with a Txucahamei warrior and a caiman (a tropical American reptile related to the alligator). We're very grateful to Alan Eames for his efforts—especially when you consider he trekked through such treacherous landscape in search of this historically significant, elusive brew. Sadly, Alan passed away unexpectedly in February of 2007 at the age of 59. We have many things to thank him for—from discovering what he believed to be the world's oldest beer advertisement, found in Mesopotamia, dating back to 4,000 B.C., to exposing the hallowed role of women in brewing through the ages—he was a dedicated researcher and champion of better beer—at one point he owned a store that had pretty much the best beer selection of its day in Massachusetts, and started a few well known east-coast ale houses. Please raise a pint (or stein, or oversized wine glass) in honor of Alan and his contributions to our modern day brewing culture and historical understanding of beer. Cheers!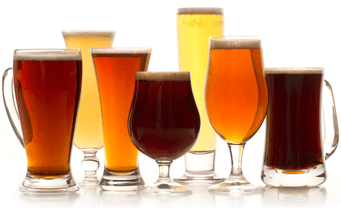 Unmatched Variety by style, brewery & country
Choose from Five different Beer Clubs offering unmatched variety by brewery,
country of origin, and beer style to suit your specific tastes.
DISCOVER OUR FIVE CLUBS