Choc Beer Company - Waving Wheat
ABV:

5.20%

Int'l Bittering Units (IBUs):

20

Serving Temperature:

40-45° F

Suggested Glassware:

Mug (clear) or Pint Glass

Malts:

2-Row Pale, Red Wheat, Oats, Flaked Wheat

Hops:

German Perle, Other: Curaçao Orange Peel, Spices
Waving Wheat is a Belgian Style Witbier (aka White beer). The reference to "white" comes from the cloudy, light-coloration imbued by the high percentage of wheat used as a fermentable. This beer has been re-fermented in the bottle and has a healthy (literally, it's loaded with B-vitamins) amount of sediment at the bottom of the bottle, so pour 2/3 into your glass, then swirl the bottle vigorously to suspend the sediment then pour that last 1/3 quickly into your glass—then give the glass a few swirls to mix the haze uniformly into the beer. Don't be afraid of the cloudiness: it's choc full of goodness! (Pun intended.) The beer has a traditional Belgian witbier nose with a heartier hoppy character than we typically find in European versions (but we'll certainly take it, it smells wonderful!) Look for notes of citrus peel, cloves, bubble gum, mango and passion fruit. On the palate, expect that characteristic wheat acidity twang in this style, clear and present levels of spicy clove character, orange peels, citrus-spiked rum (or triple sec?), and a touch of blonde tobacco. Finishes with a mix of sour and bitter, which is a bit of a departure from a style which is characteristically sour in the finish, but the combo works here. A complex example of the style, with American flare. Pair with hot weather and plenty of outdoor cooking this summer.
Coal mining, Native Americans, craft-brewing, meatballs and prison all come together in the storied past of the man responsible for creating the beers of the Choc Beer Company. Young Pietro Piegari arrived in America from Italy in 1903, settling with his family in the coal-mining town of Krebs, Oklahoma. At just 11 years old, he signed on to work in the mines and changed his name to Pete Prichard, but before his 22nd birthday, a mining accident crushed one of his legs, permanently preventing his return to the coal mines. In order to find work and pass the time, Pete took odd jobs and took up an interest in brewing beer. In 1919 he came across a recipe brewed by the local Native American tribe, the Choctaw, and worked on perfecting his own interpretation, which he named Choc Beer. Naturally, when other miners were on meal breaks, they headed up to Pete's place to grab a beer. It only seemed natural to Pete to begin serving them lunch to go with their beers. In 1925, he formalized this ritual by opening a restaurant in his home which served (literally) home-style, authentic Italian food. And since everyone was already calling it "Pete's place," it became permanently known by the same name. Prohibition ended up sending Pete undercover to make his beers, brewing discreetly in his basement and continuing to sell it to customers. But ultimately, the law caught up to him and he served two federal terms in prison for violating prohibition laws. In 1995, Pete's grandson, Joe Prichard, reintroduced his family's Choc Beer recipe (legally) to the public at the family restaurant, which remains in operation to this day (they actually were brewing and selling it until 1980, when a visit from the feds finally led to the taps being shut off—"homebrewing" was actually illegal). Joe took over Pete's Place in 1984 from his father, Bill, who took over from his father (Pete) in 1964. Today, with brewmaster Michael Lalli, Pete's Place brews (as the Choc Beer Company) four year-round beers with two more slated for release later this year: Waving Wheat, Miner Mishap, Basement Batch, 1919 ("Pietro Piegari" & "Last Laugh" are in the works). These six beers represent the six major chapters of the life of Pete Prichard—whose story is elaborated on at the Choc Beer Company's website—we encourage you to check it out, and seek out their finely crafted beers wherever you can! For more information about the Pete's Place or the Choc Beer Company, call (918) 423-2042 or check out their web sites at www.petes.org and www.chocbeer.com .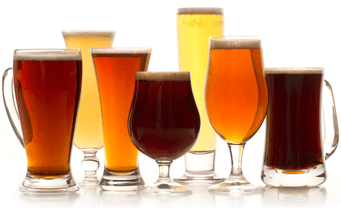 Unmatched Variety by style, brewery & country
Choose from Five different Beer Clubs offering unmatched variety by brewery,
country of origin, and beer style to suit your specific tastes.
DISCOVER OUR FIVE CLUBS