Christian Moerlein Brewing Company - Barbarossa Double Dark Lager
ABV:

5.00%

Int'l Bittering Units (IBUs):

18

Serving Temperature:

47-52° F

Suggested Glassware:

Mug, Stein or Pint Glass

Malts:

Munich Dark, 2-Row, Chocolate, Black

Hops:

Saaz, Hallertau
According to Greg Hardman, owner of C.M.B.C., this is the 3rd best-ranked dark beer in the world, and this was the very first beer brewed by Christian Moerlein in 1853. Some confusing labeling choices on this beer; let's dispel the double dark expectation. It's 'double dark' if you're expecting Natty Light, but not if you're thinking doppelbock. And these days, in a climate where not being 'politically correct' can just about get you crucified, we were surprised to see a company market a beer bearing the name of Barbarossa (Frederick I), the German Emperor who, legend has it, sits in his chair of state in a cave somewhere in Germany, and will, "when the ravens cease to fly 'round the mountain," awaken to restore Germany to its ancient greatness. A little research, however, reveals that this beer was first brewed well before the World Wars and, hence, the age (in modern times) when German zeal for power was something to be feared. Expect notes of fresh dough and toasted crackers on the nose, along with a subtle flash of figs and coffee, and a whisper of dark rum. Flavor-wise, this beer goes down more caramel-and-chocolate-accented than suggested by the nose, with some dark fruity notes (think plum-meets-raisin-meets-fig.) Expect a dry finish with notes of over-ripened red apple skins and a hint of apple cider. Stylistically, this beer rides the line between a dunkel and a bock. Pretty much picture perfect with a Colorado-toned, medium-bodied cigar, plenty of which are featured in our Premium Cigar of the Month Club. Hit up www.monthlyclubs.com for more details.
Cincinnati, Ohio, has a lengthy brewing past. One particular region, north of downtown, was a focal point for German immigrant settlers and, by no coincidence, became a brewing center. Many of the settlers to the area made a daily trek across bridges over the Miami and Erie Canal, which separated the area from downtown Cincinnati. In homage to their homeland they called their neighborhood "Over-the-Rhine," imagining the canal to be the Rhine River. In its heyday, Cincinnati's brewing industry boasted 36 operating breweries, many based in the O.T.R. area. When Prohibition swept across the country, the brewing industry was an obvious casualty, and many people left brewing-centric areas in search of work elsewhere. This had an unexpected upside: lack of industry and investment meant many of the original historic buildings remained intact rather than being demolished to accommodate new growth and development. Today, the Over-the-Rhine area is also known as the Brewery District because it has numerous 19th century Italianate breweries that survived. German beer heritage has been preserved to some extent as well—Cincinnati is, after all, home to the nation's largest Oktoberfest. One of the gents who kicked off the brewing-centric nature of the Cincinnati area was Christian Moerlein, a Bavarian blacksmith who emigrated to America in 1841. Within a year he had settled in Cincinnati and in 1853 established the Christian Moerlein (pronounced "more-line") Brewery in the O.T.R. area. Moerlein became the most prominent brewer in the city, and ranked among the top ten in the nation, selling his product across the United States as well as to other countries, which is notable because at the time, no other Cincinnati brewer had entered the international marketplace. The brewery continued to operate after his death in 1897. However, in 1918, Prohibition dealt the brewery a fatal blow. In the late 1970s, another famous Cincinnati German-brewed beer brand, Hudepohl, founded in 1885, resurrected the Moerlein brand. When they were reintroduced to the thirsty and nostalgic Cincinnati market, the Moerlein beers were the first US beers to be certified under the Bavarian Beer Purity Law of 1516 (a.k.a. the Reinheitsgebot). Ultimately, the Moerlein brand passed to another brewing group after the old Hudepohl Brewing Company, which had since merged with rival brewery, Schoenling, folded. Those owners, Snyder International Brewing Group, kept the brand alive (but in very limited distribution) and moved production to Maryland. In 2004, Greg Hardman, a greater Cincinnati resident and successful beverage industry veteran, hatched a plan to bring this beer back home to Cincinnati and purchased the Christian Moerlein brands and recipes. The Christian Moerlein beers just won't give up. Being around since the mid-1800s means this is effectively an "ancient" brew in the history of the USA. Three cheers for the enduring presence of good beer! For more information about the Christian Moerlein Brewery, drop them at e-mail at
[email protected]
or check out their web site at www.christianmoerlein.com.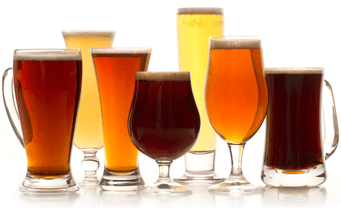 Unmatched Variety by style, brewery & country
Choose from Five different Beer Clubs offering unmatched variety by brewery,
country of origin, and beer style to suit your specific tastes.
DISCOVER OUR FIVE CLUBS