Clipper City Brewing Company - Chesapeake Gold
ABV:

5.2%

Int'l Bittering Units (IBUs):

20

Serving Temperature:

48-53° F
We think Hugh's got that intuition and apparently so does his home town as Chesapeake Gold chosen as the Official craft beer of the Baltimore City Bicentennial. This Golden Ale gets its mild bitterness and spicy aroma from Tettnanger and Cascade hops. Look for a malty sweet start in this filtered, deep golden colored ale. Note a smooth, malty body, nicely balanced with a slight hop bitterness. Chesapeake finishes on a tart, dry note, with a hint of caramel. Overall, a wonderfully balanced, flavorful Golden Ale.
Hugh Sisson, Owner and Founder of the Clipper City Brewing Co., is a central figure in Baltimore's craft beer industry. In 1989, he opened Baltimore's first brewpub. Previously, he had worked in his family's restaurant since 1980 as a bartender and manager. After studying acting at the University of Virginia and concluding that he didn't want to move to New York City to audition and wait tables, Hugh went to work for the family. The restaurant always had a wide selection of beer, and his interest in beer motivated him to open a brewpub in 1989. He ran that pub until 1995, when he left to open Clipper City Brewery. As Baltimore claims the invention of the Clipper Ship, it seemed an appropriate name for the new venture. Clipper City currently brews nine beers, three year round and six seasonal. The brewery's 50 barrel brewhouse allows a capacity of 20,000 barrels per year.

Sisson said his mission is to make world-class beer that serves a local market. He sees brewing as equal parts science and craft. "Making beer is not like making widgets," he says. "It's truly a craft, and many aspects of brewing defy scientific analysis. Brewing is a lot like being a great chef. You need a good background in brewing science, but a lot of it is intuition. You just know. It's a science and a craft, and that's the challenge."
Barbecued Beer Shrimp

A grill filled with these tantalizing shrimp and a bucket of chilled brew is a sure-fire way to enjoy a Sunday afternoon with friends and family. You'll only have to part with 2/3 cup of your Pils Lager to make it happen.

2 pounds of large shrimp
½ cup olive oil
2/3 cup Pils Lager
3 tablespoons lemon juice
4 large cloves garlic, crushed
¼ cup finely chopped scallion
2 tablespoons fresh basil or 2 teaspoons dried
dash or two of Louisiana hot pepper sauce
bamboo skewers, soaked in water for 1 hour

Shell and clean shrimp, rinse, and pat dry. Mix oil, Pils Lager, lemon juice, garlic, scallion, basil, and hot pepper sauce (optional), add shrimp, and coat thoroughly. Cover and marinate in refrigerate 4-8 hours. Spear shrimp on soaked skewers and place in refrigerator until ready to cook. Barbecue or broil until shrimp turn pink.

Source: Great American Beer Cookbook, Brewer Publications, Boulder, CO.
365 BEERTIME STORIES - A journal kept on the Mayflower reveals that the Pilgrims would have sailed further south to Virginia, instead of landing on Plymouth Rock, had they not run out of beer.

AMERICAN HOMEBREWERS ASSOC. - The AHA reports that homebrewers in the U.S. brew about 8 gallons of beer a month. Incidentally, they've also informed us that 95% of homebrewers in the U.S. are men. What's up ladies? (last sentence in italics.)

GUINNESS BOOK OF RECORDS - Peter Dowdeswell of Earls Barton, Great Britain holds the record for the fastest consumption of a yard of ale (2.5 pints) by downing one in 5 seconds!

BEER: THE MAGAZINE - French designer Christian Louboutin has introduced a woman's patent leather pump whose heel is a tin can of Guinness Stout. Whether you spend your $450 on the shoes or approximately 130 pints of Guinness is entirely up to you.

THE BREWER'S DIGEST - Qruze, developed by "Brewmistress" Kim Labrie, is a "clear carbonated malt beverage" that claims to be the first malt alternative beverage to be conceived. Labrie says the beverage "offers a clean and exotic taste without the foam, bite or bitterness associated with other beer and malt beverage drinks. Looks like Zima haz zum competition.
Dear Murl,

I've actually got two separate questions for you, if you can fit it in your busy schedule of gnawing on rawhide and lapping up your no doubt complimentary shipments from Microbrewed Beer of the Month Club. I've recently moved to Texas and have noticed that Longneck bottles are far more prevalent here than anywhere else in the country. Can you shed any insight as to why this may be? Secondly, and not related in anyway whatsoever, what's the difference between "cold-filtered" and "draft" beers?

Betsy Schmeling

Fort Worth, Texas

Dear Bets,

Does my acute canine sense of smell detect an air of attitude with your opening statement? I do a lot around here. Product research and Quality Assurance are two areas I take damn seriously. And by the by, let's get one thing straight. Not only do I get a complimentary subscription, I get pallets of beer... to my bowl... when I want it... and served in my favorite stein cause I am the Main Mutt at Corporate if you get my meaning. So, what was your question again? Sorry, you got me all frothy here. Texas. Longnecks. Right. On the longneck thing, I really have no idea, however I suspect that it's some kinda phallic, cowboy-related subliminal deal suggestive of one's manliness. On your other inquiry, all beers are cold when they are filtered. Cold-filtered implies "fresh", and naturally draft beer means "very fresh". Both are really no more than slick marketing terms used by the big boyz to woo the general public into consuming mass quantities of their otherwise lack-luster products. Remember the Alamo, Bets!

Woof!

Murl.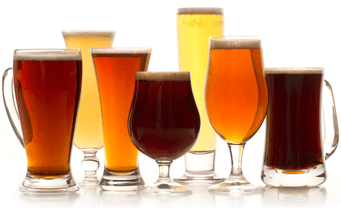 Unmatched Variety by style, brewery & country
Choose from Five different Beer Clubs offering unmatched variety by brewery,
country of origin, and beer style to suit your specific tastes.
DISCOVER OUR FIVE CLUBS