Clipper City Brewing Company - McHenry Old Baltimore Style Beer
ABV:

4.4%

Int'l Bittering Units (IBUs):

18

Serving Temperature:

40-45° F
Great name. Great story. Great beer. The McHenry Old Baltimore style beer is brewed in the same style as the lagers that were produced in Baltimore just after prohibition laws were repealed . It is also named after Baltimore's famed Ft. McHenry and Irishman James McHenry - Secretary of Defense under George Washington. Clipper City calls this brew "The Best Defense Against Out Of Town Beer". Look for a spicy hop aroma up front. When this brew passes your lips, you will first notice a pale malt flavor followed by a slight hop bitterness. Overall, a clean, well-balanced session beer.
India Pale Caribbean Chicken!

We uncovered this unique tropical recipe to salute those of you that still had to shovel a path for your UPS man in order to receive your shipment this month! The combination of cooling coconut milk, beer, toasted almonds, and fiery spices makes this chicken dish one of contrast and fascinating flavors.

½ cup blanched almonds
2 cups coconut milk
¼ cup peanut or canola oil
1 lg. onion, finely chopped
4 lg. cloves garlic, finely minced & mashed
¾-inch piece fresh ginger, peeled & lightly mashed
4 chicken breasts, skinned, split, & boned
1 ½ cups Clipper City IPA
½ cup flour mixed with ½ teaspoon each salt, pepper, and paprika
1 teaspoon freshly ground cumin
15 small dried hot red Asian chilies
Juice of 1 lime
½ cup freshly chopped cilantro
4 lg. scallions, finely chopped

In a heavy skillet, toast almonds lightly to a pale gold color. Place in blender with coconut milk and blend until smooth. Set aside. Heat 2 tablespoons oil over medium and sauté onion, garlic, and ginger until onion is wilted. Remove and set aside. Moisten chicken breasts with ½ cup ale. Coat lightly with seasoned flour. Turn up heat to medium-high, add about ¼ cup oil, and brown breasts lightly on both sides. Add coconut-almond mixture, cumin, salt, and chilies to chicken and bring to a slow simmer. Keep low or coconut milk with curdle. Simmer, uncovered, 35 minutes. Remove chicken and add lime juice, chopped cilantro, and scallions, stirring gently. Remove ginger and discard. Serve chicken and sauce over steamed rice. Serves 4 adults, 2 hungry wolves, or Dom DeLuise!

Source: The Great American Beer Cookbook; Candy Schermerhorn; Brewers Publications, 1993.
Dear Murl,

Hello from the Pacific Northwest, home of the re-birth of the microbrewery! First, I would like to thank you for your beer of the month service. Thanks to you, we've been able to enjoy a lot of great brews from around the country. My question is this: What is meant by the term "lagering"? And if I can get two in for the price of one, what is the difference between beer and ale? You might be able to tell from my questions that I am fairly new at this hobby. I don't know much about 'em, but I sure do enjoy drinkin' them! Keep up the great work!

Happily Yours,

Harold Scott

Belfair, WA.

Yo Harry!

May I call you Harry? I mean, my friends call me hairy and sometimes I get ticked, not because I have ticks, mind you, but because I am hairy. Anyway, Harold, thanks for the kind words; it means a lot to a guy that is usually rewarded with rawhide chewies and Science Diet's interpretation of a "Scooby Snack". Lagering is a term that originated from the German word "Lagen" which means to lie, rest, or repose. The term refers to the storing of bottom-fermented beer in cold cellars at near freezing temperatures for periods ranging from a few weeks to several months and occasionally up to a year, during which time the slow process chemical reactions take place which mellow the beer, reducing any harsh or off flavors. Lagering generally creates a smoother, crisper, and cleaner product.

On beer and ale, it's really just a question of semantics. The word beer is used rather broadly to describe nearly all beverages made with malted barley except a couple of strange brews like zee inzamous Zima and zome other peculiar products. All beers fall into two primary categories or classifications, one of which is Ales, the other being Lagers. Furthermore, there are many different styles such as stouts, bocks, or hefeweizens that fall under each category. We've included several articles on the various beer styles in past editions of The Brew Harvest Review which can be viewed on our web site at www.beermonthclub.com in the Beer Style Guide Section. Hope that clears it up a bit for ya, Hairy.

Woof!

Murl.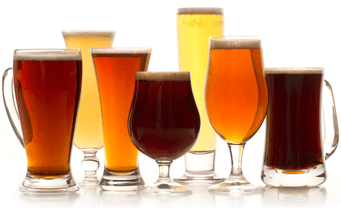 Unmatched Variety by style, brewery & country
Choose from Five different Beer Clubs offering unmatched variety by brewery,
country of origin, and beer style to suit your specific tastes.
DISCOVER OUR FIVE CLUBS