Coniston Brewery - Old Man Ale
ABV:

4.80%

Serving Temperature:

58° F

Suggested Glassware:

Pint Glass
The Old Man of Coniston is a mountain in the English Lake District that can be seen from the Coniston Brewery at the Black Bull Inn. This softly-rounded landmark in England's most picturesque region is the inspiration for Old Man Ale, Coniston Brewing Company's rich and satisfying second brew. Do not swirl the bottle when pouring, leave the sediment behind (the yeast have already done their thing, thank them for it, and move on). This ensures a clear, amber beer with coppery highlights, capped by a prodigious, off-white colored head. On the nose, expect powdery talcum, over-ripened oranges, marmalade, some juicy fruits, and a snappy floral character. Look for hints of graham crackers as it warms, with a heavy mineralized edge. On the palate, the beer is extremely toasty, crackery, with fruity notes favoring orange tones, but grounded in a robust earthiness. Superbly balanced and just beautifully done. Pub ale at its finest. Finishes with a citrusy fade, only delicately bitter with lingering after-notes of toasted bread. Overall things wrap up on the dry side, leaving the palate clean, refreshed, and ready for another sip. This is a great example of a beer you can have over serious, extended conversation; a beer for friendly debates or hatching plots (take your pick). Be sure to drink this beer at the recommended temperature (58°F), as you will miss a lot of the nuance if you consume it too cold. Pair with a ploughman's lunch featuring English cheddar or Stilton.
The Coniston Brewing Company, with its roots in the hotel and licensed trade, knows a thing or two about giving their discerning customers quality and service. The Black Bull Inn and Hotel was built about 400 years ago, around the time of the Spanish armada, as a coaching inn, providing accommodation for both travelers, coachmen and horses. The Inn is situated in the picturesque village of Coniston, stream-side and in the shadow of the local, picturesque 'Old Man' mountain. The Big Toe of the Old Man pierces the Inn itself as a large piece of stone set in the wall of the Black Bull residents lounge. Ian Bradley, son of the owners of the famed Black Bull, having studied and graduated in the art of brewing, took the reigns of the Coniston Brewing Company when built in 1995. In 1998, Coniston's first beer, Bluebird Bitter, won the U.K.'s most prestigious beer award, claiming the title of "Supreme Champion Beer" at the Great British Beer Festival. Make no mistake, the British know their beer, particularly pub ales and "real ale," also known as live or living beer. These beers are brewed with living yeast left in the storage vessel (be it keg, cask, or bottle), thus conditioning the beer as it sits—keeping it fresh, lively and full of flavor. Bluebird Bitter set the bar high, and their subsequent beers have managed to follow suit in terms of character and appeal. Being a true British Publican is an art. These days, few people still participate in the process of blending beer to create unique new beers, but it was once a job requirement—the predecessor to the Porter style, for example, was made by blending different barrels, or threads of beer, locally at the pub. It's an art that just barely survives today. But like their beers, this art is alive and well at the Coniston brewery, where they blend their Old Man Ale (featured this month) and Bluebird Bitter to make a third beer called Opium that many swear is the best of the lot. And while the U.S. government would never allow a beer by this name to be imported, the great Mahar's Public Bar in Albany, New York, makes their own Opium by blending Old Man and Bluebird straight from their respective casks. So, you have a stateside opportunity to try this yourselves—and we recommend that you do. Better still, visit The Black Bull yourself. In 400 years of history, many famous people have passed through the hallowed portals of the Black Bull and enjoyed it's hospitality, including Turner, the artist, Coleridge, the poet, De Quincy, author and intellectual, on his way to meet William Wordsworth (though the Opium he may have had was not the same as that described above), and more recently Donald Campbell, when attempting his water speed records in his famed "Bluebird" jet-powered water craft. The film "Across the Lake" staring Anthony Hopkins, depicting the last 60 days of Campbell's life, used the Black Bull as a venue.* All have lodged at this historic Inn and why not—the hotel provides a cozy, warm and inviting base for walking, climbing, sailing and many other activities in the English Lake District, or simply as a great place to relax and unwind. With 15 comfortable bedrooms and a world class pub serving true British ales, we can see why the Old Man decided to settle here himself. For more information, visit their website at www.conistonbrewery.com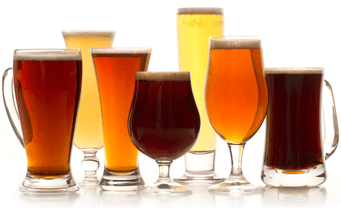 Unmatched Variety by style, brewery & country
Choose from Five different Beer Clubs offering unmatched variety by brewery,
country of origin, and beer style to suit your specific tastes.
DISCOVER OUR FIVE CLUBS