Coopers Brewery Limited - Coopers Extra Strong Vintage Ale (2004)
ABV:

7.50%

Serving Temperature:

48-55° F

Suggested Glassware:

Pint Glass, Oversized Wine Glass, or Snifter
Made with barley and wheat malts cultivated in Coopers' own malt house, this balanced brew is triple-hopped with Hersbrucker, Cascade and Australian Pride of Ridgewood hops and fermented with a 90-year old yeast strain! A true "collector's beer", it's a great candidate for aging, so try to put away a few bottles and sample them at various points over the next 2+ years. You'll find that older versions will develop more complexity and roundness. Note that you might want to pour this beer slowly and carefully, leaving the last ¼ inch in the bottle, unless you like the haze and extra B-vitamins you get from yeast sediment. It's just a matter of taste. And yes, the yeast will affect the flavor, so maybe you'd like to try both ways and see what appeals best to you. Speaking of peels, expect notes of apple skins, apricots, tangerine and malts on the nose and in the flavor. The finish is distinctly fruity, with a peppery hop bite and a nutty yeastiness. Enjoy with braised lamb or as a nightcap.
Just outside Adelaide, Australia, in Leabrook, you'll find the Cooper Brewery, the last stronghold of the old-established, family-owned breweries on the continent. The brewery was founded in 1862 after Thomas Cooper, a Methodist preacher from Yorkshire, England, immigrated to Adelaide, Australia. It was a move of gumption considering the relatively small population of the then 26-years young South Australia colony and the presence of large, highly competitive breweries firmly established there. But Mr. Cooper, with his entrepreneurial spirit, would not be deterred… His venture into brewing was spawned much by accident when his ailing wife requested that he make a restorative ale—to be used as a tonic—from an old family recipe. Turns out the ale was well received not only by his wife, but by locals for whom he provided samples. Appreciated for its taste and perceived medicinal attributes, demand quickly grew enough for Thomas Cooper to start his famous brewery, which today remains as the sole independent brewery in Australia to survive the entire 20th century. Interestingly, as a Wesleyan preacher, Thomas Cooper felt that pubs were sinful places (though he wisely saw no evil in beer—after all, it was the tonic that aided his wife's health). Thus, for most of its history, the brewery owned no pubs, and today they own but one, the Earl of Aberdeen, in the old center of Adelaide. A brewery with no pubs, while commonplace in the US microbrewery revolution, is an exceedingly uncommon occurrence for classic overseas breweries. Thus, takeover bids were likely thwarted by this apparent lack of an "automatic market". Now, we like to believe that founder Thomas Cooper would have been a fan of our beer of the month clubs for this very reason! No pub necessary to enjoy these fine brews, right? Hey, we're proud to respect the wishes of this great man, and by quaffing the ale we've sent you, you're doing exactly the same. Unfortunately, we must report that Coopers is currently under threat of losing their long-held independence. A competing brewery (more of a conglomerate actually), Lion Nathan, has recently launched a hostile takeover bid. Coopers, while still family-run, does have shareholders, and if a majority of them approve the deal, then it's goodbye to independence. The Coopers family is ready for the fight however, and the fight is getting ugly. Currently bouncing around in the Australian courts, accusations from both parties are flying. From Lion Nathan's side, Coopers' unwillingness to accept the offer is unreasonable and not in the best interests of their shareholders, while Coopers maintains that Lion Nathan's bid is opportunistically inspired by the recent growth of Coopers, and Lion Nathan's recent slump in profits. Time will tell how this one turns out. We're certainly hoping that Coopers can maintain its independence. It's a principle that continues to this day (for now), as the fifth generation of the Cooper family faithfully continue to run the enterprise. For more information about the brewery, check out their website at www.coopers.com.au.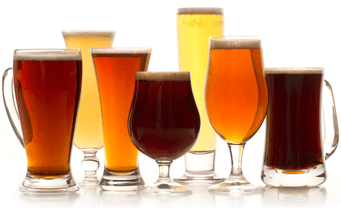 Unmatched Variety by style, brewery & country
Choose from Five different Beer Clubs offering unmatched variety by brewery,
country of origin, and beer style to suit your specific tastes.
DISCOVER OUR FIVE CLUBS