Copperhead Brewing Company - Copperhead Pale Ale
ABV:

4.7%

Int'l Bittering Units (IBUs):

36

Serving Temperature:

42-47° F

Copperhead Pale Ale is brewed with a combination of Two-Row Pale, Bairds Pale, Carastan, and Wheat malts. Marty hops this ale aggressively with cluster hops up front to give the beer its bitter finish and a serious dose of Cascade hops at the end of the 95 minute boil primarily for their aromatic contributions. Marty also dry-hops Copperhead with Cascade hops. A proprietary ale yeast strain is used.
Look for a very pleasant, yet complex floral and malty nose up front which tends to be fruity, but clean. We also picked up some nice estery notes in the nose. Note good head retention in this pale, filtered, medium-bodied ale. Copperhead's flavor starts out with a sweet maltiness which is balanced nicely with both a floral and spicy hoppiness. It ends on a dry, slightly bitter hop note. Overall, a very flavorful, extremely well-balanced Pale Ale.
The Copperhead Brewing Company was founded by Jim Jenkins in 1994 and opened its doors with the breweries flagship beer which we are proud to feature this month. Copperhead's Red Ale was later added to the product line one year after opening. He started out down a similar career path to Samuel Adam's Jim Koch by working for a large L.A. management consulting firm after graduating from U.C. Berkeley. It only took Jenkins one year of corporate life to conclude that he should turn his homebrewing passion into a full-time career. Jim teamed up with noted brewing consultant Marty Velas to formulate the recipes for his two existing products and plans to introduce both a Pilsener and Wheat later in the year.

For more information about the brewery and scheduled tours, call (714) 760-3171.
AMERICAN HOMEBREWERS ASSOC. - The AHA reports that homebrewers in the U.S. brew about 8 gallons of beer a month. Incidentally, they've also informed us that 95% of homebrewers in the U.S. are men. What's up ladies?

GUINNESS BOOK OF RECORDS - Peter Dowdeswell of Earls Barton, Great Britain holds the record for the fastest consumption of a yard of ale (2.5 pints) by downing one in 5 seconds!

SOUTHERN DRAFT BREW NEWS - Beer makes you smart! Researchers at Indiana University Medical Center in Indianapolis have discovered that moderate drinking may improve memory and problem-solving abilities, according to a report in Health magazine.

YORK UNIVERSITY - The world's strongest beer, Uncle Igor's Famous Falling Over Water, brewed by the Ross Brewery in Bristol, U.K., is 17.3% alcohol by volume. Holy Bat-Buzzes Batman! The most expensive beer ever sold on first offer from the brewery (as opposed to aged, rare, collector, and vintage specimens) is Samuel Adam's Triple Bock which at one time went for $100 for a case of 24, six ounce bottles.
Dear Murl,

I have been sanitizing my bottles by emersing them in a water/bleach bath for 30min or so, and then rinsing them out with a JetWasher. This seems to work fine, but it is labor intensive! My question is: Is there an easier, bulletproof method? How do you do it and have you had any bad luck with that method?

Lisa Koff

Denver, CO

Yo Lisa!

First of all, I just have to let you know that I really dig sniffing chicks that brew. It's a big turn on for this pooch. Can't say as I can put my paw on it exactly, but it's a good thang. Personally, because as I'm sure you are well aware, canines have exceptionally clean mouths with nearly non-existent bacteria levels, I lick my bottles clean. Of course I have to be careful to be sure that there aren't any Milk Bone particles or rawhide chewy bits in my mouth when I do it. I've really only once had my beer affected by this cleaning method and if I remember right, I had just returned from a road trip to Tijuana which may have had something to do with it. In any case, to answer your question: Yep. There are several easier ways. Toss them in the old oven with your brownies at 350 and bake them for 30 minutes, let 'em cool, and bottle away. No kidding. It works. I know a pit bull that simply puts his bottles and bowls in the dishwasher before bottling and has never had a problem. As a general rule, it's always a good idea to rinse the "H-E-double hockey sticks" out of each bottle as you consume your private stock nectar. Hope that helps, Lisa! Keep on Brewing!

Woof!

Murl.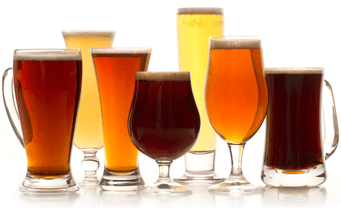 Unmatched Variety by style, brewery & country
Choose from Five different Beer Clubs offering unmatched variety by brewery,
country of origin, and beer style to suit your specific tastes.
DISCOVER OUR FIVE CLUBS