Cucapá Brewing Company - Obscura
ABV:

5.20%

Serving Temperature:

45-50° F

Suggested Glassware:

Goblet or Pint Glass
Looking north for inspiration (well, only about 2 miles north, they're really close the border), this beer is Cucapá's impression of an American Brown Ale, which could mean a lot of things, since Brown ales can run from sweet and syrupy to robust and spicy with an alcohol by volume of 4 to 8% or so. Obscura is a stab toward the easy drinking sweet side of the style, with a decent amount of American hops thrown in for some citrusy aroma notes and moderate bitterness in the finish. Expect a chestnut brown ale with garnet hues developing with exposure to light. A tan head fades somewhat quickly to a respectably-enduring collar around the edge of the glass. Note fresh produce on the nose: stone fruit skins, oranges and apples in that fresh, produce-aisle kind of smell. Check out the wafts of cocoa, and a faint bit of lactic (milk-like) funkiness that lurks in the background, overshadowed by lightly roasted nuttiness. Overall aroma is malty with a citrusy edge, well within the realm of American Brown Ale. On the palate, look for notes of dough, toasted sweet bread, notes of brown sugar sweetness, citrusy orange notes, and some earthy spice from the hops. Notes of caramel and a bit of chocolate and molasses linger in the relatively bitter finish. We suggest pairing with a hearty stew or steak chili. Please note: this is a beer that should be consumed fresh—don't hang on to it too long, it's not meant to be aged. Enjoy the moment—drink your beer!
Craft brewed beer from Mexico? In a world of Corona and Tecate, could there be such a thing? Sadly, this is the expectation many of us have when pondering beer from Mexico. As a brewing culture, Mexico has a leg up on the big US Brewers. Not unlike the early US beer scene, early German settlers in the 19th century made sure the beer was to their liking, catering to an ever growing population of European immigrants. In Mexico, they also made sure their beers were suitably thirst quenching for the hot climate. But, no Mexican version of national Prohibition meant that, unlike in the US, these traditions went uninterrupted. And while many of Mexico's beers have been associated with mass-marketing the "laid back, ultra casual, everything needs a lime" approach to beer drinking, there are many well made examples of Mexican beer, due in no small part to the contributions of early German settlers who left their mark on the local beer scene. While the German influence effectively eliminated production of ales in favor of lagers, Pilsner never quite became as ubiquitous as it is in the rest of the world. Instead, toastier, more firm Vienna-style Lagers prevailed in the Bavarian tradition. It was when the country joined the big league of brewing countries in the early 1970s by becoming one of the top ten beer producers worldwide, overtaking even Canada and East Germany, that Mexican beer got stuck in the paradigm of global sameness that was and remains the international brewing scheme made so successful by the constantly merging brewing conglomerates. Add huge advertising budgets held by large companies and campaigns to tap the vast American beer market and you have, basically, what generally comes to mind when we think of beers from Mexico. But look back further in the history of brewing in Mexico and one finds a far more original, pioneering past; Mexico was actually home to the first commercial brewery in the New World, set up through the patronage of the King of Spain in the mid-1500s, in Cortés's day. And fermentation of local cultivars such as Blue Agave has given rise to a rich tradition of concocting entirely original alcoholic libations. Using the local resources of the land in a creative and responsible manner was the way of many indian tribes of North America, including the Cucapá tribe, Baja California natives who were the first settlers of the Colorado river delta—a region which has since grown into the northern state of Mexicali. Only a few direct tribe ancestors remain, but another bearer of the Cucapá name intends to pioneer a microbrewing revolution for Mexican beer. The Cucapá Brewing Company, founded in 2002, is Mexicali's first local brewery in 25 years, but they're brewing something very different than the last one. The brewery opened in 2002 as one of the first microbreweries in Mexico, but in the form of a brewpub. At first, it was a pretty tough sell. Their beers are stronger, more robustly flavored than what comes from just about every other brewery in the country—but it's not unlike the market that early US microbrewery pioneers faced when they kicked off their own attempts at revolution in the late 1970s and early 1980s. In relatively short order, in part due to growth in popularity of the US craft brewing scene, demand was growing to such an extent that CEO Mario Garcia realized an opportunity to grow their brand dramatically. In 2006, a bottling plant and stand-alone brewery was opened. Sadly, this meant the brewpub and a 2nd bar were both closed in favor of moving exclusively into the production realm of the brewing business—but on the upside, they're helping to change the hearts and minds of many local beer drinkers, and those outside of their borders. They are the first and only Mexican microbrewery that has received a score of over 90 from the US-based Beverage Tasting Institute, and they've done this for four of their beers. The brewery continues to take risks considering that about 99% of the beer brewed in Mexico is some form of pale lager. Cucapá produces a barleywine, a Gold Medal winner during the 2006 World Beer Championships (WBC), a Bronze Medal winning Wheat beer at the 2005 WBC, an Amber brewed with local Mexican Honey, which took a Gold Medal at the 2007 WBC, a low calorie light beer, and a Silver Medal winning Blonde Ale, in addition to the two beers we've lined up for you this month—one of which is literally the hoppiest beer in Mexico! We tip our hats to the folks at Cucapá for re-pioneering the Mexican beer scene. For more information about the brewery, check out their website at www.cucapa.com.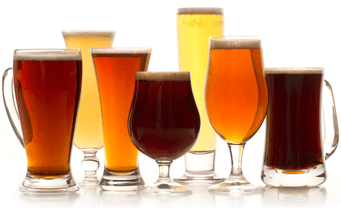 Unmatched Variety by style, brewery & country
Choose from Five different Beer Clubs offering unmatched variety by brewery,
country of origin, and beer style to suit your specific tastes.
DISCOVER OUR FIVE CLUBS