Darwin Brewery Ltd. - Flag Porter
ABV:

5.0%

Serving Temperature:

45-50° F

Suggested Glassware:

Pint Glass
Salvaging 163-year-old yeast that has been sitting at the bottom of a bottle—sitting at the bottom of the English Channel—now that's quite a chore. Thankfully, the makers of this fine brew did their homework in order to come up with this authentic ale. Flag Porter was modeled on the brown porter style prevalent at the turn of the nineteenth century rather than the richly roasted Victorian porters that developed later. This would have been more typical of the porter likely to have been aboard a ship on the waters of the English Channel in 1825. Look for a nice malt nose, with notes of roasted barley and a slight hint of fruitiness from their famous yeast. Expect the rich malty qualities to persist in the flavor, with a subtle roastiness and light spiciness from the yeast. The finish is quite dry, appropriately bitter, and rather complex—with notes of bitter chocolate, figs, and hints of wood and leather. The feel in the mouth is velvety smooth as this complex brew rolls across the tongue. This unique porter has impressed many folks the world over—winning the World Beer Championship Gold in 1998, among other accolades. It is excellent with red meat or oysters, and due to its inherent roasted character, this is a great drink to pair with an earthy, leathery cigar. Cheers!
Porter, a beer that would become the first nationally popular beer style in Britain, was first brewed in 1722 in Shoreditch, London. As the legend goes, it was commonplace for patrons to request two or three different ales to be combined in their glass to strike their preferred flavor (there were more beer aficionados back then). Eventually, an innkeeper named Ralph Harwood developed a beer that embodied the virtues of each component beer, and he called his brew "Entire." It swiftly became very popular with the working men at the docks of London (or "porters" as they were known, yielding a name that finally stuck).
Within a few years porter had become the most popular style of beer in Britain. Saloons would offer accommodations to working men with cheap cuts of beef and, of course, porter by the pint. In 1799, Guinness switched entirely (no pun intended) to producing porter, which became the beer of the Irish working man. In fact, it was porter that would ultimately give rise to a variation known today as the very popular Guinness Draught, an Irish dry stout (there is some debate over where to draw the line between porters and stouts, or even to draw the line at all). But despite its massive popularity, the original style all but vanished by 1973, replaced mainly by the stout variations created by Guinness and others.
Today, porter is again alive and well, experiencing a renaissance in both the U.S. and the U.K., though its original formulation and flavor remains somewhat of an uncertainty in the wake of its many variations over the years, not to mention its brush with extinction. But, this month, we provide what may be the most historically accurate porter available today—Flag Porter. Its story is certainly among the most interesting we have ever encountered. In 1988, several bottles of porter were raised from their resting place 60 feet deep in the body of an 1825 shipwreck lying at the bottom of the English Channel. The beers were in their original containers, with their wood stoppers and wax seals intact. Unfortunately, the 163-year-old beer 'tasted like old, wet boots' according to Dr. Keith Thomas, renowned brewer and microbiologist at Brewlab in Sunderland. However, after opening the beer under sterile conditions, Dr. Thomas was able to successfully culture a strain of yeast! After months of re-cultivating this yeast, he brewed a porter using an authentic 1850 recipe. Adhering to the practices of porter brewers of the era, Dr. Thomas uses barley and hops grown without pesticides or chemical fertilizers, and the very same yeast that was extracted from a bottle of 1825 porter!
The beer that has come to be known as Flag Porter is currently brewed by Brewlab's sister business, the Darwin Brewery of Sunderland, England. Established in 1994, Darwin Brewery has become one of the most respected small breweries in the northeast of England. They produce a wide range of traditional and unique beers on their 12-barrel system and have received ongoing awards, including the Campaign for Real Ale (CAMRA) North East Beer of the Year for their delicious Ghost Ale. They also produce as many as 40 experimental brews each year on their original, tiny, 18-gallon brewing system which is based at Brewlab. Cheers!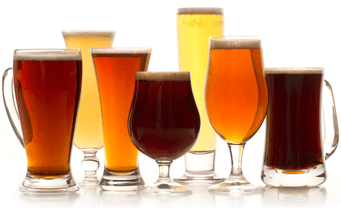 Unmatched Variety by style, brewery & country
Choose from Five different Beer Clubs offering unmatched variety by brewery,
country of origin, and beer style to suit your specific tastes.
DISCOVER OUR FIVE CLUBS