Einstök Ölgerð - Icelandic Doppelbock
ABV:

6.7%

Serving Temperature:

48-53°F

Suggested Glassware:

Pilsner Glass, Flute, or Mug
These Einstök guys have great packaging; their labels are some of the more attractive we've seen recently. The stylized Viking head is eye-catching, and yes, we know they didn't actually wear horns on their helmets, but it's fun to imagine they did. Even more fun is imagining them wearing antlers and a glowing nose! This doppelbock is Einstok's only seasonal beer and it's produced for fall and early winter. Pouring an attractive deep amber color with crystal clarity, it certainly looks the part of a doppelbock. Softly bready caramel malts take center stage in the aroma, accompanied by a dusting of cocoa powder and overlaid with a mild grassy and spicy hop character. On the palate, expect big caramel malt notes bolstered, as in the aroma, by a distinct chocolaty edge. Unsurprisingly for the style, the malt sweetness is never seriously challenged by hop bitterness, but do look for the hops to punctuate this brew with a nice level of spiciness. Many cheeses will pair well with this beer; perhaps try a piquant Italian cheese served with walnuts and honey, or a gouda atop crackers. Cheers!
Winemakers often speak about terroir, the characteristics of a vineyard's microclimate, soil characteristics, etc. that contribute qualities to the finished wine that reflect the region from which it is produced. There are parallels in the world of beer, perhaps most famously with the wild yeasts of Belgium that produce spontaneously fermented lambics that are unlike anything produced elsewhere. And, certain noble landrace hop varietals can find their archetypical flavors altered or muted when grown outside the region from which they arose. But, one often overlooked, yet critical, component of beer is in some ways more reflective of terroir than any other ingredient—water. The mineral-richness of Burton-on-Trent's hard water makes an indelible mark on many a famous British ale, while the softness of the waters of central Europe, notably those near Pilsen in the Czech Republic, have led to the distinctly different styles of beer that hail from that region. Water is, after all, the main component of beer, and it is with water that the story of Einstök begins.
The town of Akureyri lies at the innermost reach of Iceland's longest fjord, Eyjafjörður, which cuts south from the Greenland Sea 37 miles into the mountainous northern region of the island. Just 60 miles south of the Arctic Circle and covered by clouds almost constantly, this important fishing port boasts a population of fewer than 18,000, yet it forms the sparsely populated country's second largest urban zone. Rain from ocean storms, melting snow, and glacial runoff tumbles down Hliðarfjall and the surrounding mountains and across ancient lava beds that naturally filter and purify the water, which is unquestionably among the most naturally clean in the world.
In 2006, three entreprenuers, Bernard LaBorie, David Altshuler, and Jack Sichterman were planning a brand of high-end bottled water, and after an exhaustive search for the world's best source, they had Iceland at the top of their list. But then a funny thing happened. While visiting Akureyri, they stumbled upon the Viking Brewery, where they make expert use of the incredibly pure but mineral-rich water that blesses the area. Plans quickly changed to partnering with the brewery and helping them build a new craft beer brand. What better way to share Iceland's amazing water with the world?
At the helm of Einstök (which translates as "unique") is brewmaster Baldur Karason. Born in a small town called Siglufjörður, Baldur left for Scotland in 1993 to enroll in the famous brewing school at Edinburgh's Heriot Watt University. Upon completion, he returned to Iceland, where he became brewmaster at Akureyri's Viking Brewery, a rather high-tech facility that now serves as the home for the Einstök brand. When one considers that beer was banned in Iceland from 1915-1989, it's remarkable how far both Baldur (who came into the world during this very dark and seriously un-Viking-like time in Icelandic history) and the nation itself have come. With a Belgian-inspired white ale, a porter, a doppelbock, and a pale ale, Einstök is blazing a trail in their native country, representing the front line of craft beer culture in Iceland, while offering thirsty beer-lovers here in America some very well-crafted, tasty beers. Here's to their continued success advancing the cause of better beer both at home and abroad. We look forward to seeing what they do next. For more info, check out their website at www.einstokbeer.com. Skál!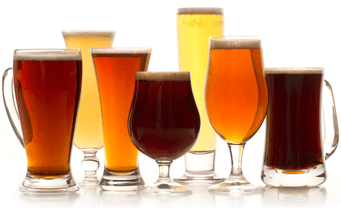 Unmatched Variety by style, brewery & country
Choose from Five different Beer Clubs offering unmatched variety by brewery,
country of origin, and beer style to suit your specific tastes.
DISCOVER OUR FIVE CLUBS