Flying FIsh Brewing Company - Flying Fish Extra Pale Ale
ABV:

4.7%

Int'l Bittering Units (IBUs):

30

Serving Temperature:

40-45° F
Brewed with a combination of two-row pale, pilsner, Belgian Aromatic, and Belgian Munich malts, Flying Fish's Extra Pale Ale is an original American Pale Ale with still yet another sophisticated malt profile. It's a month of complex malt combos! Note a pleasant caramel maltiness in the nose with a bit of hop spiciness evident as well. Look for a well-balanced flavor in this straw colored ale. We found the finish to be a lingering dry, hoppy one. Very nice. Overall, a very flavorful, clean interpretation of an Extra Pale Ale. Again, this one is not fully filtered, so be aware of the yeast in the bottom of the bottle.
Buzzard Boilermaker Jambalaya

We tried to think of something you could put in a big bowl and serve to a bunch of hungry manly-man types on a brisk January Day in the event that you're hosting or going to a Superbowl Party. This is a serious stew baby! Good Stuff and hearty too - remember that one superbowl about 15 years ago when the Bears spanked the Patriots, allowing their third string to get in on the scoring action late in the third quarter? Ah, the memories. Go Bears!

1 tsp olive oil
2 cloves garlic, minced
2 medium onions, diced
1 sweet red pepper, diced
1 green pepper, diced
2 jalapeno peppers, finely diced (optional)
1 andouille (or italian) sausages, barbecued or broiled, and sliced
½ lb smoked ham, cubed
2 cups rice
1-½ cup Buzzard's Bay Porter
1 cup Olde Buzzard Lager
3 tbsp bourbon
1-½ cup chicken stock
1 5-½ oz can tomato paste
1 tsp Bajan-style yellow hot sauce (Mr. Goudas)
2 tsp Cajun-style red hot sauce (Crystal)
1 lb medium shrimp, cleaned

Seasoning Mix

¼ tsp ground cloves
1 tsp cumin
1 tsp rosemary
1tbsp thyme
1 tbsp oregano
1tbsp chili powder
2 tbsp parsley

You might want to note that while we didn't consider this to be a terribly fiery jambalaya, others may have tamer taste buds. So, if caution is preferred, omit the jalapeno peppers and hot sauces, reduce the bourbon to 1 tsp and season with cayenne pepper or hot sauce to taste… girly-man.

First combine the seasoning mix and set aside. In a large, heavy-bottomed pot, heat the oil on medium-high heat until very hot and add garlic. Cook the garlic for 15 seconds, stirring constantly, before adding the onions and three types of peppers. Reduce the heat to medium and continue to cook, stirring frequently, until the onion is translucent.

Fold in the seasoning mix until well distributed and add sausage, ham and rice. Continue to cook, folding the mixture occasionally, for 2-3 minutes before adding the liquids and tomato paste. Bring the jambalaya to a boil before adding the hot sauces and reducing the heat to simmer. When the boil has ceased, gently fold in the shrimp, cover and simmer for 15-30 minutes. We honestly don't know how many this one serves, but I bet the Fridge could have dusted the whole thang and still tip toed sweetly into the end zone on that fine Sunday only a decade and a half ago…
Dear Murl,

I've got a bet going with a buddy of mine. He claims that Budweiser is the best selling beer in the United State and although I think it might be true, I took his bet cause Budweiser sucks! I figured you could help me build a case that would win the bet! What do you think, Murl?

Yo Davester!

Your darn tootin' I'll help ya, pal. I've been think about this one for a couple days cause the fact of the matter is that Budweiser from Anheuser-Busch is easily the No. 1 selling beer in the United States and the world. Sadly, about one beer in five beers consumed in the U.S. is a Bud. And what's worse, # 2 is none other than Bud Light.

However, counselor, the argument in front of us is whether Budweiser is the best selling "Beer" in the United States, is it not? Now we could all sit around and debate the fact that Bud has absolutely no redeeming characteristics shy of using it to remove nail polish or as a gasoline additive. We could debate that fact that Bud tastes a lot like Coors and therefore by definition in this newsletter, Yak Drool. But these are really subjective concerns that may not hold in a court of law.

We need to address the true definition of "Beer" and challenge that Bud is not in fact what it claims to be. The first definition I found, an American one, states that beer is a generic name for alcoholic beverages produced by fermenting a cereal or mixture of cereals and flavored with hops. My argument won't work with that definition; so therefore, it is not worthy of our attention. Seems we should really be looking at a German definition of beer anyway. The Reinheitsgebot is a German Law that governs the production of beer in their country and it states quite plainly that beer can only be made of water, yeast, hops and…MALTED BARLEY. That one, I like. Make sense too, doesn't it? Well, my good buddy, did you happen to know that Bud uses grains like rice and corn in the place of malted barley to cut costs? It's true. Explains a lot, don't it?

So you do the math, Davie. You don't need my pocket abacas to know that it doesn't add up. Bud, by definition of the Reinheitsgebot Law of Beer Purity, is not in fact Beer. Just be sure and try the case in Munich, counselor! Good luck!

Woof!

Murl.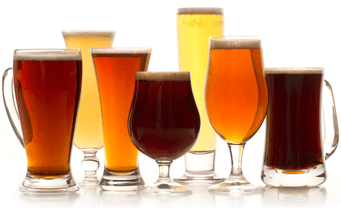 Unmatched Variety by style, brewery & country
Choose from Five different Beer Clubs offering unmatched variety by brewery,
country of origin, and beer style to suit your specific tastes.
DISCOVER OUR FIVE CLUBS