G. Schneider & Sohn - Aventinus
ABV:

8.2%

Bottle Size:

500-ml

Serving Temperature:

47-52° F

Suggested Glassware:

Weizen Glass, Tulip, Snifter
Created in 1907 under the leadership of Mathilde Schneider, who named the beer after Bavarian historian Johannes Aventinus, this beer pioneered the wheat doppelbock, or weizenbock, style and is the benchmark to this day. As expected for Bavarian wheat beer, it presents a very cloudy look in the glass, with a medium brown color and orangey highlights, beneath a plentiful cap of light beige foam. Expect quite an expressive aroma. At the base, we get prominent notes of brown bread and touches of caramel, layered above by fruity yeast-driven esters akin to dried dark fruits with touches of classic weissbier-style banana, along with some clove and a perhaps just a dash of spicy, grassy hops. On the palate, Aventinus comes across as decadent without being cloying. The core malty notes are richly caramelized and toasty, but not overly sweet thanks to plenty of bite from the mild hop bitterness and a noticeable fruity, vinous booziness. Look for very deep layers of flavorful dunkelweiss (dark wheat beer) notes, but amped up to dark starkbier/doppelbock levels. We find the fruity character in this brew particularly engaging, with delicate notes of raisins, prunes, and dried figs, with a touch of that unmistakable banana/bubblegum impression that's so central to Bavarian weissbier yeast. Also typical of the yeast are the spicy and herbal phenolic notes evoking clove, which merge with light hints of spicy, grassy hops with a wisp of citrus zest to add additional facets to this smooth and robust brew. For pairing options, we recommend hearty dishes with plenty of caramelization or toasty-roasty notes. Roasted pork, fowl, lamb, or venison with a fruity sauce can work nicely, as can stews, grilled steak and vegetables, or barbecued ribs and brisket. Prost!
Wheat beer has a centuries-old brewing tradition in Bavaria, where it is known as weissbier. But, prior to the 17th century, it was something exclusive to the upper classes of society, and only the aristocracy was allowed to brew it. But, when Duke Maximilian I came to power in Bavaria, the tide began to change. Having inherited the "weissbierregal", or the right to brew wheat beer, and sensing economic opportunity to sell wheat beer to a wider audience, he set about opening several new wheat beer breweries throughout Bavaria – the first of these opening in Kelheim in 1607.
However, by the mid-19th century, lager beers had become so popular that brewers nearly abandoned wheat beer production as they chased the lager trend. An entrepreneur named Georg Schneider decided to zig while others zagged. He negociated with Bavarian King Ludwig II's "Hofbräuamt" (essentially, the brewing administration – brewing was historically very entwined in German politics) to acquire the "weissbierregal", and was successful, becoming the first commoner to achieve this. Schneider then acquired a defunct brewery in Munich and – joined by his 26-year-old master brewer son, Georg II – began wheat beer production there in 1872.
Sadly, both father and son would die in the same year less than two decades later, at which point the brewery fell into the hands of the 20-year-old Georg III. (Can you spot a naming trend? It'll keep going...) Georg III expanded the brewery and even registered the first wheat beer trademark – the two crossed ears of wheat, which is still used today. When he, too, sadly died young in 1905, the brewery came into the possession of his very dynamic wife, Mathilde, who would run the brewery for many years – albeit covertly, as a woman-owned business was quite unusual for the time. It was under her leadership in 1907 that their world-famous Aventinus weizenbock (this month's featured selection) would come to life.
Georg IV would take over ownership in 1924, acquiring several new breweries, including the brewery in Kelheim founded by Duke Maximilian, and guiding the business through the difficult interwar depression years and WWII. Despite his stubborn refusal to join the Nazi Party, fate would not be kind to his business as his main brewery in Munich and other brewery properties were left devastated by Allied bombing. After the war, he made the decision to rebuild at the old historic brewery in Kelheim – which still serves as Schneider Weisse's brewery to this day.
Today, the business is still in the hands of the Schneider familiy, with Georg VI at the reins since 2000. They produce a variety of weissbiers, including their excellent Original. Their stunning Aventinus is the oldest Bavarian weizenbock and a benchmark for the style, and their powerful Aventinus Eisbock is another jewel in the Schneider crown. For more info, visit them at schneider-weisse.de/en.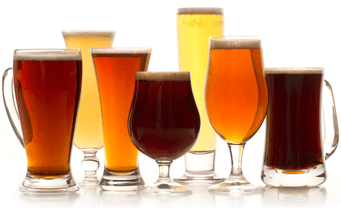 Unmatched Variety by style, brewery & country
Choose from Five different Beer Clubs offering unmatched variety by brewery,
country of origin, and beer style to suit your specific tastes.
DISCOVER OUR FIVE CLUBS