Golden Pacific Brewing Company - Golden Gate Original Ale
ABV:

5.7%

Int'l Bittering Units (IBUs):

35

Serving Temperature:

50-55° F

Winner of the triple crown of brewing in 1995, Golden Gate Ale took Gold medals in the State, American and World Beer Championships. Golden Gate is brewed with a combination of Pale, Munich, Caramel, Crystal, and Chocolate malts, using a 60 min. boil. Willamette, Centennial and Tettnang hops are used for aroma while Perle hops are added in two separate additions for their bittering contributions.
Immediately note a big hop floral nose with a pleasant malt background in this beer's nose. Look for great head retention in this clear, copper colored, medium-bodied beer. We found an excellent balance of rich, sweet malt flavor and hop bitterness in this very drinkable beer. Overall, a bold and robust, very flavorful, extremely well-balanced American Ale.
California's second oldest brewery, the Golden Pacific Brewing Co. was established in 1981 by founder Charles Ricksform who began brewing beer under the name of the Thousand Oaks Brewing Co. in his basement with his two sons and daughter. By 1990, all of Charles' laborers grew up and moved out of the "brewery" and he decided to sell the company to current owner David Harnden who then took over operations and renamed the brewery. The brewery's beers are brewed by Brewmaster, Mark Witty and Head Brewer, Alec Moss. Mark has a B.S. in Brewing Science from the Herriot-Watt University in Edinburgh, Scotland and was the head brewer in two English breweries before moving to the states. The brewery currently produces 10,600 barrels annually and in addition to Golden Gate Original Ale, brews Golden Gate Lager, a full-bodied lager and Hibernator Winter Ale, a ruby-brown Christmas ale.
Lost Planet Scandinavian Beef Stew

When you think Porter, you think about the big burley guys that the style was named after. And what do you imagine those guys put down after a long day of lugging stuff here and there, to and fro? Ya think they sashayed into the nearest salad bar or maybe skipped into Beni Hanas for a sip of Saki and some sushi? Hell no. Those boys were woofing down some stew. Thick, chunky, better- make-it-a-big-bowl, stew. And beef. And beer. Most likely the style named after their profession. So, in the spirit of the Porter, roll up your sleeves, get a big pot, enough beer to convince yourself that you can cook, and give this manly-man dish a shot.

4 lb. chuck roast, cut into 2" cubes
2 TBS vegetable oil
1 ½ tsp corn starch
1 TBS water
¼ cup cream

Marinade:
1 cup Lost Planet Porter
½ cup cider vinegar
2 tsp. pepper
1 tsp ground allspice
2 bay leaves
1 tsp ground thyme
2 medium onions, sliced
2 medium carrots, sliced

Combine marinade ingredients in a large glass bowl. Add meat and toss to coat thoroughly. Cover tightly and refrigerate up to 3 days. When ready to cook, remove meat from marinade and pat dry on paper towels. Reserve marinade. Heat the oil in a heavy skillet or Dutch oven over medium heat. Brown meat on all sides. Add 1 cup of marinade. Turn heat to low, cover, and cook about 2 hours, until meat is very tender. Add reserved marinade, if necessary, to keep meat moist. Mix corn starch and water together to make a smooth paste. Remove meat to a serving dish with a slotted spoon. Stir corn starch mixture into pan gravy. Bring to a boil over medium high heat, stirring constantly, until gravy is thickened. Add cream and blend well. Pour over meat. The traditional garnish for this stew is sour gherkins. Serve with boiled potatoes and consider an Ale, Bock, Porter, or a Stout for your beverage of choice.

Source: Great Cooking with Beer; Jack Erickson; Red Brick Press, Reston, VA, 1989.
AMERICAN BREWER - Reuters reports that the Australian sex industry is cleaning up its act and seeks a ban on the export of bulls' penises to Asia, where they are prized as an aphrodisiac. One Australian meat company alone, Tenor PTA, has flown 8,000 frozen bull pee pees to China. Typically, the penises are boiled for soup or ground into a fine penis erectus powder. So now you're wondering, "just what the "H" "E" double hockey sticks all this has to do with beer. Well...to make full use of the Torro's manlihood, the industry has been converting the scrotum sac into insulators for slipping over the base of cold beer cans. "We've dried about 1000 scrotums for beer cans," said Tenarra's Fred MacDonald, "and they make great Christmas presents. They're quite nice to touch." Do you suppose Fred knew the tape recorder was on when he said that?

KLOS RADIO - Certain remote Malaysian villages wash their infants in beer to discourage against disease. So Body on Tap wasn't such a new concept after all.

BEER TRIVIA - In old England, when a brewster or ale wife had brewed a new batch of beer, she would post a broomstick over her doorway to advertise the fact to the public.

BREW LINGO

Bragot - An ancient Welsh drink consisting of beer, honey and cinnamon.

Dry Hop - The addition of dry hops to fermenting beer to increase its aroma.

Jungbukett - German word describing unpleasant smelling green beer.

Jungfrauenbecher - A German festive drinking cup manufactured in the 16th century and 17th century depicting a young lady in a long bell-shaped skirt holding a pivoting basket over her head. When the figure is inverted, the woman's skirt forms a first bowl and the pivoting basket forms a second, smaller one. Such cups were used at wedding feasts where the groom was expected to drink from the larger bowl, without spilling the contents of the smaller one which he passed to the bride.

Lautering - The process of separating the spent grains from the sweet wort with a straining apparatus. From the German lauter meaning clarifying.

Tuplak - In Czechoslovakia, a boot-shaped glass used on festive occasions and at beer drinking contests.

Waipiro - A Maori word meaning "stinking water" used by that people to describe a brew prepared by Captain James Cook at Dusky Sound, New Zealand, in 1773. This beer was made by boiling the small branches of the manuka and the rimu tree (which he describes as spruce and tea plants) for three hours and adding molasses and yeast.

Zymology - The science or study of fermentation. Syn: Zymurgy.


Hey Murl,

I have just started Microbrewed Beer of the Month Club's service and have been happy so far. But, I have a bone to pick with you! Being a homebrewer for a few years now, I have done a lot of reading on beer. In the Vol. 2 No. 10 is of the Brew Harvest Review, you answered a question about Original Gravity and IBU. While your answers for O.G. and IBU are correct, your term for IBU is not. The abbreviation for IBU is for "International Bitterness Unit", not "Initial Bittering Units". From the book, The New Complete Joy of Home Brewing, by Charlie Papazian (considered the Bible of Home Brewing), "Brewing scientists have developed a method by which the measure, International Bitterness Unit (IBU) is equal to 1 milligram of isomerized alpha acid in 1 liter of wort or beer. More IBUs in a given beer mean more bitterness perceived." Thanks for providing a service to educate people on the making and styles of beer. The more people know, the more they can enjoy the great products sent to us.

Kevin Arnold

The Brews Brothers

Dear Kev,

I considered passing the buck to our type setter or the spell check on my word processing program, or even arguing the question of semantics with the reasoning that I was damn close. But the fact of the matter is, I done a boo boo and ya caught me. I'd probably say something like, "Hey man, I'm only human" ... if I was. Fact is, I've made quite a few mistakes in my short canine life and at least you won't have to shampoo the carpet after this one! Thanks for the good press on our service.

Woof!

Murl.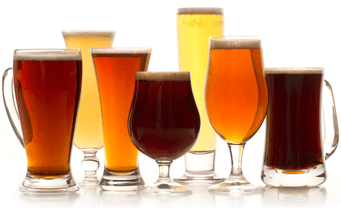 Unmatched Variety by style, brewery & country
Choose from Five different Beer Clubs offering unmatched variety by brewery,
country of origin, and beer style to suit your specific tastes.
DISCOVER OUR FIVE CLUBS