Grand Teton Brewing Company - Sweetgrass IPA
ABV:

6.50%

Int'l Bittering Units (IBUs):

58

Serving Temperature:

50-55° F

Malts:

Idaho 2-Row Pale, German Munich, Wheat, Carafoam, Belgian Caravienne, British Crystal

Hops:

U.K. Goldings, Willamette, Galena, Amarillo, Czech Saaz, Cascade Additional Notes: Dry Hopped with Cascade Hops
6 types of malts? In an IPA (which traditionally has a heavier emphasis on the hops)? Wow! This is a skillfully crafted ale to be sure. Of course, there is an obvious emphasis on hop composition as well, evident from the ingredient list above which features an impressive line up of 6 quality hop varieties, not to mention the prominent hop aromas and flavors in this beer. Expect a powerful but not overwhelming aroma characteristic of the American IPA style—piney, citrusy, grapefruit notes, with an unexpected clean, lager-like scent as well. This light-to-medium-bodied beer uses its hops wisely, holding off on the indiscriminant use of huge quantities of hops which can be overwhelming to the palate. Rather, the Charlie Otto has included what can still be considered an assertive level of hops, but it's not overkill like a number of IPAs we've tried. The complex finish begins quite bitter (again thanks to the hops), mellows a bit for a moment, and then surges again with a final, long-lasting dry bitterness. Very nicely balanced, and great with Tex-Mex cuisine or curry-heavy Indian dishes.
In a quest for full-flavored, freshly-brewed, locally-produced beers, a couple of Wyoming brothers paved the way for themselves and others to brew and sell beer in ways not seen in that state since prohibition. Charlie and Ernie Otto, brothers of German-Austrian descent, had long been familiar with great beers. In fact, Charlie had become a well-respected area homebrewer. So accomplished was he that friends and family were constantly asking him to brew more beer. Of course, the demands soon spread to others who caught wind of his fine handcrafted ales, and that got the brothers thinking about starting their own commercial enterprise. But because Wyoming did not issue licenses to homebrewers, Charlie had to muscle up and take on the law. Through an ambitious effort, he eventually helped to get a bill passed which would allow him to start selling his beer commercially. In 1988, he was awarded Wyoming brewery license "no. 1". And the license came in handy—the brothers had already built a small brewhouse in Wilson, Wyoming (just outside Jackson Hole)—so securing the first malt beverage manufacturers' permit issued in the state in over 35 years made it possible for them to start selling their delicious brew. In 1988 they did just that, founding the Otto Brothers' Brewing Company, officially the first modern microbrewery in the state of Wyoming. They soon began presenting their original amber "Teton Ale" to local draught establishments and for the next two years their beers were only available on tap. Seeking a wider distribution through bottling, the brothers decided to get creative. In 1989 they rediscovered a long forgotten container, a European, lidded tin-pail known as a "growler". The term Growler was originally used for the tin buckets used to transport beer from the tavern at which it was purchased. The Otto Brothers' Brewing Company reintroduced it in a modern, 64-ounce glass jug version. "Growlers" have since become commonplace at breweries throughout the nation, and the brothers enjoy the credit for having resurrected and recreated this novel (and environmentally-friendly) idea. So thus far we've learned how these brewing brothers contributed to the good of the nation by setting the stage for a new generation of Wyoming brewers to spring up, and by bringing back the growler. You'd think these accomplishments would be enough for these guys to be contented, but they had big plans in the works still! The brothers wanted to bring Wyoming its first brewpub, but again, state law prohibited breweries to act as retailers (incidentally, this is still a fairly common prohibition-era law that hampers the establishment of brewpubs across the nation). Not surprisingly, Charlie was undeterred and on the wings of previous legal triumphs he began three years of letter writing, phone calling and grass roots organizing to bring about the legalization of brewpubs in the Cowboy state. And wouldn't you know it, the guy came through for his fellow citizens; in 1992, Otto Brother's Brewing Company opened Wyoming's first brewpub. The brewpub brought a surge in popularity to the Otto Brothers' beer line up (at that point numbering about three ales) and in 1992 they acquired a 22-ounce bottle production line. This meant higher portability and deliverability of their brews, prompting an even greater demand for their microbrews and leading the brothers to break ground for a new, high-capacity brewery at the base of the Teton Pass in Victor, Idaho in 1998. The site was chosen for its proximity to locally-grown barleys and Northwestern hops, as well as nearby Teton Glacier water. In Fall of 2000 the Otto Brothers' Brewing Company was officially changed to the Grand Teton Brewing Company in order to portray a more regional and recognizable marketing approach, while still retaining their proud history and tradition of beer-brewing in the region. For more information about the brewery, brewpub or scheduled tours, call (888) 899-1656, or visit their website at www.grandtetonbrewing.com.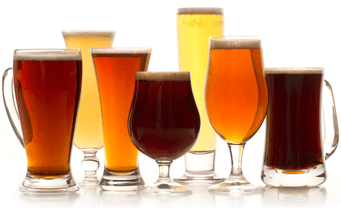 Unmatched Variety by style, brewery & country
Choose from Five different Beer Clubs offering unmatched variety by brewery,
country of origin, and beer style to suit your specific tastes.
DISCOVER OUR FIVE CLUBS