Grand Teton Brewing Company - Teton Ale
ABV:

5.30%

Int'l Bittering Units (IBUs):

24

Serving Temperature:

45-50° F

Suggested Glassware:

English Pint Glass

Malts:

Idaho 2-Row Pale, German Cara Amber, Cara Aroma

Hops:

UK Goldings, Willamette, Czech Saaz, German Hersbrucker
Their flagship beer, Grand Teton B.C.'s Teton Ale is summed up like so: it's just plain good. And we're not the only ones who think so; a winner of the Silver (2004) and two Bronze Medals (2001 & 2005) from the North American Brewers Association, it comes highly recommended. Here's a fun fact to wow and amaze your friends: the hops used in this brew come from each of four different beer-renowned countries—the UK, the US, the Czech Republic and Germany. Start throwing facts like that around and you'll take home that coveted beer geek trophy in no time (ahem, we mean, Beer Connoisseur trophy). Look for malty caramel notes to meet mildly peppery hop spice and notes of bread on the nose. Note how the hop spiciness and malty backbone are perfectly balanced. Expect a malty creaminess to slide across the palate while light hop bitterness nicely balances this brew against subtle notes of syrup, ripened apples, and very slight diacetyl butteriness (characteristic of the great "English" beers it's modeled after; however, late kettle dry hopping gives it a more spicy hop profile than your typical English Amber). Quite robust, but still refreshing. Great with crisp autumn air and a rake, the sweetish notes make this the beer to pair with turkey on Thanksgiving Day.
Brothers Charlie and Ernie Otto have long been familiar with great beers. In fact, prior to founding their brewing enterprise, Charlie had become a well-respected area homebrewer. Demand for his hand-crafted beers quickly grew to the point where the brothers began thinking about starting their own commercial enterprise. But because Wyoming did not issue licenses to homebrewers, Charlie had to muscle up and take on the law. Through an ambitious effort, he ultimately helped get a bill passed which would allow him to start selling his beer commercially. In 1988, he secured the first malt beverage manufacturers' permit issued in the state in over 35 years, making it possible for them to start selling their delicious brew in Wilson, Wyoming (just outside Jackson Hole), where they founded the Otto Brothers' Brewing Company, officially the first modern microbrewery in the state. They soon began presenting their original amber "Teton Ale" to local draught establishments and for the next two years their beers were only available on tap. Seeking a wider distribution through bottling, the brothers decided to get creative. In 1989 they rediscovered a long forgotten container, a European, lidded tin-pail known as a "growler". The term Growler was originally used for the tin buckets used to transport beer from the tavern at which it was purchased. The Otto Brothers' Brewing Company reintroduced it in a modern, 64-ounce glass jug version. "Growlers" have since become commonplace at breweries and brewpubs throughout the nation, and the brothers enjoy the credit for having resurrected and recreated this novel (and environmentally-friendly) idea. However, the brothers thirsted for more. They sought to bring Wyoming its first brewpub, but again, state law prohibited breweries to act as retailers. Not surprisingly, Charlie was undeterred and on the wings of previous legal triumphs he began three years of letter writing, phone calling and grass roots organizing to bring about the legalization of brewpubs in the Cowboy state. And wouldn't you know it, the guy came through for his fellow citizens; in 1992, Otto Brothers' Brewing Company opened Wyoming's first brewpub. The brewpub brought a surge in popularity to the Otto Brothers' beer line up, leading the brothers Otto to build a high-capacity brewery at the base of the Teton Pass in Victor, Idaho in 1998, and helping prompt a renaming as the Grand Teton Brewing Company. The site was chosen for its proximity to locally-grown barleys and Northwestern hops, as well as nearby Teton Glacier water. As you'll see from the ingredient lists below, they use locally grown malt, and as another eco-friendly move, provide the spent brewing grains to local farmers as cattle feed. Given the natural beauty of the region, it's no surprise that these guys respect Mother Nature. (They even host a community recycling center!) This year, along with a staggering 60% growth rate, and 120% increase in production over last year, the brewery went "green"; everything from the heat that fires their brew kettles, to their hot water, to their building heat, comes from use of Bio-diesel. So, now drinkers in their six state distribution network can get "green" beer all year long, not just on St. Patty's day! Folks in Idaho, Wyoming, Montana, Utah, California, Colorado (and soon Oregon) just don't know how good they have it—they can get these fine brews any time they want. For the rest of us—well, membership certainly has its privileges (such as being able to reorder any of the beers we feature!) If you're looking to introduce your friends to great microbrewed beer, the beers from Grand Teton Brewing Company are perfect examples of great microbrewed beer at its finest. Though we wouldn't blame you if you horded this stuff—their Bitch Creek ESB (details below) is one of our favorite brews of all time! For more information about the brewery, brewpub or scheduled tours, call (888) 899-1656, or visit their website at www.grandtetonbrewing.com.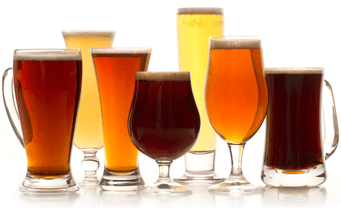 Unmatched Variety by style, brewery & country
Choose from Five different Beer Clubs offering unmatched variety by brewery,
country of origin, and beer style to suit your specific tastes.
DISCOVER OUR FIVE CLUBS