Greene King Brewery - Abbot Ale
ABV:

5.00%

Serving Temperature:

52-55° F

There has been brewing in Bury St. Edmunds since at least as far back as 1086 when cerevisiarii, or ale brewers, were chronicled in the Domesday Book as servants of the Abbot. And indeed today, Greene King's master brewers still draw their water from wells sunk deep into the chalk beds beneath Bury St. Edmunds as those early ale brewers did almost 1,000 years ago! A point of contrast to this ancient tradition is the innovative technology that has gone in to serving Abbot Ale. It is the first U.K. ale to be commercially dispensed by nitrogen/carbon dioxide push in the U.S. (if you can find it on tap, try it!) It pours as close as possible to the traditional, handpumped English ales served in Britain's famed pubs. Serving as the company's flagship brew, Abbot Ale was first served up during the 1950s, making it a very recognizable and enduring brew across the U.K. And we can see why it's been around for the past half century. Abbot Ale is simply an excellent ale. It is brewed longer than many traditional ales according to a unique recipe, giving it the full flavored, smooth and mature flavor profile that wows newcomers and enthusiasts alike. Expect tons of ripe fruit and sweet malts on the nose with an initial taste of fruity esters and deep malty undertones. The finish is characterized by masses of hop bitterness which impressively balance the malty sweetness. Note the floral flavors, fruity esters and bitter finish—some contributed by the pale crystal and amber malts, but much introduced by the use of a combination of hops—such versatile little devils those hops are! Challenger hops give this beer its bitterness and a spicy overtone while a final "late-hopping" of Fuggles hops adds the floral and fruity tones to the aroma and flavor. Try it alongside lamb with rosemary and garlic or a fully-loaded Shepherd's Pie.
Our first featured beer comes to us from the United Kingdom, which may explain the monarchical title of the British brew house known as the Greene King Brewery. However, to be perfectly honest, we're not entirely certain if the word 'King' in the title has anything to do with the crown—it may in fact just be the last name of the business partner to a brewer named Greene. Greene, along with this elusive partner (we can't seem to find any more information about the history of the brewery's ownership) acquired what was once an Abbot's brewery in the town of Bury St. Edmunds, in Suffolk. Located approximately 80 miles northeast of downtown London, the region is characterized by rural flatlands that run out to the southeastern coast of the country. This countryside region is known as East Anglia and it encompasses several counties of south England; portions of Essex, Suffolk and Norfolk, Cambridgeshire and Bedfordshire. The town of Bury St. Edmunds gets its name from the martyred king Edmund of Anglia (the word from which "England" originates). Born approximately 840 A.D., Edmund became King of East Anglia around the age of 15 in about 855, and in 870 he faced a horde of Viking raiders, who moved through the countryside burning churches and slaughtering entire villages. Upon reaching East Anglia, the leaders of these marauders confronted Edmund and offered him peace on the conditions that he would rule as their vassal and strictly forbid the practice of the Christian faith. Edmund refused this last condition, fought, and was captured, tortured and beheaded. He was martyred on November 20th, 870, and the town that hosted his burial place came to be known as Bury St. Edmunds, the site of what would become a powerful abbey. Like most abbeys, this one engaged in the fine art of brewing, and ales have thus been a feature of life in the region at least as far back as 1086 (so it would seem that it's no coincidence East Anglia is the country's biggest growing region for malting barley). However, when Henry VIII decided to consolidate his power by abolishing the abbeys in the 14th century, the monks of St. Edmunds went into hiding, taking shelter in underground tunnels that likely gave rise to the present brewery's cellars. The current brewery dates from at least the 1700's. It was acquired sometime after 1799 by Greene, a brewer and progenitor of a long line of famous and wealthy Greenes, including a governor of the BBC and the novelist Graham Greene. The Greene family has operated pubs and been actively brewing for over 200 years. Combining successful traditional ale brands with modern forward-thinking, Greene King has grown steadily from its base in Bury St Edmunds, Suffolk to become a leading pub retailer and brewer. Today, the Bury St. Edmunds site is home to what has become the largest family-owned brewery in all of the U.K. For more information about the Greene King Brewery, check out their web site at http://www.greeneking.com/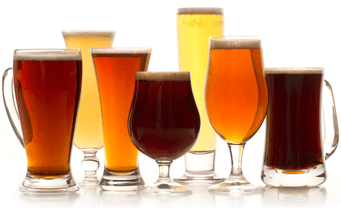 Unmatched Variety by style, brewery & country
Choose from Five different Beer Clubs offering unmatched variety by brewery,
country of origin, and beer style to suit your specific tastes.
DISCOVER OUR FIVE CLUBS