Greenshields Brewing Company - Greenshields Amber Ale
ABV:

5.5%

Int'l Bittering Units (IBUs):

35

Serving Temperature:

45-50° F
The brewery's flagship beer, Greenshields Amber is brewed with a combination of 4 non-roasted malts. Look for a mild hop aroma up front coupled with a pale maltiness. We found the flavor to be predominately malty with a slight hop character. Thomas uses Northern Brewer hops for bittering, Hallertauer Hersbrueckner for flavor. Greenshields amber is brewed with proprietary kolsch yeast which contributes to the beer's clean palate.
Exodus Carbonnade Flamande
(That'd be Beef and Onions Braised in Beer for you uncultured savages!)

4 tablespoons oil
1 beef rump or similar roast (2 to 2 ½ pounds), trimmed and sliced ¼ inch thick
Salt and pepper
2 pounds onions (about 4 medium), thinly sliced
2 tablespoons all-purpose flour
2 cups beef stock or canned beef broth
1 bottle dry Stout or Porter
1 teaspoon brown sugar, if needed
1 teaspoon red wine vinegar
3 sprigs parsley
1 bay leaf
1 sprig fresh thyme or ¼ teaspoon dried thyme

Preheat the oven to 325 F. Heat 1 tbsp of the oil in a large skillet over medium-high heat. Season the beef slices lightly with salt and pepper and cook as many at a time as will fit in a single layer until all are nicely browned, about 1 minute per side. Transfer the slices to a plate and set aside.

Reduce the heat to medium-low and add the remaining oil to the skillet. Add the onions and cook, stirring occasionally, until they are golden brown, about 5 minutes. Lift the onions out of the skillet with a slotted spoon, leaving behind as much of the oil as possible.

Return the skillet to medium-high heat, stir in the flour, and cook, stirring, until the resulting roux is a medium brown. Add the stock, beer, and any accumulated juices from the meat plate. Cook, stirring to break up any lumps, until the sauce is lightly thickened. Taste for salt and add more if necessary; add the vinegar and a little brown sugar, if you like, to balance the bitterness of the beer. (Sugar may be unnecessary with some sweeter beers.)

Spread half the onions in the bottom of a shallow covered baking dish. Arrange the beef slices in a layer on top. Tie the herbs into a bundle (bouquet garni) with clean string and place it on top of the meat. (If using dried thyme, just scatter it in the pan.) Spread the rest of the onions on top. Pour the sauce over the meat and onions, cover the baking side, and bake until the meat is quite tender, 2 to 2 ½ hours. Let it stand until the fat rises to the surface, then discard the herb bouquet and skim off the fat. Serve with new potatoes or wide noodles. Serves 6 Adults, 3 rabid bunnies, or Murl if you don't restrain him!
JUICE MAGAZINE - After consuming stale bread and dough, 3 Vermont cows died of alcohol poisoning. Investigators believe unbaked dough yeasts reacted with the partially digested material in the cow's stomachs to produce alcohol. Rumor has it that the Pabst Brewing Co. is investigating the viability of this previously uncharted brewing technique with plans to market it as "Pabst Blue Bovine: The Brew that makes you Moo."

SECRET LIFE OF BEER - Among the forest tribes of Latin America the practice of exocannibalism, or the eating of one's enemies, was commonly combined with brewing and drinking beer. Legend has it that you couldn't beat the taste of human fingers with a cool skull cup of chicha beer. The Putumayo River tribes ate captives only after an eight-day beer festival where the prisoners, soon to be consumed, were kept drunk until mealtime. These guys take the phrase, "marinating your liver" to an entirely new level!

THE PERFECT BEER STORM - The Norwegian captain of a Dutch whaler that capsized as it was trying to pull aboard a giant whale went down with his ship while holding a beer in his hands, survivors reported. The 42-member crew of the 543 ton factory ship Tonna, landed at Funchal, Madeira, after being picked up by a Greek freighter when the whaler floundered about 220 miles off the Portuguese coast. The crew said the last thing they saw before the ship went down was Captain Vesprhein, 52, clinging to his bridge with a beer to his lips. They implored him to abandon ship but he refused.

THE £635 BOTTLE OF BEER - How big does a bottle of beer have to be before you'd spend $1,000 for it? Bierodrome, a division of London's popular Belgo restaurant chain, offers a bottle of Bon-Secours that takes two from the bar staff to pour, a 15-liter serving that goes for £635 (about $1,000). That works out to nearly $40 per pint. The large bottles, called Nebuchadnezzars, hold the equivalent of 20 standard wine bottles and come with a wax seal. The Bon-Secours at the Bierodrome is made at the Caulier Frères Brewery in Péruwelz in the Walloon region and bottled to order.

BEER TRIVIA - The concept of the 6-pack was developed over the 4, 8 or 10-pack in the 1930's when major brewing companies determined that six bottles of beer was the maximum number that a woman could carry home from the market at one time.
Dear Murl,

I've got a bet going with a buddy of mine. He claims that Budweiser is the best selling beer in the United State and although I think it might be true, I took his bet cause Budweiser sucks! I figured you could help me build a case that would win the bet! What do you think, Murl?

Dave Howbert

San Clemente, CA

Yo Davester!

Your darn tootin' I'll help ya, pal. I've been think about this one for a couple days cause the fact of the matter is that Budweiser from Anheuser-Busch is easily the No. 1 selling beer in the United States and the world. Sadly, about one beer in five beers consumed in the U.S. is a Bud. And what's worse, # 2 is none other than Bud Light.

However, counselor, the argument in front of us is whether Budweiser is the best selling "Beer" in the United States, is it not? Now we could all sit around and debate the fact that Bud has absolutely no redeeming characteristics shy of using it to remove nail polish or as a gasoline additive. But that could be held as subjective speculation in a court of law and may not help build your case.

We need to address the true definition of "Beer" and challenge that Bud is not in fact what it claims to be. The first definition I found, an American one, states that beer is a generic name for alcoholic beverages produced by fermenting a cereal or mixture of cereals and flavored with hops. My argument won't work with that definition; so therefore, it is not worthy of our attention. Seems we should really be looking at a German definition of beer anyway. The Reinheitsgebot is a German Law that governs the production of beer in their country and it states quite plainly that beer can only be made of water, yeast, hops and…MALTED BARLEY. That one, I like. Make sense too, doesn't it? Well, my good buddy, did you happen to know that Bud uses grains like rice and corn in the place of malted barley to cut costs? It's true. Explains a lot, don't it?

So you do the math, Davie. You don't need my pocket abacas to know that it doesn't add up. Bud, by definition of the Reinheitsgebot Law of Beer Purity, is not in fact Beer. Just be sure and try the case in Munich, counselor!Good luck!

Woof!

Murl.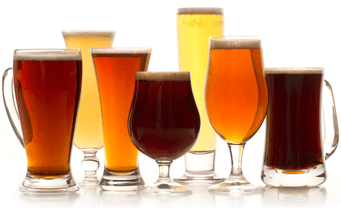 Unmatched Variety by style, brewery & country
Choose from Five different Beer Clubs offering unmatched variety by brewery,
country of origin, and beer style to suit your specific tastes.
DISCOVER OUR FIVE CLUBS