Greenshields Brewing Company - Stout
Int'l Bittering Units (IBUs):

38

Serving Temperature:

40-45° F
Greenshield's specialized decoction brewing technique helps to create an amazingly full bodied beer. Note the rich, full flavor from the specialty malts and four-malt process. Look for great head retention in this black to deep garnet nectar. Note a fair amount of hop character that is balanced by a pleasant malt sweetness. Overall, our panel found it to be a hearty, full flavored stout. Enjoy!
IPA Battered Fried Vegetables

Your family will really like these fried vegetables for a change of pace, especially as Spring buzzes into place. You can use any type of dipping sauce that you enjoy with these mouth-watering treats.

2 cups all-purpose flour
1 pint of Sweetwater IPA beer
2 eggs
1-cup milk
Salt and pepper to taste
2 cups vegetable oil for frying
1 carrot, cut into thick strips
1 onion, sliced into rings
6 fresh mushrooms, stems removed
1 green bell pepper, sliced in rings

In a medium bowl, mix together 1 ½ cup flour and Sweetwater IPA with a wooden spoon; let stand for at least 3 hours at room temperature. Mix eggs and milk in a small bowl. In a separate bowl mix together ½-cup flour and salt and pepper. Heat oil to 375 degrees F (190 degrees C). Dip each vegetable in the egg and milk mixture. Next dip the vegetable into the flour and seasoning mixture, finally dip the vegetable in the beer and flour mixture. Place the vegetables into the oil and fry until golden brown.
Dear Murl,

Back in 1987, I purchased a 6-pack of M*A*S*H 4077th beer in Georgia thinking it might be something of a collector's item. I believe that it was brewed by the James Hanley Co of Fort Wayne, IN and Omaha, NE. I am very interested in its value and have been searching far and wide for someone with any info. No luck, so I figured I'd go canine and see if the great and almighty Murl can help!

Ralph Jameson

Cary, NC

Heeeeeey Ralph! Ralphy boy!

Okay, so who was your favorite M*A*S*H character? I've gotta go with Frank Burns. He was such a ferret-faced weasel, which I guess is why, as a member of the canine family, I found myself naturally attracted to him. He had some classic one-liners though, like: 'It's nice to be nice to the nice'! How about the episode where Radar was supposed to kill a lamb for Christmas dinner and couldn't do it so he stashed the mutton and served 'Spam Lamb'. Good stuff man. Good stuff.

But that's not why you rang is it, Ralphy-boy? You're motives are slightly more self serving, aren't they? You wanna know if you can't avoid making a fool of yourself on Who Wants to be a Millionaire while you attempt to make your fortune the good ole fashioned way (winning it!) by selling off a sixer of novelty brew. Ralphy, on a side note, have you by chance been socking a few bones away in the back yard? Cause if you haven't, now might be a good time to start.

Your first clue that your investment may not be sound was the fact that the beer you selected was brewed in several states, by several different regional breweries. Additionally, Inspector Clouseau, ya bought it in Georgia, which although it may have one or two notable breweries now, certainly was in the dark ages of brewing in the mid-80's. My guess, the brew from the 4077th resembled the swill that Hawkeye concocted from his backyard still. None the less, it was a long shot and you took it and I respect you for that, Ralph. I do.

M*A*S*H 4077th was in fact brewed by the James Hanley brewery of Ft. Wayne, Indiana and Omaha, Nebraska. The James Hanley name was actually a DBA used by the former Falstaff Brewing Corporation. Right up there with Stag, Old Frothenslosh, Black Label and Narragansett. The brand was issued in the mid 1980s and was available for a couple years. Thousands of these cans were issued along with the likes of Billy Beer & JR Beer (You know, the guy who converted from woosie-boy astronaut in I dream of Jeanie to ruthless, power-crazed bad boy on Dallas). Here's the bad news. On the value-meter, not one of these conversation cans has ever allowed anyone to kick it in Fiji, except, perhaps for their creators, producers and maybe the celebs themselves. Are you sitting Ralph? At most breweriana shows these cans sell for about a quarter, full or empty. Maybe you should look into selling your Cabbage Patch Doll collection.

Woof!

Murl.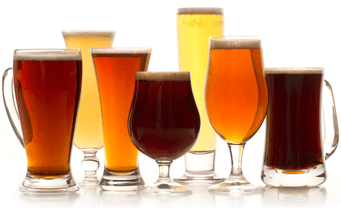 Unmatched Variety by style, brewery & country
Choose from Five different Beer Clubs offering unmatched variety by brewery,
country of origin, and beer style to suit your specific tastes.
DISCOVER OUR FIVE CLUBS