Hofbrauhaus Wolters - Wolters Black
ABV:

5.0%

Bottle Size:

500-ml

Serving Temperature:

45-50° F

Suggested Glassware:

Flute, Pilsner Glass, Mug, Stein
Wolters Black is Wolters' interpretation of a "schwarzbier" (literally "blackbeer"). The style tends to trip up those who haven't experienced it before; the uninitiated often think because it's dark in color that it must be heavy or chewy with a lot of bitter roastiness. But the reality is that schwarzbiers are very easy drinking lagers that embrace the maltier side of things without sacrificing refreshment. Pouring a super dark brown with just a hint of a reddish flash at the edges when held to the light, Wolters Black sits handsomely in the glass with a well-formed head of light brown foam. In the aroma, look for notes of toasty bread, hints of brown sugar, deep down dark & dried fruity notes conjuring figs, dates, and raisins, and a hoppy overtone delivering some earthy and woody character with touches of light grassy spice. On the palate, this schwarzbier offers a deeply toasted malt note with a lightly roasted edge. Despite some brown sugar-like hints that we picked up in the aroma, the beer is quite dry on the palate as the hop bitterness, though fairly mild, does an ample job of overcoming any residual sweetness that might be present. The overall impression, as is de rigueur for most traditional German beer styles, is one of exceptional balance. Finishing with a touch of bitterness with a lingering European noble hop flavor and a bit of toasty malt, this medium-bodied brew will make a nice pairing with dishes like grilled salmon, Madeira steak tips, pork loin smothered in brown gravy, bean soups, venison, or any number of grilled meats, including, of course, German sausages. Prost!
The story behind Hofbrauhaus Wolters reaches as far back as 1627, when Zaccharis Boiling received approval to begin brewing and selling beer in Brunswick, Germany. In 1734, Heinrich Levin Wolters came into control of the brewery, lending his name to the operation and starting a dynasty that would last through six generations of Wolters family brewers. The Wolters brewery has been a landmark in the city for hundreds of years, with the Duke of Brunswick even selecting Wolters as the official beer supplier to his court (and in fact, the brewery adopted the Dukedom of Brunswick's coat-of-arms as their logo, which you can see on their labels to this day).
Like so many other breweries across Europe, Wolters endured an extremely difficult and dark time during World War II. Large portions of the city of Brunswick were wiped out by Allied bombing raids, and the brewery suffered extensive damage. Fortunately for the brewery and all the residents of the city, after the war Brunswick was located within West Germany. While many breweries in East Germany languished under communist government control, Wolters managed to not only resume operations, but to grow their business and modernize their brewing operations significantly. The brewery was reconstructed in 1947, and a large renovation and modernization effort in 1976 transformed Wolters into a world-class brewing facility. In 2003 Wolters was acquired by brewing conglomerate InBev, but the marriage didn't last long. By 2006 Wolters had split from InBev, re-emerging as a private brewery in control of its own fate once again – a healthy development in our opinion in a world increasingly dominated by mega brewers like InBev (which went on to merge with Anheuser-Busch in 2008).
As a long-established regional brewery and sponsor of local beer festivals, Wolters has traditionally focused their marketing efforts and growth targets in the greater Lower Saxony region in an approximately 50 mile radius from Brunswick. However, in recent years they've begun exporting their beers (essentially taking on their former InBev owners, who had effectively shut down Wolters' previous export business in favor of their big international brands). Within just the first two years they established export markets in diverse countries around the world including the U.S., China, Lithuania, Ireland, Romania, and Mexico. Their success is testament to the quality of traditional German beer, and proves there's a thirsty public out there that demands the good stuff. Prost!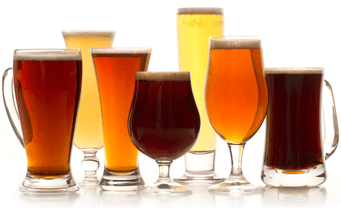 Unmatched Variety by style, brewery & country
Choose from Five different Beer Clubs offering unmatched variety by brewery,
country of origin, and beer style to suit your specific tastes.
DISCOVER OUR FIVE CLUBS