Independence Brewing Company - Uncle E$B
ABV:

4.9%

Int'l Bittering Units (IBUs):

37

Serving Temperature:

50-55° F
Uncle E$B is a traditional Extra Special Bitter. Look for a rich, robust, medium-bodied beer, sienna-copper in color. This complex delight is brewed with a combination of two-row English Pale, Caramel, Carastan, Ashburne, and Carapil malts, as well as malted Wheat, and Roasted Barley. Uncle E$B is hopped with East Kent Goldings for aroma, and with Fuggles for aroma and bittering. It has a rich, malty flavor and a sweet finish. We know you're gonna like this one!
Murl's Kick Ass Braised Sausages and Polenta

As summer is now officially in full swing, the logical combination of sun, sausage and beer is inevitable so rather than fight it, we're going with the flow and have provided you with a recipe that oughta give your Uncle Jim-Bob's barbecue a run for its money! Although this recipe doesn't call for the use of beer in it, we strongly recommend serving your meal with the well balanced Uncle ESB included in this shipment.

4 cups cold water
1 cup polenta (coarse-ground corn meal)
1 teaspoon salt
1 ½ to 2 pounds Italian or other coarse uncooked sausages
4 tablespoons minced celery
2 tablespoons minced oil-packed sun-dried tomatoes
2 tablespoons pine nuts, toasted and chopped
1 tablespoon oil from dried tomatoes
1 tablespoon chopped parsley

Combine the water, polenta, and salt in a large, heavy saucepan. Stir to break up any lumps. Bring to boil, reduce the heat to medium-low, and simmer, stirring frequently, until the grains taste done and the polenta is thick but still pourable, about 20 minutes. Remove from the heat and cover the pot until ready to serve; if keeping longer than the time it takes to cook the sausages, keep warm in a double boiler. Puncture each sausage in a couple of places with a toothpick. Arrange the sausages in a single layer in a heavy skillet. Add water to a depth of about 1/4 inch. Bring the water to a boil over high heat, reduce the heat to medium, cover, and steam 15 minutes. Remove the cover, turn the heat to medium-high, and cook until the water is gone and the sausages begin to sizzle and brown. Stir the remaining ingredients into the polenta and taste for seasoning. Spoon a large pool of polenta onto each plate and arrange a couple of sausages on top. Pour yourself a cold one and get busy! Serves One Australian Sheep Dog, 3-4 Adults, or Sally Struthers.

Source: Beer Cuisine: A Cookbook for Beer Lovers; Jay Harlow; Harlow & Ratner, 1991.
BUSINESS WEEK - Are you an "Average" American? Got some scary news for you if you think you are. Business Week reports that an average American will drink 20,300 bottles of beer during his or her lifetime. That's equivalent to two bottles of beer a day for 28 years. For those who are concerned that they may be "below average", we'd be happy to send you a double shipment each month.

YORK UNIVERSITY - The world's strongest beer, Uncle Igor's Famous Falling Over Water, brewed by the Ross Brewery in Bristol, U.K., is 17.3% alcohol by volume. Holy Bat-Buzzes Batman! The most expensive beer ever sold on first offer from the brewery (as opposed to aged, rare, collector, and vintage specimens) is Samuel Adam's Triple Bock which at one time went for $100 for a case of 24, six ounce bottles.

SAN FRANCISCO EXAMINER - Egyptian hieroglyphics indicate that Rames II annually offered 30,000 gallons of beer as sacrifice to the gods. A true sacrifice or perhaps the inevitable contaminated batch?

365 BEERTIME STORIES - The Kalevala, the national epic of Finland, describes the creation of the world in 200 verses but it uses 400 verses to describe the origins of beer.

ULTIMATE BOOK OF BEER TRIVIA - W.C. Fields was once overheard to say, "Once, during Prohibition, I was force to live for days on nothing but food and water."

USA TODAY - Beer cost $14 a pint at the 1994 Winter Olympics, so the German team brought 30,000 liters of their own under the banner of "diplomatic baggage" to protect it from customs scrutiny.
Dear Murl,

Upon returning home with my take-out order from one of Denver's finer dining establishments, The Big Kahuna, I was most pleasantly surprised to find your beer shipment at my doorstep. I so wanted to wash down my burger with one of your beers, however, they weren't yet chilled. Can you tell me the fastest way to chill a beer so that I can try your shipments as soon as I get them?

Randy Hall

Denver, CO.

Dear Randy

Unless you've either got access to a cryogenic research lab or a steady supply source for dry ice, I'd say you'll be forced to the use one of the more traditional and attainable components of the Periodic Table of Elements. Lucky for you that I spent some time as a waiter at the Ritz Carlton until I was dismissed for mistaking one of my customer's hairpiece for a small rodent. If it wasn't already dead, you can rest assured that it is now, but that's another story for another column. I have a solution for you. Fill a bucket with plenty of ice, water and then the secret ingredient, salt (a small pawful should do). Hold your beer by the neck between your paws and move them back and forth, spinning the beer in your ice bucket. If I can do it without opposable thumbs, I'm sure you'll manage nicely. Anyway, that's what we used to do when we had to chill a bottle of wine rapidly. Should take only 5 minutes or so. Your other option is to just set your beers in the ice water and either read my superb column or about the beers for 10-15 minutes before trying them. Hasta Luego Randalini!

Woof!

Murl.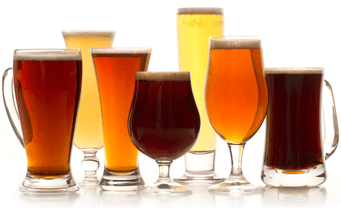 Unmatched Variety by style, brewery & country
Choose from Five different Beer Clubs offering unmatched variety by brewery,
country of origin, and beer style to suit your specific tastes.
DISCOVER OUR FIVE CLUBS