Jopen Bier BV Haarlem - Jopen Bokbier
ABV:

6.50%

Serving Temperature:

45-50° F

Suggested Glassware:

Tulip (or mini-tulip)
The success of Jopen (named after an ancient Dutch brewing vessel), led to their follow up launch of Jopen KOYT, a traditional gruit beer containing absolutely no hops (fans of the Wild Ride IPA we're featuring this month from Wisconsin's Sand Creek Brewing Company may shudder at the thought, but it's a solid beer well worth trying if you ever chance upon it). Encouraged by the success of their traditional beers, Jopen's Haarlem brewers brought a unique Bokbier onto the market. Traditional bocks are big bodied, sweet, malty lagers brewed with heavy doses of malted barley. But Jopen's interpretation uses an ale yeast and is brewed from four different grains (malted barley, wheat, oats, and interestingly, rye). If you take a look at the label, you'll see the words "vier granen", meaning four grains. The result is a smooth, complex beer that is less sweet and more fruity than typical German bocks. Expect notes of maple syrup with creamy highlights on the nose. Toffee and fresh bread-like notes blend with a striking mocha and chocolate character, along with plum and figs. The mocha flavors are remarkable, quite like chocolate dipped in crushed coffee beans. Look also for flavors of green apples and berries, rounded out by roasted malts. The finish presents ample bitterness to balance the sweetness and fruity notes in the flavor profile, with some tangy, noble-like hop flavors developing in the aftertaste. Jopen Bokbier is the best selling beer from an independent brewery in The Netherlands—and it's easy to see why. Pair with beef, lamb, aged earthy cheeses like Camembert or Fontina, or a dish prepared with wild mushrooms. Enjoy!
The Jopen Haarlem Brewery is particularly interesting, and not simply for the fact that it is located in Holland, a place we infrequently look to for our international beers. They are exceptionally noteworthy for the type of beers they produce, which are faithful reproductions of medieval recipes. Back in the heyday of Dutch Brewing—the Middle Ages—hops were not used to flavor and bitter beer. A blend of herbs and spices, called "gruit", was instead used to offset the sweeter flavors produced by malts and grains. Exotic herbs and spices such as yarrow, wild rosemary and sweet gale were typical ingredients used for the unique brews produced in the region. These ancient beers tended to be highly intoxicating, were reputed to stimulate the mind, induce euphoria, and served as aphrodisiacs. While several breweries in the world still try their hand at brewing gruit beer, many recipes are based on careful guessing. The Jopen Haarlem Brewery, however, actually helped resurrect the style by employing archived recipes that were recorded in Haarlem's public municipal texts. These distinctive recipes, dating from 1407 and 1501, were so important to the regional economy that they were preserved as a matter of public record by the town's archivist. By the year 1400, brewing was the most important commercial activity of the city. By the late Middle Ages, Haarlem beer was exported throughout the world—with popular export destination cities peppered from Russia to France. Over 100 Netherlands brewers were in operation during this period, a point that must have struck a nerve when the last of them closed up shop in 1916. During the city's 750th anniversary, in 1995, a group of enthusiastic Haarlemmers took up the challenge of bringing beer back to the region by brewing the centuries old style. Perhaps it was the pride of drinking a beer brewed by their forefathers, or maybe it was the excitement of microbrewing distinctive beers and having the option of drinking something other than the ever present pilsner, or just the fact that their beers were darned tasty, but their efforts have been met with much praise. Jopen is based just about 10 miles west of Amsterdam, but they don't yet have their own brewery, so we can't exactly encourage a visit. (Their beers are currently brewed via contracts with local breweries). However, their beers are fairly well distributed in the region, so if you're ever out there, keep your eyes open for any of the distinctive Jopen beers. For more information, visit Jopen's website at http://www.jopen.nl/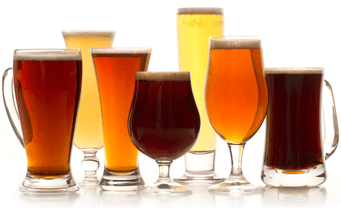 Unmatched Variety by style, brewery & country
Choose from Five different Beer Clubs offering unmatched variety by brewery,
country of origin, and beer style to suit your specific tastes.
DISCOVER OUR FIVE CLUBS