Kulmbacher Brauerei - Eisbock
ABV:

9.20%

Serving Temperature:

52-60° F

Suggested Glassware:

Snifter
Important Note: this brew may be subjected to very low temperatures while being matured, but it should be consumed at cellar temperatures so that you may experience the full range of its robust flavor profile.

Kulmbacher Eisbock is the original Bavarian Eisbock, and it's as celebrated today as it was when it first rose to popularity. How celebrated you ask? Well, there is actually an Eisbock festival in Kulmbach every March that celebrates the style. On the last Saturday of the month, at about 7 o'clock in the evening, the festivity commences with the ceremonial hacking open of an ice-encrusted wooden cask (sound familiar?). The 10% ABV beer that pours forth is deeply complex, with a dark, reddish-brown color, sweet, malty aroma and a smooth palate. The Kulmbacher Eisbock, which used to carry the subtitle "Bayrisch G'frorns" (meaning "Bavarian Frozen"—it's still on the label if you look closely), is made from five different malt varieties. For all intents and purposes, it's a bottled version of this festival brew. Expect sweet caramel malts, notes of fresh biscuits, figs, and rum-soaked apricots on the nose, and look for a creamy, oaken edge, with some distinct vanilla notes in the background. This full-bodied brew is slightly roasty, with notes of maple syrup, raisins, distinct cookie-dough like flavors, and an undercurrent of chocolate, caramel and plum. The finish presents faint notes of coffee, roastiness, and late breaking walnut-like dryness. A great beer to enjoy with a book at bedtime, or with chocolate covered figs (or both!). This is a brew that'll age gracefully, so feel free to let a couple bottles age for another winter—just don't leave them out in the snow; try the cellar instead.
In an area of northern Bavaria, today known as Franconia, in a town called Kulmbach, archaeological evidence shows that brewing has deep roots. Remnants of beer bread were found in a vessel dating back to 3000 B.C., and other evidence has shown that brewing was a firmly established activity in Kulmbach since at least the mid-14th century. Given this ancient history, the town of Kulmbach is frequently said to be the birthplace of Germany's beer industry, a sort of fountainhead from which the Bavarian brewing heritage flowed. Not surprisingly, the Kulmbacher Brewery, established 1846, makes some of the finest beers in all of Germany. Beer is a celebrated way of life in Franconia. On the last weekend of every July for at least the past 125 years, Kulmbach has held a beer festival in the town square. The region is especially well known for its more potent brewings. Originally, these higher potency malty nectars were concocted to sustain long distance travel during export throughout Europe, relying on higher alcohol by volume as a natural preservative. But interestingly, one of the strongest beer styles indigenous to this famed area was 'discovered,' not designed, in a sort of post-brewing mishap. As the story goes, a wooden barrel of bock bier, a strong, locally brewed malty beer in the 6.5-7.5% ABV range, was inadvertently left in the brewery yard in the middle of winter. Severe snow storms that winter covered the barrel and it was left forgotten, out of sight, covered by snowfall until the tail end of the season. When it was discovered, the contents were partially frozen, and the barrel had split open. The brewers, being a curious lot, chipped away the ice to see what became of their brew, sampling what remained in the barrel (the result of a dare, we think). Much to their surprise, the residual beer was richer and more concentrated than the original, with an exceptionally clean taste despite the increased alcohol content. So what happened? Well, because water freezes before alcohol, a portion of the beer's water content was forced out of the cracked barrel, resulting in a concentration of alcohol and sugars relative to the remaining beer volume. This accidentally-discovered "technique" was refined, and today gives us one of the beers the region is famous for: Eisbock ('eis' meaning 'ice' in German). In addition to producing eisbock, the Kulmbacher Brewery makes a range of over 20 other beers, including a crisp, flavorful pilsner which we've selected, along with their eisbock, to showcase the extremely wide diversity of beer flavors produced by this brewery—the two beers couldn't be more different, yet interestingly, they are both lagers (not ales). Beer is indeed a remarkable beverage with an astounding spectrum of aromas and flavors. Enjoy the study in contrast that this month's lineup provides. If you'd like more information about the Kulmbacher Brewery check out
http://www.kulmbacher.de
.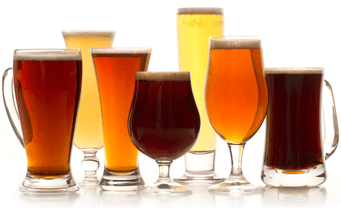 Unmatched Variety by style, brewery & country
Choose from Five different Beer Clubs offering unmatched variety by brewery,
country of origin, and beer style to suit your specific tastes.
DISCOVER OUR FIVE CLUBS