Kulmbacher Brauerei - Kulmbacher Eisbock
ABV:

9.20%

Serving Temperature:

55-60° F
Note: while this beer is subjected to very low temperatures in its creation, it should be sampled at cellar temperatures, as suggested above, if you want to experience the full range of its robust flavor profile.

It's tough to believe, but this beer actually disappeared for a while upon the consolidation of Kulmbach's EKU and Kulmbacher breweries in 1996. Thankfully, the new Kulmbacher realized the error of their ways and elected to bring it back. This is the original Bavarian Eisbock, as celebrated today as it was when it first rose to popularity. How popular you ask? Well, there is actually an Eisbock festival each year in Kulmbach in late March, celebrating the style. On the last Saturday of the month, at about 7 o'clock in the evening, the festivity commences with the ceremonial hacking open of an ice-encrusted wooden cask. The 10% ABV beer that is contained therein is very complex, with a deep, reddish-brown color, malty aroma and a smooth palate. The Kulmbacher Eisbock, which used to carry the subtitle "Bayrisch G'frorns" (meaning "Bavarian Frozen"), is made from five robust malts. It is essentially a bottled version of the festival brew just described. Upon pouring, you'll find a big, coffee-colored head atop a black colored brew with garnet highlights. Faint flowery hops are detectable, with chocolate and coffee making up the bulk of the aroma, along with notes of plum, figs and nuts. We found it to be medium-bodied and exceptionally enjoyable, which is all the more impressive considering its high ABV; this is the type of beer that can easily sneak up on the drinker, so drink wisely. A great beer to enjoy with a book at bedtime, and one that will age gracefully, should you decide to let it age for another winter.
The Germans love their beer, that's one fact you can bet on. And they have had plenty of time to develop the many varied styles of beer available in their country. Many German breweries in operation today date back to the 1600s. In fact, what is widely believed to be the oldest brewery in continuous operation is located in Germany (founded in, brace yourself, 1040 AD). It was in an area of northern Bavaria, a region still referred to today as Franconia, in a town called Kulmbach, where remnants of beer bread were found in a vessel dating back to 3000 BC. Other archaeological finds have identified brewing as an established activity in Kulmbach by the mid-14th century. For these reasons, the town of Kulmbach is often said to be the birthplace of Germany's famous beer industry; a sort of epicenter from which the Bavarian brewing heritage radiated. And the Kulmbacher Brauerei, established 1846, makes some of the finest beers in all of Germany, as it must, in order to maintain the local reputation. Located at the edge of the Franconian Fichtelgebirge, a mountain range in northeastern Bavaria which extends from the valley of the Red Main River eastward to the Czech border, Kulmbach is a cozy town known for its traditional villages, beautiful landscape, and of course, beer culture. The region of Franconia in which it lies contains the highest density of breweries per square mile in all of Bavaria (not to mention Germany on the whole). Beer is a way of life here, and there are various festivals in which it is celebrated. On the last weekend in July, Kulmbach holds a beer festival in the town square, but the only brews served are special brews created for the occasion, normally weighing in at a modest 5 per cent alcohol by volume. However, Franconia is especially well known for her more potent creations. Originally, these higher potency brews were designed to sustain long distance travel during export throughout Europe, relying on higher ABVs as a natural preservative. Interestingly, one of the strongest beer styles indigenous to the region was not designed, but rather discovered, in a sort of post-brewing accident. As the story goes, a wooden barrel of bock bier, a strong, locally brewed malty beer in the 6.5-7.5% ABV range, was inadvertently left in the brewery yard in the middle of winter. Severe snow storms ensued and the barrel was forgotten, covered by snowfall until the tail end of winter. By the time it was found, the contents were mostly frozen, and the barrel had split open. The surrounding ice was chipped away, and the residual beer left behind was tasted, whereupon it was discovered to be much richer and more concentrated than the original, yet with an exceptionally clean taste. Because water freezes before alcohol, a proportion of the beer's water content was forced out of the brew, resulting in a concentration of alcohol relative to the remaining beer volume. The "technique" was refined, and today gives us one of the beers the region is famous for: Eisbock (eis means ice in German). Until fairly recently, this freezing-concentration method was employed by the Kulmbacher Brauerei to yield the strongest beer known to man: Kulminator, which was about 13.2% ABV. However, modern brewing techniques have developed stronger brews, such as Samuel Adams (Boston Beer Company) Utopias MMIII, which usurps Kulminator's former title, and all others that have claimed to be the strongest beer in the world, at an astronomical 25% ABV! That's a 50 proof beer! While no longer the world champ, Kulminator and all Kulmbacher brews are exceptionally drinkable. Which leads us to wonder, what are you waiting for, another ice-age? Pop that baby open and give her a try! If you'd like more information about the Kulmbacher Brauerei (and you enjoy German-only websites) check out http://www.kulmbacher.de.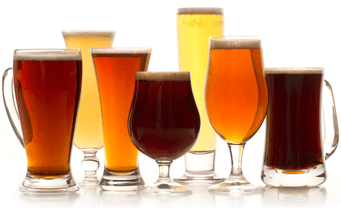 Unmatched Variety by style, brewery & country
Choose from Five different Beer Clubs offering unmatched variety by brewery,
country of origin, and beer style to suit your specific tastes.
DISCOVER OUR FIVE CLUBS