Lancaster Brewery - Lancaster Black
ABV:

5.40%

Serving Temperature:

42-50°F

Suggested Glassware:

Pint Glass, Pilsner Glass, or Mug
Another good looking brew, Black presents a very dark brown color in the glass with garnet flashes when held to the light. On the nose this stout is very true to style, offering aromas of deeply toasted grain with a roasty, char-like edge, along with a bit of nuttiness and coffee, and underlying hints of dark fruit, molasses, and anise. Hops add a mild floral, spicy, and subtle earthy quality. Expect big roasty flavors as it opens on the palate, with notes of bitter chocolate and a charred note that lingers in the finish. The dryness of the mild hop bitterness and roasted barley comes into an almost perfect balance as the beer warms and some of the beer's residual sweetness becomes more apparent.

Contrary to what some people have claimed, the Brits don't drink their beer "warm," rather, their traditional cask ales are drawn from casks stored at a cellar temperature of around 50-60º F. In our opinion, allowing the beer to come up to this temperature is particularly important when drinking a stout, as it allows the roasty sharpness to mellow a bit while the mild sweetness comes through more, and all the flavors can be better detected. Cheers!
Like most cities in England, Lancaster has a rich brewing tradition. However, when Mitchells Brewery closed the doors of its 17th century brewhouse in 1999, the city was left without a local producer to call their own. The city persisted in this unfortunate state until the Lancaster Brewery opened for business as the fruit of a partnership between Matt Jackson of the regional pub company C2 Investment Ltd; Keith Bott, owner/brewer of Stoke, England's Titanic Brewery; and MWS Wholesale. Brewing began in June of 2005, and soon they were producing two beers known as JSB and Duchy.
The brewery dodged a bullet just a few months later in October of 2005 when a fire in a building next door threatened to overtake their building, ruin their brewing equipment, and ultimately destroy the whole business. While the building was damaged, they managed to complete repairs and begin brewing again in time for the busy Christmas and New Year's season – a critical period for a fledgling brewery. Over the next couple of years they expanded production and experimented with new recipes and business ideas, added twelve monthly "seasonal" beers, and ultimately went through a period of succeeding or failing at each of their various strategies, like most young businesses.
In November of 2007, C2 Investment decided to buy out the other partners and use what they had learned in Lancaster's first two years in the brewing industry to perform a refurbishment of the brewery and a sort of relaunch of the business. Under Matt Jackson's guidance they brought in new brewing equipment and high-tech brewing software, built an on-site "Sample Room," created new logos and packaging, and established new business relationships with pub operators and wholesalers across the UK. As they are committed to traditional British cask ale, they bought many thousands of new casks, which they monitor using state-of-the-art software. In addition, they made the bold decision to introduce a new beer lineup consisting of four beers named simply Red, Black, Amber, and Blonde, which have all gone on to win international awards. They also adopted a single strain of house brewing yeast to provide consistency among all their beers (a common practice among brewers, which is sometimes responsible for providing a certain unique thread of flavor across many or all of a brewery's beers).
After pausing production during the renovations, Lancaster began brewing again in February 2008. The rebranding and retooling of the business seems to have paid off in spades as growth has been strong and the brewery has expanded its distribution – an impressive feat in the middle of a recession. They've also introduced two ciders under their Red Rose Cider line. (The iconic red rose in their logo is an historic symbol of the House of Lancaster, whose various 15th century conflicts with the House of York, represented by a white rose, are known to us today as the Wars of the Roses.)
After all of the brewery consolidation that has occurred in recent years across the UK, we're very, very excited for new, independent brewers when they're able to not only survive but thrive. Lancaster has done it by focusing on a small lineup of exceptional tasting beers with striking looks (both in and out of the bottle), brewed with a commitment to traditional brewing techniques while embracing modern technology to increase consistency, quality, and efficiency. Cheers to that! It's our pleasure to bring you these beers, which currently have very limited distribution in the U.S.
For more info about the brewery, visit them at www.lancasterbrewery.co.uk.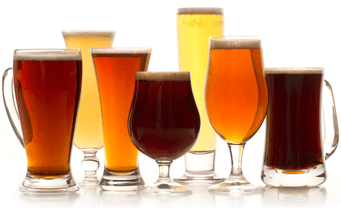 Unmatched Variety by style, brewery & country
Choose from Five different Beer Clubs offering unmatched variety by brewery,
country of origin, and beer style to suit your specific tastes.
DISCOVER OUR FIVE CLUBS