Microbrasserie Les Trois Mousquetaires - Aramis
ABV:

5.00%

Int'l Bittering Units (IBUs):

14

Serving Temperature:

39-59° F

Suggested Glassware:

Pint or Flute
So you may have noticed the unusually "wide" suggested serving temperature range on this one. Like many beers, the aroma and flavor profiles shift with temperature, but this tasty Vienna-style lager has a particularly wide range of temperatures over which it holds a solid flavor. In the 39-49° F range, the beer is balanced and refreshing, offering notes of caramel, toffee and hints of fruit. However, from 50-59° F this beer really blossoms. Look for more robust, sweeter, toastier caramel notes, and some fruity, pear-like flavors. Finishes very dry with a moderate bitterness, lightly lingering grains and some herbal hop notes. Enjoy with German weisswurst ("white sausage") served with sweet mustard and rye bread.
Beer aficionados and acolytes should both be familiar with some pretty top notch brews coming from our neighbors to the north, Canada. Specifically, Québec has been a real hotbed of brewing excellence—for example, Unibroue has been delivering some incredible, Belgian-style brews since the early 1990s. Despite swelling to become a fairly large, corporate entity, with ownership changing hands a few times in the past many years, they've managed to continue brewing beers with a craft mentality. While they may be the best known craft brewer from the region, there are some smaller, very talented craft brewing Québecois whose breweries are on the rise. This month we're featuring a pair of very different yet equally impressive brews from Microbrasserie Les Trois Mousquetaires (The Three Musketeers Microbrewery). This young brewery was founded just three years ago, and while they focus on creating traditional German-style beers, they definitely have applied their own North American treatments. As you'll find in the selections we've sent you, they're not afraid to mix tradition with creativity (check out the tasting notes for their Imperial Weizen for more on this). Part of their flexibility in this regard lies in their approach to brewing; as head brewer Jonathan Lafortune states himself, "I don't come from the microbiology branch of brewing, I'm more like a chef in a kitchen. The recipes come from my senses, my heart and my passions. I'm an Epicurean." It is Jonathan's good senses that have helped him develop some really top notch beers that we're sure you're going to enjoy. And, as a member of the International Beer of the Month Club, you'll be among the first in the U.S. to get a chance—this month marks their first foray into the U.S. market. So, who are the three musketeers? Actually, that's a bit complicated. Like the heroes of Alexandre Dumas, there are four of them. Jonathan we've already mentioned, though he wasn't actually onboard at the start—he joined the brewery about seven months after it was founded. While not technically one of the founding musketeers, his coming on board so early permitted him to develop all the beer recipes they currently brew. In addition to Jonathan, there's Sylvain Plourde and Daniel Pion who were part of the original three "musketeers" who founded the brewery in June of 2004 (the third musketeer, their original brewer and the fellow who introduced Jonathan into the mix, ended up leaving the company). The original three were coworkers at the famous Imperial Tobacco Montreal. However, when the company closed its Montreal branch in June of 2003, the three were out of work. Right around the same time, they got word of a brewery for sale and decided to take the plunge into the brewing industry. These days, Sylvain handles the accounting and Daniel helps with the production and brewing process. As Jonathan tells us, these two also happen to be mechanical geniuses—they built their own bottling line!?! (anyone who's in the brewing field or has seen these complex puppies in action will realize what a feat of technical mastery this is). The fourth musketeer is a fellow named Patrice (we didn't get a last name), who is actually the brewery's first "employee", serving in the sales capacity along with Jonathan and Daniel. Like many brewers, Jonathan Lafortune got his start in brewing as a beer connoisseur. He wanted to improve his skills in tasting the nuances of beer, so he took to homebrewing to expand his knowledge of ingredients and flavors. His entry into professional brewing happened when his friend, one of the "original" three musketeers who bought the brewery (the original brewer), asked him if he wanted to brew professionally—he said yes, and got in on the gig. And we have to say, having gone from homebrewer to professional brewer in such a short span of time, this guy's got a real gift for his new trade. In the past year, he's created more than a dozen beers, from a weizenbock, a Sticke ("secret") Alt, and a smoked Scotch ale. Most have been made available only on draft at area bars, but all have met with high demand. All four of their year-round brews were created with drinkability in mind—they're not the hop bombs or malt monsters that have come out of the extreme-brewing trend; instead, they're expertly crafted, easy-drinking, well balanced brews. That being said, it's still an interesting ensemble of beers. "D'Artagnan" is a Golden Lager modeled after a traditional Munich Helles Lager. "Aramis" (featured this month) is a Red Lager akin to Vienna Lager. Then there's "Milady" a refreshing Kristall Weizen (or filtered wheat beer) and "Folle du Roi" a red Hemp Ale—which is of particular interest in the wake of many U.S. hemp ales having been largely shut down by government regulations (hemp farming, illegal in the U.S., is permitted in Canada). They've also got some seasonal beers, including their "Imperial Weizen", a unique beer that defies simple style classification (which is part of why we selected it as our 2nd feature this month). We're very pleased to have the opportunity to feature beers by this up-and-coming microbrewery. They don't yet have a tremendous line up of beers at this early stage of their development, though they clearly have a lot to offer. When asked what he would like most for U.S. beer drinkers to know about his beers and the brewery, Jonathan replied "That it comes from an art and a passion for that art. We do things differently than most other breweries out here and we will try to impress with our sense of doing things. We are still a pretty young brewery and I think that we have not done one tenth of our goal." If their current beers are any indication of what's to come, then there's a lot for craft beer drinkers to look forward to from this brewery. Enjoy the selections we've lined up for you. Cheers! If you'd like more information about Les Trois Mousquetaires Microbrasserie, check out their website (in French only at this time) http://www.lestroismousquetaires.ca. They're only about 10 miles from downtown Montréal, and well worth the visit. They don't have formal "visiting hours" per se, but the musketeers are typically there from 8am to about 6pm on the weekdays—often later, and on weekends. It's best to call them first (a requirement if you plan to bring a group): 866-619-2372. If you do visit, plan to load up on their brews while you're there, as they can sell direct from the brewery.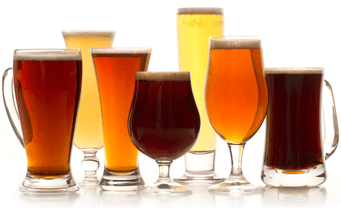 Unmatched Variety by style, brewery & country
Choose from Five different Beer Clubs offering unmatched variety by brewery,
country of origin, and beer style to suit your specific tastes.
DISCOVER OUR FIVE CLUBS