Pivovar Hradec Králové - LEV Lion Pale Double Bock
ABV:

5.15%

Serving Temperature:

45° F

Suggested Glassware:

Flute or Pilsener Glass
The U Fleku microbrewery in Prague has been in operation since 1499 and is still in operation to this day. Put that in historical perspective by considering that Columbus discovered the new world just seven years prior! Considering this historical context, the LEV Lion beers produced by Pivovar Hradec Králové are relatively new additions to the beer world, arriving some time after the brewery was founded in 1844. Yup, a trio of real youngsters alright. Like many youngsters, the LEV Lion Pale Double Bock is a bit mischievous—it carries a somewhat misleading title. This is not a traditional double bock like any ending in the beer lexicon suffix "-ator" such as Ayinger's Celebrator or Paulaner's Salvator. But the word "bock" has come to mean many things in the world of beery vocabulary, representing anything from the traditional, 7-8% ABV, ultra malty bocks of southern Bavaria to light and crisp pilsner-like 5% ABV lagers. LEV Lion is an example of this latter category. The "bock", in our estimation, refers to the subtle complexity present in its flavor, a result of a unique brewing recipe much like a Maibock. This is a bright, golden beer with a frothy, dense head. The nose is loaded with light hops scents, but dominated by notes of apple and pear. We found this beer to be smooth, light-to-medium-bodied, with crisp grain and gently fruity flavors. The finish is mildly bitter and quite crisp, with a long-lasting aftertaste that develops further spicy, herbal notes. The LEV Lion Pale Double Bock will go well with a variety of foods including grilled salmon, Caesar salads, or fried chicken.
There are more than 300 small breweries in the Czech Republic, which has a total area just smaller than the state of South Carolina. With a populous of about 8 million people, that's quite a few breweries per capita. Not surprisingly then, the Czech Republic boasts the highest per capita beer consumption figures in the world. The Czechs consider beer part of their daily life; they will often drink beer with breakfast, lunch, and dinner; after work, or before it, and often during it (on lunch break, of course!) This heritage of beer drinking has a long history behind it. The Czechs have nearly a millennium of beer-brewing experience under their belts. Local agricultural conditions are ideal for growing hops, and their cultivation in Bohemia has been chronicled as far back as 859 A.D., while the first evidence of their export dates back to 903 A.D.. These hops were exported to Germany via the Elbe River to the Hamburg hops market in 1101, and to this day the world still cherishes Bohemian (aka Czech) Saaz hops. Spawned from this stronghold of brewing is this month's 2nd featured international beer, brewed by Pivovar Hradec Králové in Eastern Bohemia. Hradec Králové means "Queen's Castle" and the town had been the summertime retreat for Czech Royalty for centuries. In 1844, the many breweries located throughout the town were brought together in one small brewery, located right next to the classic Gothic cathedral in the town square, officially forming the Pivovar Hradec Králové. The brewery's primary beers have all been awarded high praise and respectable accolades. The LEV Black Lion, a classic Czech "tmave", or "dark" beer, was awarded the Gold Medal in the "Beer of the Czech Republic 2000". It is a rich, sweetly malted brew with distinct coffee notes, finishing with a light fruity hop finish. The LEV Lion Lager was also a Gold Medal winner in the "Beer of the Czech Republic 2000" (a good year for the brewery to say the least). It is a premium quality, hand crafted full-bodied pilsner style lager, with an unmistakably Czech, crisp and clean, hoppy, dry finish. All very well made beers, we selected the LEV Lion Pale Double Bock to celebrate the start of Spring.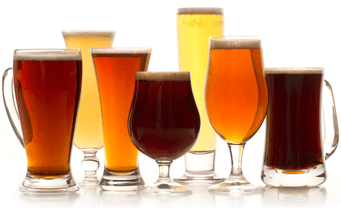 Unmatched Variety by style, brewery & country
Choose from Five different Beer Clubs offering unmatched variety by brewery,
country of origin, and beer style to suit your specific tastes.
DISCOVER OUR FIVE CLUBS