Licher Privatbrauerei - Licher Pilsner
ABV:

4.90%

Serving Temperature:

40-45° F

Suggested Glassware:

Pilsner Glass, Pint Glass or Flute
This authentic German Pilsner presents a crystal clear pale straw in color with a big, nicely lacing white head. Note the ample presence of carbonation jets emanating from the bottom and lower sides of your glass [you did pour it into a glass, didn't you? If not, now's the time, and for future reference, if you're sampling new beers from the bottle, you're depriving yourself of the full experience. Would you drink wine through a straw? Of course not, so don't drink you beer through a bottleneck (or a can for that matter). Drinking from the bottle has become an accepted norm, but really, this only works well for beers that don't taste like much in the first place, none of which we feature in our beer clubs…]. Now sink your schnoz right into your glass and get a nice big sniff. Note the presence of soft, fresh pale grains, cradled by a light mustiness (yeast), and wafts of sliced apples. Expect the noble hops used in this beer to give off their characteristically light, almost lemony, grassy and faintly herbal notes. As with most traditional pilsners, there are some minor notes of sulfur, perfectly appropriate for the style. Expect the nose to sweeten up slightly as it warms, but always remaining balanced (now if you were drinking out of the bottle, you'd miss all of that!). On the palate, the flavor begins by showing off super clean, über-fresh grains. Ladies and gentlemen, this is what a proper pilsner should taste like. Red apple skins comprise the only fruitiness, offset by mild hoppy bitterness. Finishes clean, neat and tidy, nothing in your face—it's just good beer, plain and simple—so relax with this one—it's got all the flavor and balance you want as a fan of better beer, but doesn't demand your utmost attention—just let it be, and it lets you be… Overall, refined and refreshing. Mild hop spiciness and bitterness help this one work very nicely up against weisswürst served with spicy brown mustard.
The Licher Privatbrauerei has a long history—with its roots going back long enough that their original method of cooling the beer was to dig massive holes in the earth and create cellars there. Ah, brewing before the age of refrigeration… it meant a lot of heavy lifting... and mud. In 1854, brewer Johann Heinrich Ihring started the J.H. Ihring Brewery in Lich am Hardtberg, in western central Germany. The site was ideal for brewing because of the natural spring nearby that was easily tapped (and soil soft enough for cellar excavation). Only four years later, in 1858, Christoph Jakob Melchior started "Zum Goldenen Stern" ("The Golden Star") guesthouse in Butzbach, where he served up his own self-brewed beer to his guests (we presume many felt like "golden stars" with that sort of treatment). Three years later the Melchior family built their own private brewery in order to spread their golden star treatment to more folks in the area. In 1896 Christoph Jakob Melchior passed away, leaving his sons Hermann and Christoph to take over the business. Due to the close proximity of the breweries (just 10 miles apart) it was a logical step for the Ihring and Melchior families to join forces, which is exactly what they did with the forming of the fittingly named "Union Brauerei" ("Union Brewery"). However, during the first World War, the breweries were forced to split apart. In 1922 the two families came together again and reunified their breweries as "Brauerei Ihring-Melchior," which they located in the town of Lich, Mittelhesse (where a brewery remains to this day). Remarkably, during World War II the brewery remained intact and unscathed. After the war's end, the brewery temporarily came under the control of the American occupational forces and supplied the troops located there. Sometime in the 70s, the brewery's slogan, "Aus Dem Herzen Der Natur," was born (translation: from the heart of nature) and to this day they focus on their people, quality ingredients, eco-friendly processes, and sustainable farming. In 1999, the brewery was renamed Licher Privatbrauerei to reflect its regional homebase. Ten years later, in 2009, you enjoyed your first Licher beer. In 2010, you will send us heaps of cash to return the favor, and will sign up all your friends and family to our various assortment of monthly clubs. Your Aunt Bernice will adore her 6-month membership in the Fresh Cut Flower of the Month Club, while Uncle Walter will actually start talking to you again when he gets his first Premium Cigar of the Month Club shipment. Not to mention how your Mom will melt over our Gourmet Chocolate of the Month Club, or that your sister will really dig our International Wine of the Month Club, and don't forget your spouse with our Gourmet Cheese of the Month Club, as you finally cave and treat yourself to membership in our newest club, the Rare Beer Club, as a well-deserved reward for all the joy you've brought to your loved ones.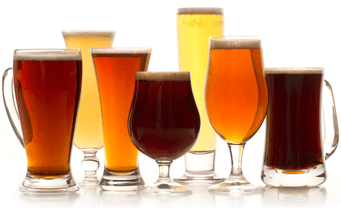 Unmatched Variety by style, brewery & country
Choose from Five different Beer Clubs offering unmatched variety by brewery,
country of origin, and beer style to suit your specific tastes.
DISCOVER OUR FIVE CLUBS