Mac Tarnahan's Brewing Company - Highlander Pale Ale
ABV:

5.80%

Int'l Bittering Units (IBUs):

22

Serving Temperature:

40-45° F

Malts:

Pale malt

Hops:

Brewer's Gold
McTarnahan's Highlander Pale Ale is the third of this month's Gold Medal-winning features. This beer brought home the top honor as the Best American Amber Ale at the 1992 Great American Beer Festival. It is a merger of the Scottish and American Pale Ale styles with an infusion of Highland heather for an additional Scottish influence. Heather has been used over the centuries to add a touch of herbal sweet-ness, distinct from typically caramel-like malt sweetness. In this brew, note the way it contri-butes to the floral hop aroma in the nose. Perhaps more prominent is the flavorful interplay between the heather and the grainy malt sweetness. You can expect a medium body with limited carbonation, giving this beer a soft, smooth mouth feel. Look for a clean hop bitterness in the finish with some residual lingering malt. Enjoy this one with roast beef, lamb with rosemary and garlic, steak or pork chops.
Founded in 1986 in Portland, Oregon, MacTarnahan's Brewing Company has grown from a low volume microbrewery to a sprawling high-capacity 3-acre facility. Their early days, some 18 years ago, saw an annual brewing capacity of only 1000 barrels. Subsequent to several upgrades, however, the brewery can now produce in excess of 100,000 barrels per year; but rest assured, their commitment to producing high quality, flavor packed ales has remained in tact over the years. Part of their commitment to quality is owed to local industry competition, circularly driven by discerning locals who live at the foot-hills of the very source of some of the most widely used hops in the microbrew world (Mt. Hood & Willamette). Oregon, particularly Portland, is commonly recognized as the center of the craft-brewing universe, much as the Bordeaux and Napa Valley regions are to the wine industry. In fact, more than 10 percent of all beer consumed in Oregon is brewed locally– a figure that is three times the national average. What's more, there are more microbreweries and brew-pubs in Portland than in any other city in the country. And while craft beer sales nationally account for approximately 1% of the total market, they account for over 5% here. Clearly, these are a people who know and love beer. MacTarnahan's skillfully caters to this love, providing a variety of artfully brewed beverages to the market. They currently offer more than 10 brews, in-cluding Mac's Amber Ale, Black Watch Cream Porter, Highlander Pale Ale, Portland Ale, Portland Lager, Uncle Otto's Weiss Beer, Uncle Otto's Oktoberfest, MacTarnahan's IPA, Oregon Honey Beer, Mac Frost Winter Ale, and Thunderhead Stout. And as a unique addition to their line up, they also offer a 15-year-old single-malt Scotch Whis-key! Quite a robust assortment indeed! Now, considering that it's March, folks the world over, not just Portlanders, are ready for beer drinking season to kick in on St. Patrick's Day, even if it is only for one day (it's always beer drinking season as far as we're concerned). So, be prepared to see a lot of green beer, shamrocks, and stumbling drunk college kids clad in green attire this time of month. These are less authentic Irish traditions; after all, the holiday is Catholic in origin and commemorates the anniversary of the death of Ireland's Patron Saint, St. Patrick. His passing occurred some 1500 years ago in the 5th century, and over hun-dreds of years the customs have changed. Since the holiday coincides with Lent, many celebratory events came to include a relin-quishment of Lenten prohibitions, permitting consumption of meat as well as copious amounts of alcohol. One of the old world customs that continues today among those who are somehow familiar is 'drowning the Shamrock.' The shamrock is intimately associated with St. Patrick as he used the three-leaved plant to illustrate the Trinity, and it was often worn in his remembrance on the holiday. At the end of the night, a shamrock that had been worn for the day in the cap or coat was placed into the bottom of a glass, and then beer, or, more usually, Irish whiskey was poured atop, submerging it. When everyone's health had been toasted to, the shamrock was taken from the bottom of the empty glass and thrown over the left shoulder. Since you now have a fine Irish stout available to you this St. Patrick's Day, all you need is a shamrock to practice this ages old tradition yourself! No need to thank us, we're here for your cultural enlightenment. For more information about MacTarnahan's Brewing Company and scheduled tours, call (503) 226-7623 or check out their web site at http://www.macsbeer.com/. P.S. don't slip on any of those discarded shamrocks!!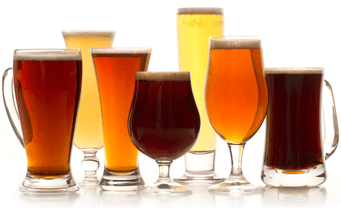 Unmatched Variety by style, brewery & country
Choose from Five different Beer Clubs offering unmatched variety by brewery,
country of origin, and beer style to suit your specific tastes.
DISCOVER OUR FIVE CLUBS