MacTarnahan's Brewing Company - Uncle Otto's Weiss Beer
ABV:

4.0%

Int'l Bittering Units (IBUs):

10

Serving Temperature:

45-50° F
This isn't your typical American wheat beer. Uncle Otto's Weiss Beer is a true Munich-style wheat beer. The use of wheat to brew a beer was not consistent with the inception of the 1516 Reinheitsgebot German Beer Purity Laws. However, wheat was reserved for use in the Royal Brewery. So for a few hundred years, wheat beers were actually consumed primarily by German royalty.

Fruit, spices, cloves, flowers, bananas; are all just a few of the words that come to mind when you bring this brew to your nose. We found the nose to be a pretty good indication of what follows in the flavor of this tasty wheat ale. This unfiltered, straw colored, wheat beer starts with a distinct malted wheat flavor, accented by a prominent spicy clove character. Try this one with some Sauerbraten or just by itself. If you've never had a German style wheat beer, then this is your chance to experience a great interpretation of one that we found to be true to style.
Black Watch Scandinavian Beef Stew

4 lb. chuck roast, cut into 2" cubes
2 T vegetable oil
1 ½ tsp corn starch
1 T water
¼ cup cream

Marinade:

1 cup Black Watch Cream Porter
½ cup cider vinegar
2 tsp. pepper
1 tsp ground allspice
2 bay leaves
1 tsp ground thyme
2 medium onions, sliced
2 medium carrots, sliced

Combine marinade ingredients in a large glass bowl. Add meat and toss to coat thoroughly. Cover tightly and refrigerate up to 3 days. When ready to cook, remove meat from marinade and pat dry on paper towels. Reserve marinade. Heat the oil in a heavy skillet or Dutch oven over medium heat. Brown meat on all sides. Add 1 cup of marinade. Turn heat to low, cover, and cook about 2 hours, until meat is very tender. Add reserved marinade, if necessary, to keep meat moist. Mix corn starch and water together to make a smooth paste. Remove meat to a serving dish with a slotted spoon. Stir corn starch mixture into pan gravy. Bring to a boil over medium high heat, stirring constantly, until gravy is thickened. Add cream and blend well. Pour over meat.

The traditional garnish for this stew is sour gherkins. Serve with boiled potatoes and consider an Ale, Bock, Porter, or a Stout for your beverage of choice.

Source: Great Cooking with Beer; Jack Erickson; Red Brick Press, Reston, VA, 1989.
Dear Murl,

It's hard to miss all of these Budweiser commercials that are talking about "Skunky Beer" and the fact that it seems to be mostly associated with microbreweries and their products. What up with that home-dog? What do they mean by a skunky beer anyway?

Jack McKenzie

Austin, TX

Yo Jakaroo!

It is more than just slightly ironic that the company that has elected to educate the general public about the nasty reality of contaminated beer also happens to be the one that, although its beer is probably not infected itself, still closely resembles l'odor de Pepe Le Pew the most. Skunky brew is beer that has been exposed to light and has developed a skunk-like smell and taste. Let's hope you've never actually tasted the nasty spew of Le Pew, but just smelling it oughta be enough to assist you in identifying beer that's been damaged in this way. The light causes a chemical reaction in the hops to create mercaptan, the actual component in skunk spray (It's twoo, It's twoo. Same stuff from Le Pew!). Most European lagers (and some European's I know) have this fault as they (the lagers) are bottled in green bottles. Brown bottles protect beer much better. In any case, if you think you smell Le Pew, there is only one thing to do … Don't drink it, Ace.

Woof!

Murl.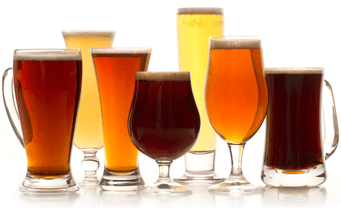 Unmatched Variety by style, brewery & country
Choose from Five different Beer Clubs offering unmatched variety by brewery,
country of origin, and beer style to suit your specific tastes.
DISCOVER OUR FIVE CLUBS