Měšťanský Pivovar Havlíčkův Brod - Lev Black Lion
ABV:

4.7%

Bottle Size:

330-ml

Serving Temperature:

45-50° F

Suggested Glassware:

Mug, Stein, Flute
Second in popularity only to Czech/Bohemian Pilsner in the Czech Republic is the traditional style known as "Tmavé Pivo" – literally "dark beer" – known also to us English speakers as Czech Dark Lager. For those familiar with dark German styles like Schwarzbier and Dunkel Lager, it's similar, but somewhat maltier and fuller in body than its German counterparts. Lev Black Lion is Pivovar Havlíčkův Brod's version, and it unsurprisingly presents a very dark garnet red mahogany color topped by a huge head of persistent light brown foam. Look for richly malty aromas of brown bread, toasted bread crust, caramel, and coffee grounds, with light touches of spicy and earthy hops adding additional intrigue. Deeply toasted and nutty malts jump out in the flavor right away, with just a touch of more heavily roasted malt delivering a hint of char to go with the more deeply bready impresssions. We get plenty of those earthy and spicy hops here too, offering moderate bitterness in concert with that touch of roast to dry out the beer's hint of residual sweetness. The overall impression is round and satisfying on the palate, offering a nice balance between the sweeter and dryer notes, plus lots of subtle complexities that are just begging for food pairings. We'd steer towards roasted beef and root vegetables, charbroiled burgers with grilled onions, chili, or Czech Goulash. Na zdraví!
There are several hundred small breweries in the Czech Republic, which has a total area just smaller than the state of South Carolina. With a population of about 10 million people, that's quite a few breweries per capita. Not surprisingly then, the Czech Republic boasts the highest per capita beer consumption figures in the world. The Czechs consider beer part of their daily life; they will often drink beer with breakfast, lunch, and dinner, after work or before it, and often during it (on lunch break, of course!). This heritage of beer drinking has a long history behind it. The Czechs have over a millennium of beer-brewing experience under their belts. Local agricultural conditions are ideal for growing hops, and their cultivation in Bohemia has been chronicled as far back as 859 A.D., while the first evidence of their export dates back to 903 A.D. These hops were exported to Germany via the Elbe River to the Hamburg hops market in 1101, and to this day the world still cherishes Bohemian (a.k.a. Czech) Saaz hops.
In the 13th century, Czechs settled along a trade route in the Bohemian-Moravian Highlands. One of these towns, on the bank of the Sázava River, was named Smilův Brod (Smil's Ford), although it came to be known as Německý Brod (German Ford) not long after when many Germans arrived and settled there as well. In 1333, the local king granted the town's inhabitants the right to brew beer. Originally, each townsperson would malt their own grain and brew their own beer, but soon people banded together to form small co-op breweries. Eventually, the few houses that were completely devoted to brewing associated together to construct larger, more efficient breweries that could supply beer for the whole town.
By the end of the 1700s there were two breweries serving the town, but by the mid 1800s they were both closed. One failed due to challenges with profitability (i.e. lack of it) and the other was consumed by fire. So, the citizens of Německý Brod came together and bought a small building that housed a tiny brewery – a building that is still active today as the Rebel brewery restaurant. This small facility was finally superseded in 1880 when a much larger brewery was constructed.
In 1945, upon the close of World War II, the town was renamed Havlíčkův Brod. But, not long after, the Iron Curtain descended over Czechoslovakia and the communist government expropriated the brewery from its owners and ran it as a state enterprise from 1948 until the government fell during the 1989 Velvet Revolution. By 1995 the brewery was back in the hands of descendants of the original owners, and it remains to this day one of the last few independent breweries in the region. They currently produce over a dozen various lager beers under their Rebel and Lev Lion brands.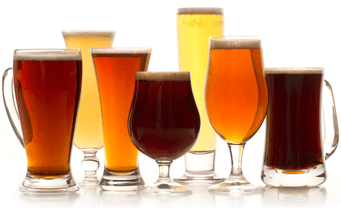 Unmatched Variety by style, brewery & country
Choose from Five different Beer Clubs offering unmatched variety by brewery,
country of origin, and beer style to suit your specific tastes.
DISCOVER OUR FIVE CLUBS