Miami Trail Brewing Company - Red Ale
ABV:

5.8%

Int'l Bittering Units (IBUs):

24

Serving Temperature:

45-57° F

Brewed with a combination of two-row pale, caramel, Munich malts and roasted barley, this ale's complex malt character balanced nicely with a slight bitterness derived from several additions of Cascade and Willamette hops. Immediately note a roasted nose with a complex sweet malty character also evident in this dark amber colored ale. We found the body to be full with a caramel maltiness and roasted flavor coming through as well. It's also a bit nutty. Note a fairly dry finish. Overall, a very unique, flavorful and creative ale. We really liked it.
Before The Miami Trail Brewing Co. opened its doors last year, Ohio's Miami Valley had been without a brewery for 40 years. Enough to make ya want to move to Illinois or Iowa. The brewery, located in Xenia, Ohio, seems intent to make up for lost time as it currently produces 10 handcrafted beers. All of them are brewed in small batches, which allows a broad variety of ingredients to be used, allowing the brewery to develop a wide array of rich colors and flavors that have made these craft beers popular.

The owners are proud of the brewery and they welcome visitors at their state of the art facility. From the lobby, visitors can peer through the glass at the sparkling clean brew-kettle and fermentation tanks. They can also step up to the massive antique oak and brass bar and order any of the brewery's fine micros. The brewery's current beer list is extensive and varied. Miami Trail's core product line of a Golden Ale, Red Ale, Pale Ale, and Oatmeal Stout is augmented by six seasonal beers, an Oktoberfest, Doppelbock, Marzen, Maibock, Wheat n' Rye, and a Cream Ale.

For more information about the brewery and scheduled tours, call (937) 374-3660 or check out their web site at www.miamitrail.com.
Brooklyn Brown Ale Bean Soup

1 lb. dried navy beans
½ cup diced bacon
½ cup diced smoked ham
½ cup diced leeks
1 cup diced onions
1 cup diced carrots
1 cup diced celery
2 qt water 1 bay leaf
1 tsp. thyme
1 tbsp. minced fresh garlic
1 tbsp. salt
1 tbsp. black pepper
1 14-oz can tomatoes,hand-crushed
12 oz brown ale
2 tbsp. sugar

Soak the beans overnight in enough water to cover. In a large pot, sauté the bacon and ham over medium heat until the fat is rendered from the bacon (do not cook the bacon to crispness). Reduce heat to low and add the vegetables, cooking them until almost tender. Add the water, bay leaf, thyme, garlic, salt and pepper, and bring to a boil. Add the drained beans.

Cover the pot and simmer the soup until the beans are tender. Expect this to take 1-2 hours. When the beans begin to break apart, add the tomatoes, beer and sugar and simmer for a further 15 minutes. Be careful not to boil the soup at this point. Discard bay leaf. Adjust seasonings to taste and serve. This recipe makes 8 1 Cup portions.

Source: A Taste for Beer; Stephen Beaumont, Storey Communications, Inc.
THE REAL BEER PAGE - In her former role as wife of Canada's ambassador to the U.S,, Sondra Gotlieb often related tales of woe about being a Canadian in Washington. She said Americans know Canada for its three M's- Mounties, mountains and Molson's. That, and the "M"cKenzie brothers, eh?!

BEER: THE MAGAZINE - The Norwegian captain of a Dutch whaler that capsized as it was trying to pull aboard a giant whale went down with his ship while holding a beer in his hands, survivors reported. The 42-member crew of the 543-ton factory ship Tonna, landed at Funchal, Madeira, after being picked up by a Greek freighter when the whaler floundered about 220 miles off the Portuguese coast. The crew said the last thing they saw before the ship went down was Captain Vesprhein, 52, clinging to his bridge with a beer to his lips. They implored him to abandon ship but he refused. Did anyone else just get teary-eyed when they read that?

365 BEER TIME STORIES - Little Simon Barwell, of Carlton, England, planted a sunflower but it just wouldn't grow no matter how much he watered it. The youngster then poured some of his father's home-brewed beer on the plant out of sheer desperation. The plant grew to a height of more than 12 feet. So what! Kid would be grounded in my house for wasting the suds for no real apparent benefit other than he's got a big-ass flower in the back yard!

THE CELEBRATOR BEER NEWS - Paul Galegos, of Idaho, found out the hard way that you can lead a snake to beer but you can't make it drink. Paul tapped his friend's pet rattlesnake on the head in an attempt to pour beer through the snake's mouth, but all he got for his efforts was the snake's fangs through his thumb. Paul was taken to hospital and the snake was taken out of town and released. Paul later received the National Bone Head of the Year Award in recognition of his tremendous efforts to determine the effects of alcohol on reptiles.

THE ALE STREET NEWS - John Arity became something of a hero in La Crosse, Wisconsin. Like the fabled Dutch boy of old, John came to the rescue to halt the flow of suds from a beer keg when his hosts at a party found their spigot wouldn't fit a freshly opened tap hole. So, John stuck his finger in. Then he couldn't get it out. After guests drilled another hole to decant the beer into smaller containers, John was taken to the hospital where he lay on a emergency room floor while the barrel was removed from his finger. When asked how he felt after the ordeal, John reported that he "felt okay, but his little finger was a little woozy and it probably shouldn't have any part in his driving home that night".

MIDWEST BEER NOTES - If a woman fills a glass with beer and touches her lips to the foam, it is safe to bet that the froth will disappear more quickly than if a man does the same thing. It's the grease in the woman's lipstick that will cause such a scientific reaction. But then she can't get a beer-foam mustache which is half the fun of tossin' one back!
Dear Murl,

I recently started a new job where I'll be away from home quite a bit. I've changed the mailing address for my monthly shipments to a (non-beer drinking) friends house. I'm worried about it staying unrefrigerated for up to two weeks. Should I buy my friend a refrigerator for my BOM shipments or will the beer not be affected by the chill delay?

Suz (Susan Brower)

Yo Suz!

First of all, let me commend you on your wise decision to re-route the service to a non-beer lover. I've seen that kind of thing tear a friendship apart. First they blame it on the UPS driver breaking a few bottles, then shipments seem to get "lost" altogether. A quick call to our customer service department and the revelation that the "friend" signed for the beer is about the time when things get real ugly. We're doing everything we can to provide you with the freshest beers possible each month. Each beer featured is custom brewed for us and delivered straight from the bottling line. The beer only stays in our warehouse for 3-5 days before being packaged and sent to you. We also try and feature bottle conditioned, higher alcohol content or hop assertive beers in the warmer months as they tend to travel better. Bottom line? Put 'em in a fridge if you can, but if you can't keep them in the box and out of sunlight in a cool area (perhaps a closet or basement) until you can. If you wanted to store them for a longer period, say more than 6 weeks before drinking them, I'd push your friend to clear out 7-8 half-spent salad dressings, mustards, jams, and condiments you can't pronounce to make way for your coveted brew.

Woof!

Murl.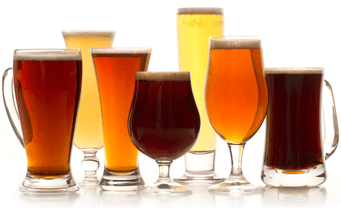 Unmatched Variety by style, brewery & country
Choose from Five different Beer Clubs offering unmatched variety by brewery,
country of origin, and beer style to suit your specific tastes.
DISCOVER OUR FIVE CLUBS